With 
Red Velvet
member
Wendy
turning 24-years old on February 21 KST, fans went on to trend
#HappyWendyDay
via
Twitter
!
As of February 20, ReVeluvs sent out numerous birthday wishes and encouraging messages to the idol singer, praising her achievements as an SM artist, and sharing memorable quotes. How sweet!
SEE ALSO: International fans say they are offended by how Red Velvet's Wendy 'mimicked' Black girls on 'Talk Mon'
Happy birthday Wendy!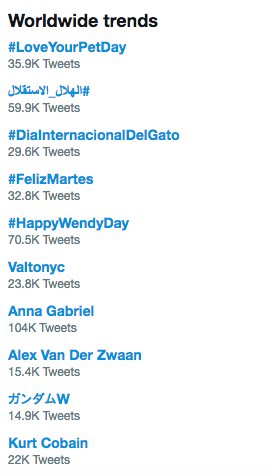 The girl who crossed an ocean to be a singer. The selfless girl who always put others before herself. The girl who goes to the practice room whenever she can. Thank you for being a singer, Wendy. I love you so much and I wish you get everything you wish for in life #HappyWendyDay pic.twitter.com/lbIhdECb3Q

— perfect wendy (@thatredolaf) February 20, 2018
Seulgi: "She's my friend for life, my love"
Wendy to Seulgi: "We're friends forever... Thank you for being born"#HappyWendyDay pic.twitter.com/yxgEMgSrnp

— Seulgi pics (@kgseulgipics) February 20, 2018
I probably said it a million times but I won't ever get tired of saying it, to remind you that you are loved by many. Thank you for inspiring hundreds of thousands of fans with your voice. Thank you for being such a kind soul. I love you so much, Seungwan #HappyWENDYDay pic.twitter.com/IcLqcLzl1o

— be you. (@wanwansforehead) February 20, 2018
happy birthday to this precious fluffball who has such a pure, kind, genuine and warm heart you deserve all the happiness and love in the world #HappyWendyDay pic.twitter.com/t9GuV9KoUU

— katy (@redjuhye0n) February 20, 2018