Actor
Yoon Kyun Sang
proved that he's a cat-lover through '
Three Meals a Day
'. His Scottish Straight
Koongyi
and Munchkin
Mongyi
garnered quite the fandom, for their adorable appearances on the
tvN
variety show. Yoon Kyun Sang also owns a Bengal cat,
Ddomi
, who did not travel with the actor and the other two cats on 'Three Meals a Day'.
However, a few days ago, Yoon Kyun Sang shared that he had adopted a fourth cat into his family, named Somyi. He shared the photos below and said, "Ehem, this is maknae daughter Somyi."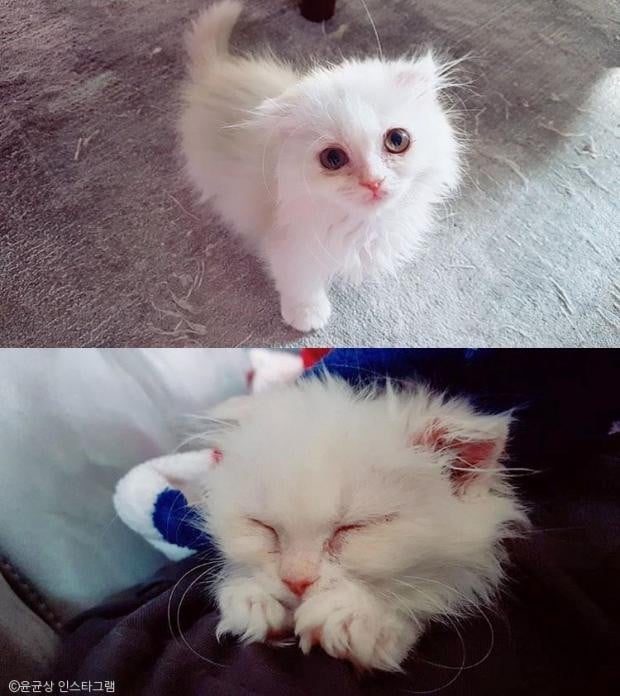 When some netizens saw the actor's newest post, they pointed their critical fingers at Yoon Kyun Sang, accusing him of "only raising mixed breeds", or "buying mixed breeds from pet shops". Somyi is a Scottish Kilt, which is another name for a Scottish Fold Munchkin. It is the crossbreed of a Scottish Fold and a Munchkin cat, breeds that are highly susceptible to genetic diseases as a result of inbreeding for genetic traits.
The actor took to his Instagram again to explain himself, after the accusations. He wrote:
"Somyi is a Scottish Kilt breed. Kilts are incorrect breeds which were created forcefully from man's greed. A type of conditioned mutant. They often have hereditary diseases, they fall ill often, and most of them have weaker bodies than normal cats. Somyi has a history of suffering a skin disease, and as you can see in the photos, has heavily misaligned teeth. They say you should adopt, not buy, and this wasn't in my plans at all but I just had to bring her home because she has already been born in this world, she is very sick, and I couldn't leave her alone after seeing this baby with my own eyes. I sometimes forget that I am a public figure. I should have explained myself clearly, but I forgot to because I was excited about my new family. This was my mistake. I apologize."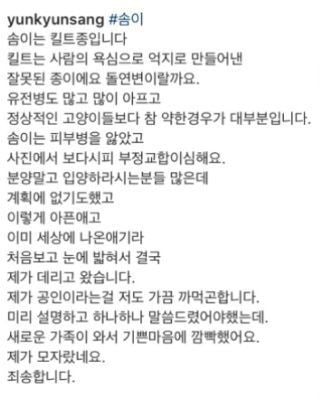 But after Yoon Kyun Sang's lengthy explanation, netizens' hate comments worsened, rather than letting up. They flooded his Instagram with comments such as, "Buying from pet shops is nothing short of giving those who sell cats' lives for money a strengthening push", "I think he contributed to the very reason why pet shops continue to exist", "Regardless of your reason for bringing it home, those experimental breeds will now continue to be produced", and such.
Since then, Yoon Kyun Sang has deleted his first photo post of Somyi, as well as his explanation. His then posted a photo of Koongyi and Mongyi, with a reserved comment that reads, "Please embrace pet cats with discrete hearts and informed decisions." [Update] That post has also been deleted, as of now.
In another post, Yoon Kyun Sang greeted fans for Lunar New Year with Somyi held in the hood of his jacket.
#????????? #????? #??? #?? ?????? ???? ????? ??? ?? ??? ???? ???? ?? ??? ?? ?? ????? ?????!!! ?
What do you think of netizens' hate attacks toward Yoon Kyun Sang?