The '
5th Annual E-Daily Culture Awards
' took place on January 23 at the Sejong Center Chamber Hall in Seoul.
The ceremony recognizing excellence and achievements in fine arts and pop culture first began in 2013. This year, more than 3,000 art-lovers and guests attended the event.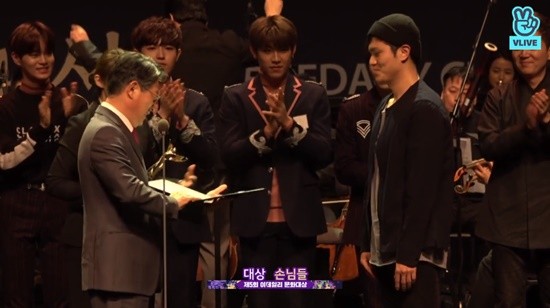 Announcer Cho Woo Jong and Momoland's Nancy opened the special ceremony performing "Part of Your World" from Disney's 'The Little Mermaid'.
Wanna One won the 'Top Excellence for Concerts' award for their stunning performances at 'Wanna One Premier ShowCon'. Member Yoon Ji Sung thanked all the staff, including the producer, writer, and music director for their remarkable skills.
Kang Daniel chimed in, saying, "We would like to strive forth this year as Wanna One."  Ong Seung Woo mentioned, "We received such abundant love from Wannables in 2017.  Likewise, we will do our best to return the love to fans this year."
The 'Frontier Award' went to none other than Bang Si Hyuk of Big Hit Entertainment.  He gave his award speech, "I believe this award was presented not only for BTS' achievements but telling me to progress onward.  Thank you once again and I will continue to work hard to advance the world of K-Pop."
Check out the full list of winners below!
Best in Theatre: 'Guests'
Achievement Award: Song Hae
Frontier Award: Bang Si Hyuk
Top Excellence in Concert: Wanna One Premier ShowCon 
Top Excellence in Musical: 'Rebecca'
Top Excellence in Korean Traditional Music: Pansori 'Bartleby, the Scrivener'
Top Excellence in Dance: National Dance Company of Korea, 'Lee Jin'

Top Excellence in Classical Music: Gyeonggi Philharmonic Orchestra, Concert and Overseas Tour for 100th 

Top Excellence in Theatre: 'Guests'
Congratulations!