International fans are in a heated debate about cultural appropriation after
GOT7
's
Jackson
sported dreadlocks in his new advertisement for
Pepsi China.
The images in question:

Many international fans and social media users have gone on to his Instagram to state that wearing dreadlocks is a form of cultural appropriation and that he should apologize. In response to this, Jackson said, "LOL...that's ridiculous". He further added, "I don't think I'm the only one doing this and if people are gonna point fingers at this, so be it...haters gon hate. I have all my respect and love for all RACE. But if you think this whole thing is disrespecting or mock a race, I'm really sorry but you are on the wrong page. I made this decision because I was too in love with the culture. No matter if it's music wise, people, background or anything, and I truly respect it with my heart. It's a complete misunderstanding"
The response to Jackson's advertisement and his response has been received both positively and negatively. While there are people who are still criticizing him, many have also come out to defend him as he has an innocent personality and no malicious intent. Some netizens have pointed out that historically speaking, dreadlocks have been in use for thousands of years as far back as 1800 B.C. with the Vedic scriptures of India. It has also been used in numerous cultures such as Buddhism, Rastafari, Greece, and much more, but continues to be a controversial topic even today.
What do you guys think about the situation and the topic?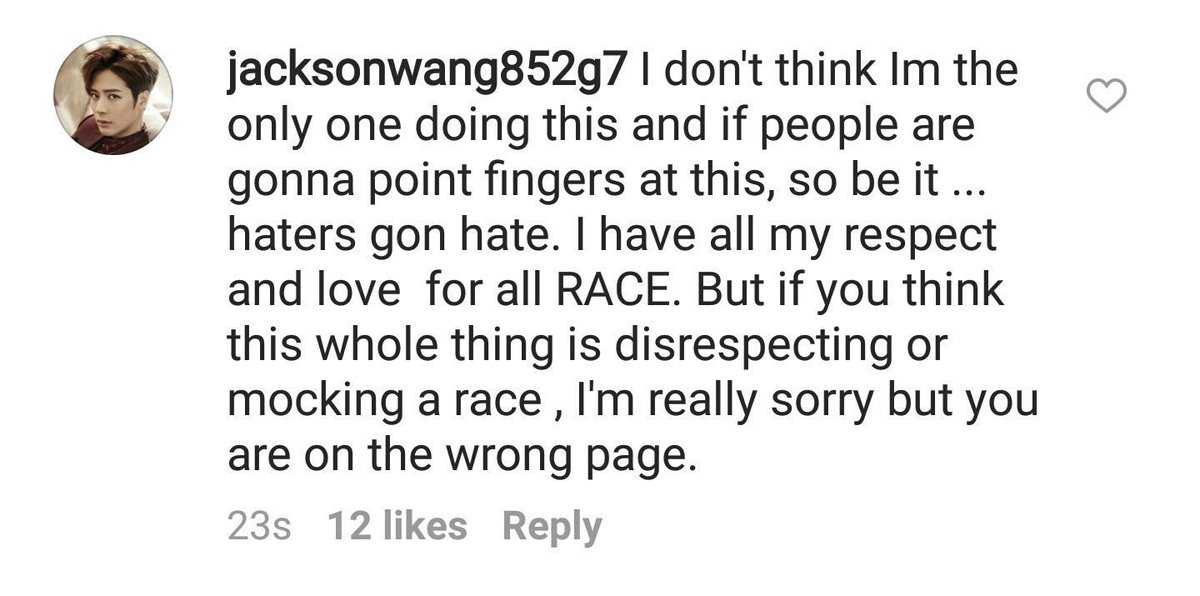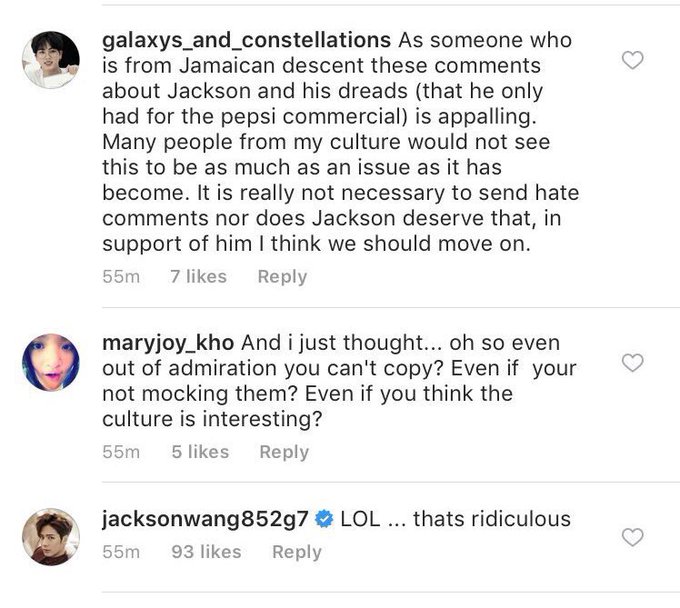 Ok let's unpack this. First we got the coon. Secondly we got the nb poc adding in they two cents. And finally Jackson laughing it off pic.twitter.com/2fEqeejZVN

— Nicole (@thiccjeons) June 11, 2017
i better not be seeing ANY of y'all defending jackson right now. it's wrong. he had the chance to apologize and he went and fucked it up. pic.twitter.com/Q5njGnAnAM

— ㅤ (@got7beingot7) June 11, 2017
All these people on Jackson's IG hating on him for having dreads on his Pepsi Ad, need to chill. He isnt the 1st so why all the hate? #GOT7 pic.twitter.com/zV6ex1BYqF

— Dylan Nguyen (@dylannguyener86) June 11, 2017
Jackson had a dread hairstyle for his pepsi commercial. Honestly, it's not even a big deal. People just gon use this to start drama.

— Soso (@Jaebumownsme) June 10, 2017
A good friend of Jackson,
Ben Baller
, defends him:
I am a supporter 10000% behind black lives matter. But a Korean kid wearing a Jamaican hair style ain't that deep to create this kinda drama

— BEN BALLER™ (@BENBALLER) June 11, 2017
Non Asian Kpop fans have to be some of the lowest IQ humans on earth. I'm dead serious. I'm sad for them.

— BEN BALLER™ (@BENBALLER) June 11, 2017