Male idols. From flower boys to sexy beasts, male idols can be every shade of manly and charming. 
Hubba hubba.
[SEEALSO]http://www.allkpop.com/article/2014/10/11-female-idols-who-are-known-to-derp[/SEEALSO]
Of course, there are a special, select bunch that simply refuse to be your typical brand of handsome. Last time we brought you 11 female idols who are known to derp. Now, let's take a look at some endearing male idols willing to contort their faces and forego any sort of "image" all for the lulz.
Super Junior's Siwon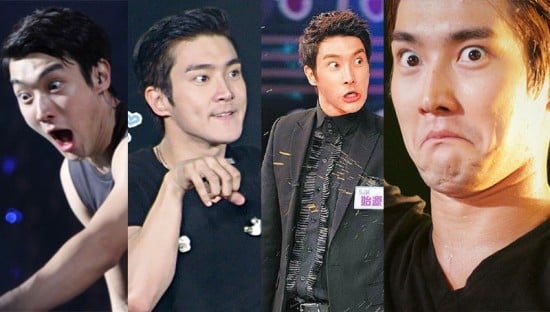 The face of Super Junior is a derpy one, as Siwon absolutely refuses to leave his chiseled face pretty for the cameras. Often caught making the strangest expressions with his wide, circular eyes and twisted mouth, Siwon shows just how crazy a "visual idol" can be, and fans love it.
Super Junior's Eunhyuk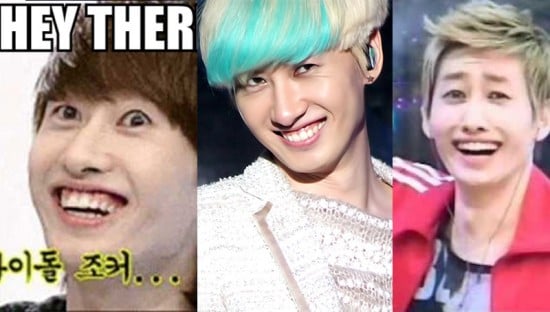 With a group of derps as big as Super Junior, it's hard not to include another member on the list. This time, we have Eunhyuk, who is sometimes deemed the "ugliest member," uses what he has to make people happy for other reasons.
"Am I beautiful now?" Yes, Anchovy, yes, you are.
Block B's Zico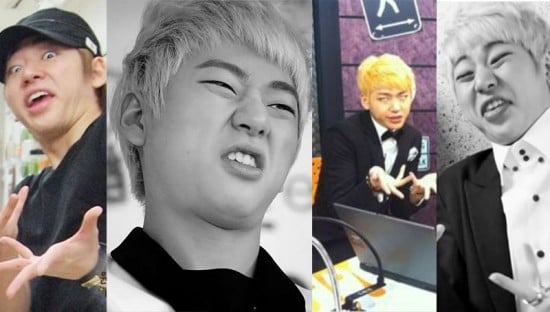 As the leader of the zany group Block B, Zico doesn't disappoint with his own sense of weird for the cameras. As his signature pose seems to be holding up his hands and squinting his eyes, he often looks as if he's asking the idol world, "Why so serious?" and shows that he'd rather be goofy instead.
SHINee's Jonghyun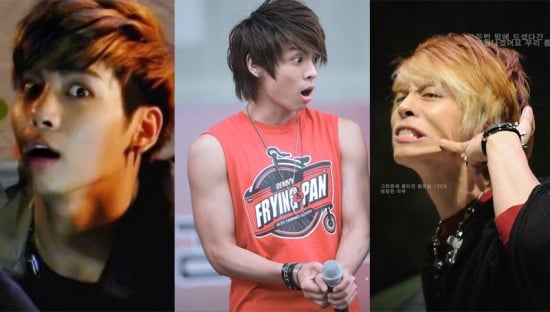 While his insightful and #deep tweets often gets nods and likes of approval, Jonghyun off-SNS and on-screen can prove to be quite the derp with his expressive dino face and exaggerated reactions.
Honorary mention: Minho
BTOB's Eunkwang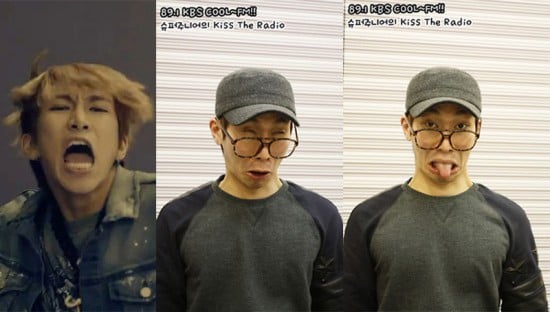 Another idol who don't care for no Prince Charming image, Eunkwang isn't afraid to twist his features in any which way, at times even looking like a monkey. This boy can't be tamed, as Eunkwang even has the impressive skill of fleeing the scene like a gorilla, rivaling the gorilla walk of fellow derp A Pink's Bomi.
2PM's Taecyeon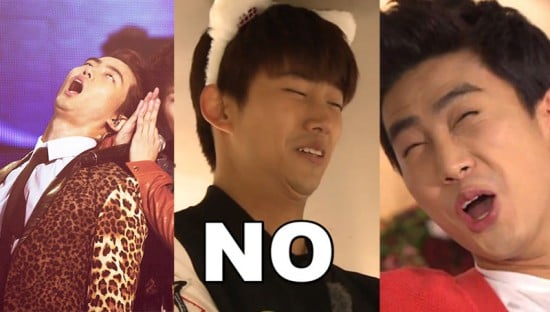 Aside from his past as a fashion terrorist, Taecyeon has always had a way of making his fans laugh. With his down-to-earth and goofy personality, this Okcat can make the derpiest faces just for funsies, whether he poses for an abnormal selca or he reels back for all the double chins. Beast idol? More like derp idol.
Honorary mention: Wooyoung
2AM's Jo Kwon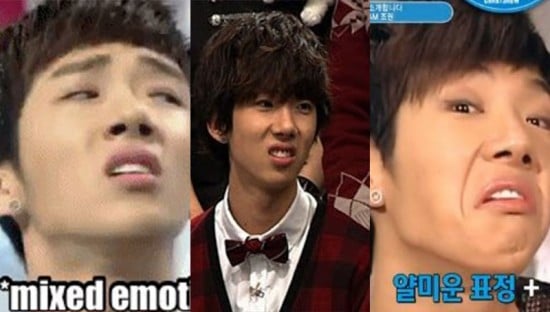 Jo Kwon is a sassy variety king who won't hesitate to let you know how he feels with his face. Whether it's judging from afar or getting kkab upfront, Jo Kwon gets plenty of screentime because he's brash and bold and don't care what you think. Don't mess with this mista because he WILL speak his mind, if not show it!
BAP's Himchan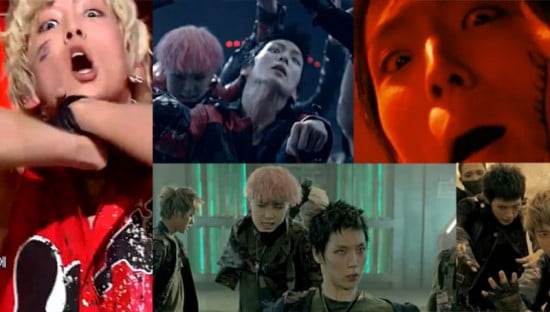 Himchan has the case of the crazy eyes and his fans love it. Often caught going crazy on the dance floor, Himchan is frequently screenshot mid-performance as viewers savor his wild eyed visage. 
F.T. Island's Hongki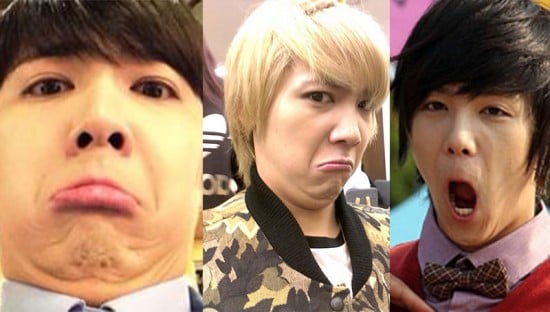 Although Hongki is pretty loud, proud, and outspoken, he has a penchant for pouty derps. Like Taecyeon, Hongki ducks back for the double chins, but adds a dash of sad as he flashes his fans the upset puppy eyes and frown. Why the disappoints, Hongki? Does puppy need a hug?
"No."
Jay Park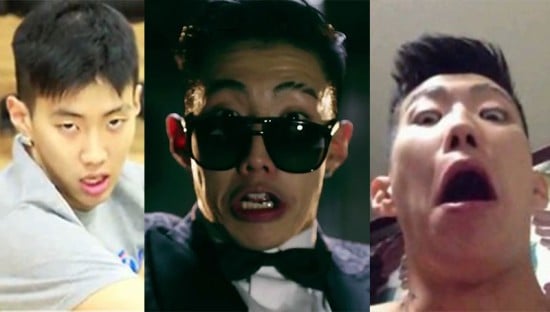 Jay Park is a special brand of derp in that he can be quite the creeper. With his low gaze and sly smile, Jay Park has a derpy, "Come hither," look that sets him apart from the rest. Boy is comedic gold. 
Big Bang's T.O.P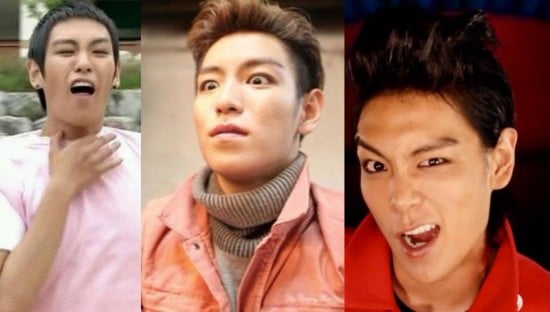 When you think T.O.P, you think hot, but even the legendary Big Bang member has his bingu moments. When T.O.P isn't slaying with his smoldering gaze, he's playing dumb. Somehow, the legions of fangirls stay. (Just kidding, who wouldn't love this babo?)
Honorary mention: Daesung
EXO's Suho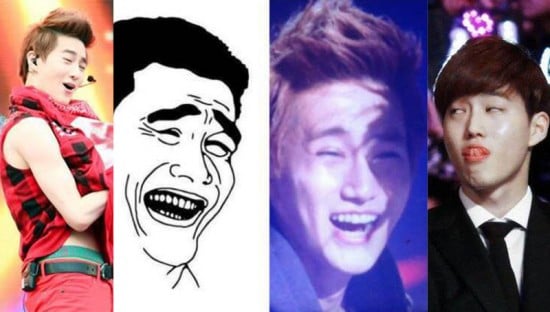 Charming leader Suho has his own fair share of derps, especially when he's singing and getting too deep into the emotions. The feels are real with this one.
Honorary mention: D.O.
Bonus: Lee Kwang Soo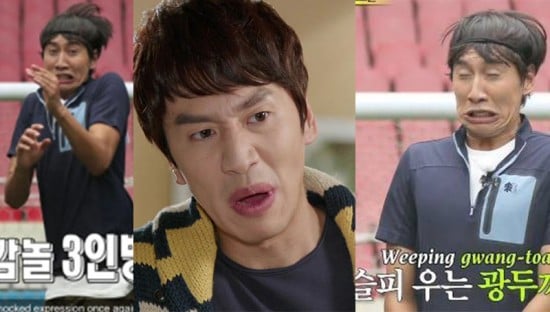 When it comes to making derpy faces, how can I not mention everyone's favorite 'Running Man,' Lee Kwang Soo? Despite being a model, or perhaps because he is a model, Lee Kwang Soo has a talent for being intense, even when he really doesn't have to be. But that's what makes him so lovable, right? 

---
Those were all our favorite idol-derps! Do you have anymore to add? I'm sure ya do. Let us know in the comments below!