Taecyeon uploaded a new picture onto his Twitter that might be the very first comeback teaser image for 2PM's upcoming promotions!
The picture is colorful and the boys seem to be having a party. Humorously enough, Nichkhun seems to almost angrily be pouring a drink into Wooyoung's mouth - a scene that should make fans wonder what is going on but also make them laugh out of amusement at these boys' never ending silliness.
SEE ALSO: [Interview] Ask anything and everything: Send us your questions for Minzy!
Taecyeon writes, "Are they crazy?" While he does not specify if this is for their comeback, it seems fairly likely. Either way, stay tuned for more updates on 2PM's grand return to the music scene!
Jun.K posted a picture of Taecyeon and Chansung, asking the same question.
미친거아냐? @Khunnie0624 @0430yes pic.twitter.com/v9CYzz9Nyi

— taec yeon ok (@taeccool) August 28, 2014


아니, 미친거 아니야? @taeccool @2PMagreement211 pic.twitter.com/EUF7ZdocoF

— JUN. K (@Jun2daKAY) August 28, 2014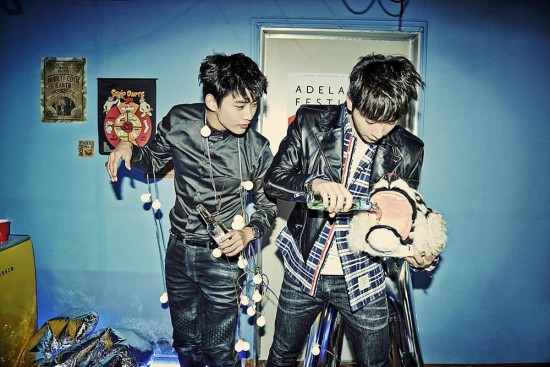 If you can recall, back in April, Nichkhun hinted that their next track will be called "Crazy" so it appears that will be the comeback title. Stay tuned to allkpop for more information.
"@Deyann_Mn: @Khunnie0624 when 2PM will comeback?" Soooooon! We're getting ready to go CRAZY!

— นิชคุณ Buck หรเวชกุล (@Khunnie0624) April 9, 2014
Updated with Wooyoung's tweet
:
우린 다 미쳤어!!!!! GO!!!!!!!!!!!CRAZY! @dlwnsghek @Jun2daKAY pic.twitter.com/qcLYXzpHid

— JWY (@0430yes) August 28, 2014