'Rise' is the latest full-length album from one of our dear Big Bang members, Taeyang. Although I can't bring myself to laud the album, I will admit it is definitely worth a listen. Or two. Or three. Or however many times you will play it for the next several days. 
'Rise' is meticulously arranged and it really shows throughout the album. The tracks are diverse and many songs on the album proudly showcase Taeyang's vocals—one of his deadly weapons used to target and attract females. The other weapon being his rippling, robust abs—olutely fabulous manners. Another noteworthy element within the album is not only Taeyang's abs—olutely fabulous vocals but also how extensively piano-centric the songs are. 7 out of the 9 tracks feature our omnipresent keyboard friend. Not an issue with me since I appreciate how a simple piano chord has the power to set the mood for a whole song (as was the case in "Eyes, Nose, Lips"). Plus, what girl can nonchalantly say no to a man that can work the keyboard so effortlessly as to seem he was born with the coveted skill? The production team is quite impressive as well, including one of our other beloved Big Bang members G-Dragon, YG's main producer Teddy, Epik High's Tablo, and Taeyang himself.
"Intro" sounds promising; it starts out a little formidable with an ominous drum beat and somber, brooding lyrics (blame it on Tablo). But the uplifting melody renders it the kind of song that you'd blast while driving in your car. It'll make you want to speed fast and furious around your quaint suburban neighborhood and break all the road rules—with one hand on the wheel, driving 45mph on a 40mph-limit road like the badass you were born to be—in your fuel-efficient, trusty, compact Honda Civic of course. Too bad you can't make everyone else on the road uncomfortable with this song for more than 1:45 minutes. "Ringa Linga" may be a better candidate for blasting while driving around heedlessly in your—or your parent's—car (though I wholeheartedly don't recommend doing so. Wait, did I just contradict myself? Oh, well). "Ringa Linga" was a song that I didn't like on first listen but slowly grew on me. Maybe it's because I'm not too big a fan of trap-laced hip-hop style of music. But after a few more listens, I had trouble getting it out of my head.
The intro track nearly led me to suspect that the next song will be the release of the bubbling energy that was carefully contained. However, the anticlimactic ending was more final than I had thought. "Eyes, Nose, Lips" is the demure, more "organic" cousin of "Wedding Dress." The piano is there. Taeyang's emotional vocals are also there. What's not there are the sweeping synths, a heavy bass, and many other instruments that were present in "Wedding Dress." I don't mean to declare "Eyes, Nose, Lips" as the lesser of the two. In fact, I enjoyed, "Eyes, Nose, Lips" as much as, if not more than "Wedding Dress." Other songs on the album could have just as easily served as the title track—for example "Stay With Me"—but I'm glad "Eyes, Nose, Lips" was designated that esteemed role instead. I'm opining so mainly because Taeyang's voice really shines through in this song. Even while watching the MV, I got bored of listlessly staring at Taeyang's abs after the first 10 or so seconds, but one thing I sure didn't get tired of was his voice. Another relatively "clean" track not weighed down by layers upon layers of instruments is "This Isn't It/Didn't Mean It." It's a pop-ballad with a (surprise!) piano-based melody. This song is even more downplayed than "Eyes, Nose, Lips," and regrettably not one of the stand-outs for me. However, you'll likely enjoy it if you are a fan of ballads.
"Pop tunes with this degree of sing-along-ability that stick in your head for days on end should be placed on moratorium."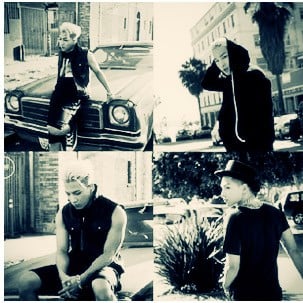 "1AM", "Stay With Me", and "Body" are pure pop, dance songs incorporating catchy, anthem-y hooks—a safe formula to execute to please the ears of the masses. If the Korean lyrics were switched out for English lyrics, the songs would sounds very similar to the top hits that are currently being played on American—or other "Western"—popular music radio stations. Pop tunes with this degree of sing-along-ability that stick in your head for days on end should be placed on moratorium. "Stay With Me" is one of my favorites—the other favorite being "Love You to Death"—thanks to its memorable hook. The song, written and produced by G-Dragon, is more a G-Dragon track that just happens to feature Taeyang as a singer. But I will just view this track as the best of both worlds: G-Dragon is my favorite member in Big Bang plus the song is great, so two solid thumbs up! "Body" is that song that you thought would get the blaring red "19+" mark for its sexual innuendos but surprisingly, it was spared the ban. The lyrics that are in English include: "I got that body / You got that body / Now you and me let's make somebody." The conspicuous suggestion to…make babies was never expressed in a K-Pop song in a more literal sense than was through this track (unless someone else can name another no holds barred K-Pop song that refers to baby-making).
"Throw Away", "Love You to Death", and "1AM" were the most lyrically distinguished out of the album. This is not a big surprise since The Genius himself, Tablo, and YG's main producer, Teddy, penned the songs. When I read the Korean lyrics for "Throw Away" and "Love You to Death", I was reminded yet again why so many people revere Tablo as a lyrical prodigy. Though typically, in a pop song, lyrics are ancillary to forming a sing-along worthy hook, it's always nice to have thoughtful verses that aren't trumpeting trite subjects that seem to be so ubiquitous among today's hits. All three songs reflect a certain yearning for a special someone (for Tablo I'm assuming it's Kang Hye Jung) and I was particularly moved by the metaphor in "Love You to Death." Roughly translated, a part of the song goes: "Do you think my heart can bear it? / Won't I also bleed when pricked? / But the very thing that gives me a disease / Is also the cure that enables me to breath / How am I supposed to quit you? / Whatever you do I can endure it / As long as you breathe, I'm okay even if every part of me dies." This song is tied for my favorite alongside "Stay With Me"; the two tracks encompass both melody and lyrical content that were the most striking out of the entire album—to me anyway.
Combining the triple threats of Taeyang's soulful vocals, a couple poetic verses, and unforgettable hooks, 'Rise' offers an easy, enjoyable listen. Some Korean netizens have expressed their concern that the new album wasn't completely Taeyang and Yang Hyun Suk was an obstacle in his creative process. I couldn't determine any reputable sources that backed the sentiment and even if there were articles online purporting Papa YG's supposed obstruction of Taeyang's creativity, it wouldn't change my viewpoint that 'Rise' is undeniably and irrevocably a Taeyang album.