Earlier this week, some members on an online community for moms expressed their anger at the news that the streaming platform Wavve would be showcasing South Korea's first ever gay dating reality show, 'Man's Romance'.
One mom asked other members of the community, "Please call Wavve and protest this program. It's time to put out voices together!"
The mom claimed, "If we don't act now, before we know it, our children will develop a curiosity and fall into bisexuality. In fact, bisexuality is not a trait developed at birth. It develops after birth as a result of certain experiences such as sexual abuse or curiosity, and is an addiction to sexual pleasure! Not only is bisexuality a mental illness, it also causes various physical illnesses and should not be treated as a concept that should be respected or protected. Neither is it hereditary; it is a state which can be fixed through education. Above all, prevention is the most effective solution!"


Other members of the community reacted with comments like, "I bet this program was created by a gay person", "These kinds of programs are just unnecessary", "Bisexuality should be banned! TV programs should not justify such actions!", "The world is going crazy", "This is a real problem. My 6-year old child recently asked me if two men can get married... when I was that age, asking that kind of question was unimaginable", etc.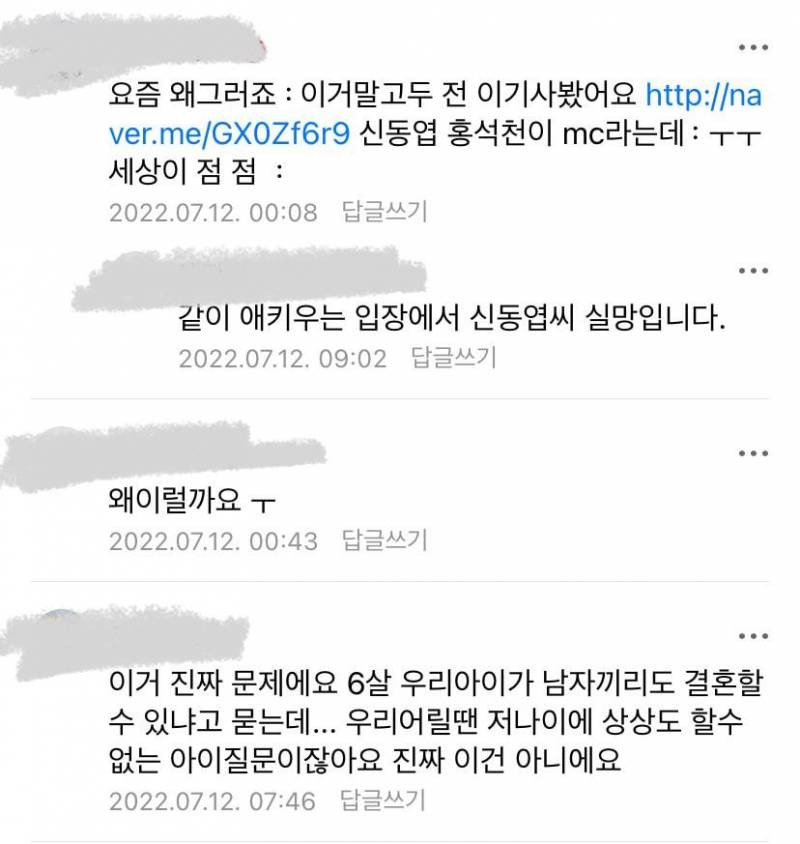 However, when contacted by some protesting individuals, Wavve issued the following statement in response:
"While we do empathize with your concerns, Wavve-original programs aim to showcase programs with unique topics which differentiate them from other platforms, and this program in question is just one of many different types of programs that our platform hopes to offer viewers. This program is a reality program which reflects the lives of these people. There may be differing views and opinions on 'bisexual' individuals; however, through the format of a reality program, this series provides a look into the lives of certain people while addressing the need to respect and understand differences, so we ask for your understanding."
Meanwhile, the claims raised by the mom community above have now become a heated topic of discussion in other online communities. In fact, some netizens were appalled by the claims and reacted with a significant amount of sarcasm, commenting,
"Um, I feel sorry for your children who have to put up with parents like you."
"Okay but this is Wavve, an online streaming service you have to pay for, so just don't pay for it and don't watch it??"
"If your kid is going to become bisexual just by watching one bisexual show, then make them watch a show with heterosexual romance right afterward, and then your problems will be solved you idiot."
"Too bad, I'm gonna watch it and I think it's gonna be really good!"
"Bisexuality develops from curiosity? Their stupidity amazes me..."
"I'm sorry but I think you're the one with a mental illness..."
"Oh no, I've been binge watching a drama where married people cheat on their spouses... I guess I'm gonna cheat on my nonexistent spouse too."
"I wonder if their stupidity developed at or after birth."
Meanwhile, Wavve will be showcasing two of South Korea's first ever queer reality programs this month, including 'Man's Romance' which premieres on July 15, and 'Merry Queer' which premiered back on July 8.