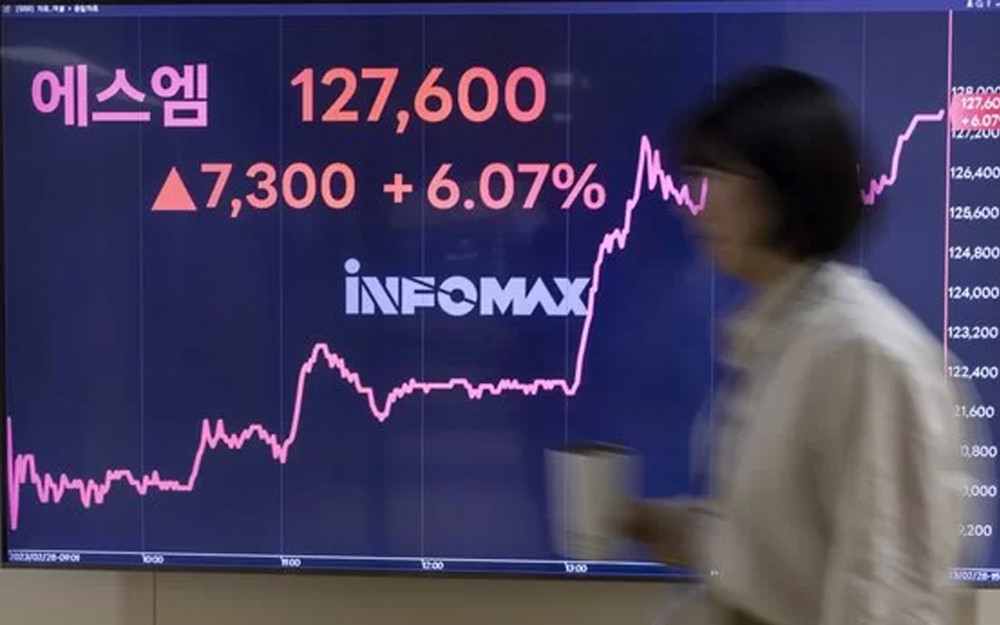 The current management of SM Entertainment, which is in a fierce battle for management rights with competitor HYBE, sent a letter to minority shareholders ahead of the shareholders' meeting scheduled for the end of this month, asking for support, saying, "HYBE's board of directors will, of course, give new business opportunities to HYBE (not SM)."
According to a March 1 report, SM recently sent a letter titled 'To the shareholders of SM Entertainment Co., Ltd.' to minority shareholders.

On the outside of the letter envelope, there is a promise of "an independent board of directors for all shareholders, not specific shareholders," and "a dividend of 1,200 KRW per share." Also, "(SM) Recommendation of the board of directors" is circled, and "Former major shareholder, Lee Soo Man's proposal," is marked with an X.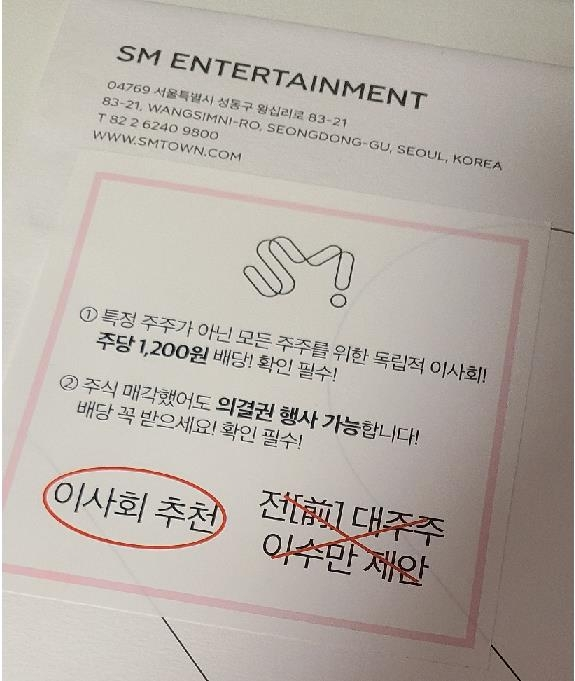 In the letter, SM said, "This is an important event that will never happen again in the history of Korean entertainment."

The current management also emphasized, "This year's shareholders' meeting is the last opportunity to completely resolve SM's governance issues that have been going on for the past decade and raise its corporate value to the next level as an entertainment company with the best artist pool in Korea."

SM especially attached a separate question and answer (Q&A) document to persuade the shareholders.

In response to one question, "Isn't it good if SM is acquired by HYBE, which is larger and belongs to the same industry?" SM responded, "Good trainees, good songs, good choreographers, and concert planning will be allocated to Big Hit (BTS' agency), Pledis (Seventeen's agency), ADOR (NewJeans' agency), and Source Music (LE SSERAFIM's agency), since HYBE has a bigger stake in these affiliate companies."

SM continued, "If HYBE owns only up to 40% of SM shares and the remaining 60% is held by general shareholders, conflicts of interest will inevitably arise between SM shareholders and HYBE shareholders," and added, "HYBE is the biggest competitor in the industry competing for first and second place with SM."

They also presented an explanation for its support for Kakao's capital increase and issuance of convertible bonds at 90,000 KRW and its opposition to HYBE's 120,000 KRW tender offer.

SM explained, "Kakao's paid-in capital increase and issuance of convertible bonds are for strategic collaboration with us. Since the issuance volume is only 9% of the total, there is no management right, and as the business area does not overlap with our company, we can expect sufficient synergy to help our shareholder value."