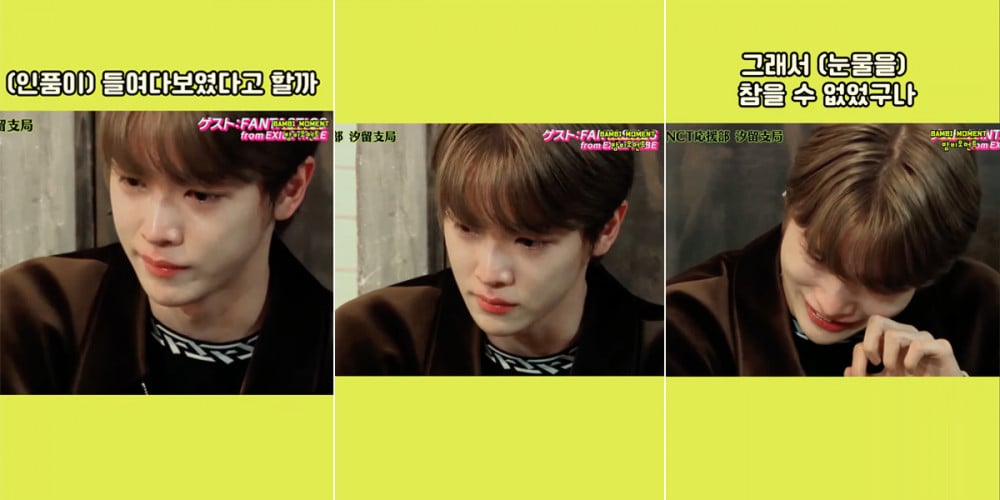 NCT member Sungchan recently garnered attention for suddenly bursting into tears on a Japanese variety program after receiving compliments from the program's hosts for his efforts.
Recently, NCT members Sungchan and Shotaro appeared on a Hulu Japan special, introducing NCT to Japanese fans.
At the end of the program, the hosts thanked the two NCT members for their hard work, and particularly addressed Sungchan's efforts to participate in the program as much as he could, despite being unable to speak Japanese.
One host said, "For the past two days, everyone on this set spoke Japanese. Sungchan, even though he must have felt like he couldn't understand at times, he kept trying his best to participate. That must have been exhausting. And you also had to complete challenges where you danced very vigorously, and you gave your best efforts. You did very well until the end. I find your efforts commendable. And throughout the process, Shortaro was always explaining things to you and supporting you. Seeing the two of you working together and supporting each other, I was really moved by that. These two are really the best teammates."
Hearing this (and having the host's comments interpreted to him through the earpiece), Sungchan burst into tears, surprising the show's hosts as well as Shotaro!
The host further added on, "We could see that you two are very good people and good comrades."
To this, Shotaro also commented, "This is my first time having promotions in Japan with Sungchan. Usually, it is always Sungchan who is helping me with Korean. But now that the situation has been reversed, I realized just how much Sungchan has been helping me, ever since debut."
In the end, Shotaro also teared up, showcasing the strong bond between the two.
How did netizens react?
Some said, "Wow it must have been so difficult TT", "When someone acknowledges your hard work, it's natural for anyone to cry TT", "Sungchan's first promotions in Japan TT. It must have been so hard TTTT", "Why am I crying too TT", "You can tell these two have a really strong relationship", and "Poor baby, he must have felt so much pressure".
Others also stated, "How can SM treat these two boys who work so hard so poorly..", "Why does a Korean member have to be in a Japanese team TTTT", "Sungchan is one of the NCT members I'm starting to get into.. I don't want him to debut in Japan..", "OMG hurry up and debut these two in a fixed team", "Even if SungTaro debut in a Japanese team, I hope they promote in Korea often TT", "Whether it's in a Japanese team or whatever, just let these two debut in their own team SM", and more.