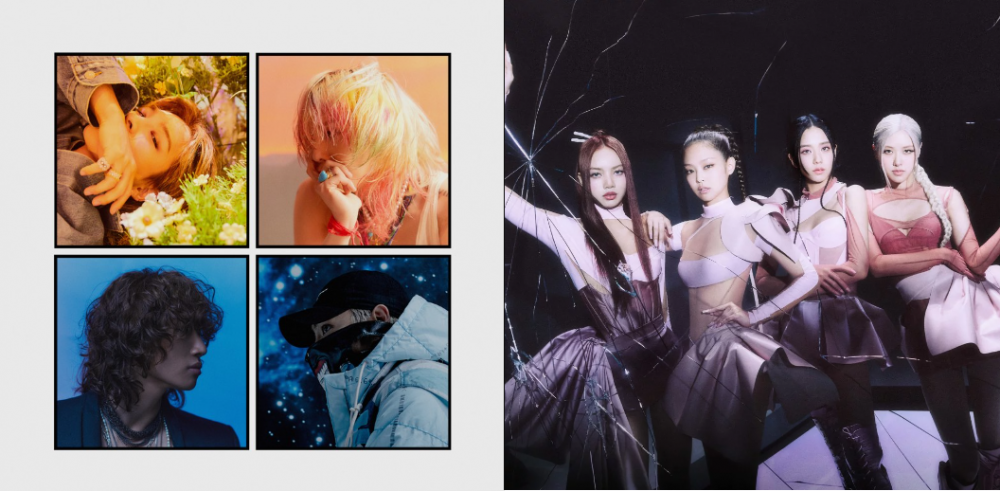 Back on August 7, Billboard announced that the music sales in China will be reflected on Billboard's global chart. Also, China has banned bulk buying at the end of 2021, so the sales in 2022 show organic sales.
On October 4, Korean netizens talked about these subjects on Nate Pann.
Read the Pann post below!
Thread: Billboard's announcement + Kpop sales in China after the bulk buying ban
Billboard announced that Chinese sales will be reflected in Billboard's global chart in the future. It's unclear when it will be reflected. Bulk buying was banned in China at the end of 2021.
+++ For reference, http://y.saoju.net is a Chinese site here, album and single sales are updated every 30 minutes, and only those after 2015 are included.
The data here doesn't include all the artists and every album. They only include QQ, Netease, and a few more music service sales. That's why many of the popular singers in China aren't on the list, so you shouldn't be surprised. For example, aespa, Jennie, Treasure, JYP idols, etc.. (e.g., SM was partnered with Xiaomi music till 2018, and Xiaomi music sales aren't included on the site, so EXO's sales before 2018 aren't available. This is the same for the most of artists)
The other list includes the best-selling Korean singers on that site since 2015.
This is the number of Kpop sales since the ban on the bulk buying purchase of music in China in 2022.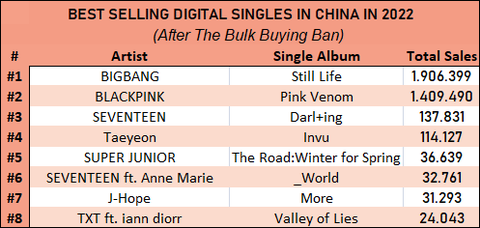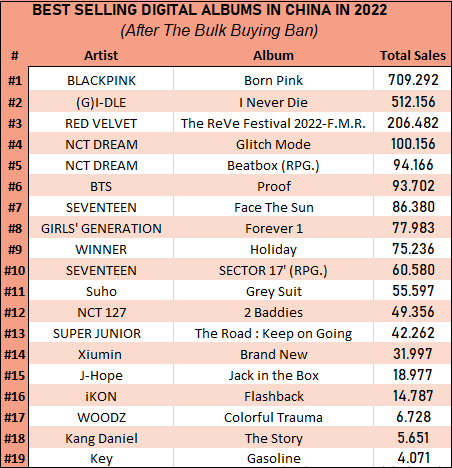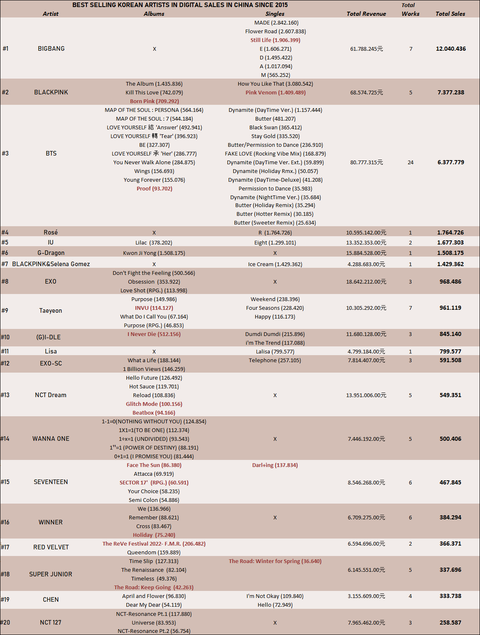 K-netizen comments:
1.[+205, -20] BIGBANG, BLACKPINK and (G)-IDLE are a wall.
2.[+164, -25] It's a pity that EXO hasn't been active enough. If their sales from 2012 to 2016 were included, their cumulative sales would have been way higher.
3.[+133, -262] Why do the Armys claim that BTS has never been promoted in China??ㅋㅋㅋ The groups that have never promoted in China are BLACKPINK, NCT, and SEVENTEEN. BTS released a Chinese version of their songs, performed there and, did fan meetings, gave interviews in China till 2016. All Korean singers are banned in China due to the Hallyu ban, so no Korean can promote in China since then.
4.[+130, -20] After the 5 years of hiatus, BIGBANG didn't even promote their song, they only released a few teaser pictures, and they still did great.
5.[+106, -1] Don't you guys read it? They didn't include all artists. http://y.saoju.net includes not every artist. So there are no sales of the artists shown on the list.
6.[+93, -1] But it would be so good if every music platform ban mass buying and mass streaming.
7.[+78, -8] BTS is not the only Korean banned in China. In 2016, Hallyu content was banned in China due to political issues, and the ban is still valid. Only digital content is available. Fans still bulk buy physical albums from overseas.
8.[+69, -57] You can see that BTS' sales plummeted after the ban on mass purchases of music.
9.[+59, -8] But didn't China ban bulk buying because of Armys' bulk purchases just like Billboard did???
10.[+51, -14] BLACKPINK seems like a Chinese (artist).