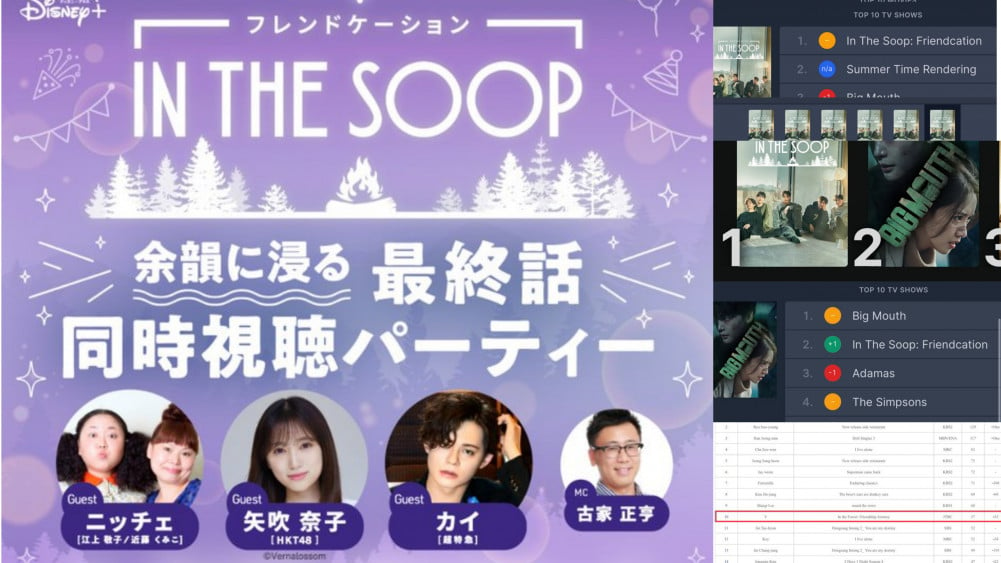 On August 13, LINE LIVE Japan organized a Live viewing party for the last episode of 'In the Soop: Friendcation', hosted by famous MC Furuya Masayuki with guests:
· Famous comedy duo Nietzsche
• Japanese idol Nako Yabuki (ex IZONE)
• Actor Kai Ogasawara
During the viewing party, guests gushed over Taehyung's cute personality and were impressed by how his aura suddenly became serious and completely changed when he sang. Furuya Masayuki commented: "BTS V is usually cute, but while he sings, it's so sexy...the gap is really....(amazing!)."
Japan is known as Taetaeland as he's not only the most popular Korean artist there but because many Japanese celebrities have confessed their adoration for him.
Today is not an exception, as famous actor Kai Ogasawara admitted that he watched the show due to Taehyung:
"I've liked BTS for a long time. Among them since I like TeTe- V-san the most, there was no way I would miss watching (In the Soop)."
The actor went fanboy mode and shared how he once wanted to copy him, also how he bought a matching Hoodie after he saw V wearing it in the show.
As expected from Taetaeland, the Live viewing party started with fast-growing real-time viewers reaching more than 250,000 real-time viewers.
The considerable number wasn't a surprise as the show has been so popular in Japan since the first episode, claiming the top position in Disney+ Japan and receiving positive feedback, making "'In The Soop: Friendcation' the First Korean show this year to spent entire time from airing to end at #1 on Disney Japan".
The show was received with so much love from all around the world despite being available in only a few countries.
'In The Soop: Friendcation' ended as follows;
★ The fifth most popular Korean cable tv show.
★ Ranked #1 on Disney+ South Korea, Japan, Indonesia, and Singapore.
★ Ranked #1 under 'Top 10 Shows watched in Korean ' on Disney+ India and Top 6 trending show as well.
★ Ranked #2 on Disney+ Hong Kong and Taiwan.
★ Ranked #1 on HITV app.
The show also had the second highest rating in the 'In The Soop' series on Korean TV.
Kim Taehyung, Korea's National treasure, melted hearts with his natural charms and sweet personality and his perfect visuals.
The buzz created by the show raised anticipation for a season 2.