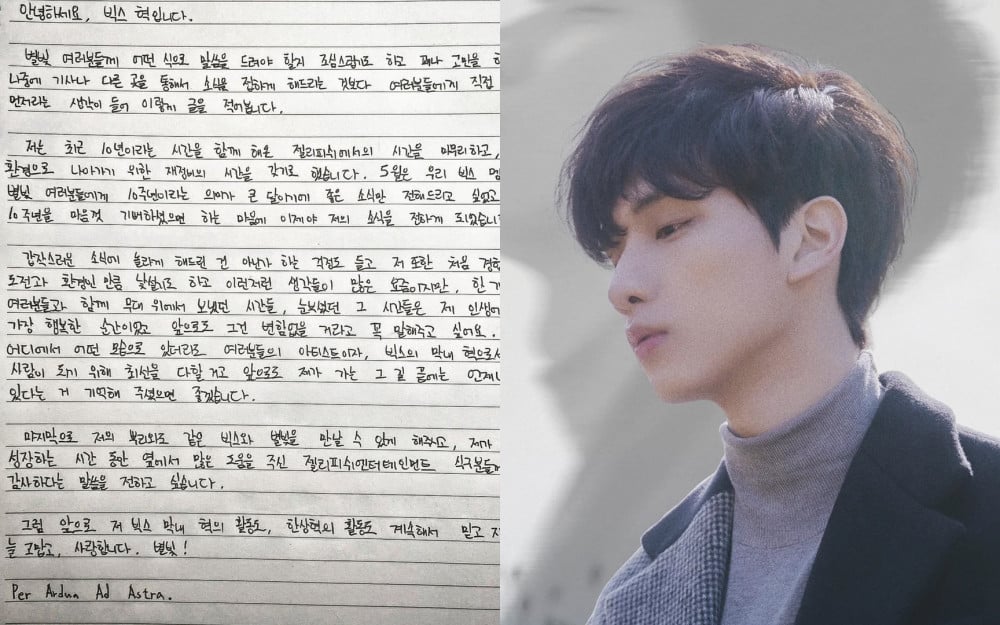 On June 1, VIXX member Hyuk wrote a handwritten letter to his fans revealing that he will be departing from Jellyfish Entertainment.

The idol posted the letter on his Instagram and wrote, "I contemplated for a long time on how I should share this with Starlight but I thought it would be best to hear the news from me in person rather than hearing it through articles or news. So, I am writing this letter."
He continued to write, "I will be wrapping up my time of ten years at Jellyfish and decided to take the time to reorganize so that I can go forth to a new environment. May was a meaningful month for both the VIXX members and fans since it was our tenth anniversary. So I wanted to only deliver good news and I wanted us to enjoy the tenth anniversary to the fullest so I am only sharing this news now."
Hyuk shared, "I am worried that I might have surprised fans with this sudden news and I am also going to challenge new things and be in an unfamiliar new environment. But what I am sure is that the time I spent on stage with you all - the brilliant time together - is the best moment in my life that is unchanging and I want to share that."
He continued, "I am your artist and VIXX's youngest member Hyuk no matter what I do or wherever I am. I will put forth the effort to become someone you will be proud of and I want you to know that Starlights are always at the end of the road that I am traveling."
He concluded by saying, "Lastly, I want to say thank you to the Jellyfish staff members who allowed me to meet VIXX, which is like my roots, and Starlight, and also for giving me help so that I can grow. Please watch over me as I continue my activities as VIXX's youngest member and as Han Sang Hyuk. I love you, Starlight!"