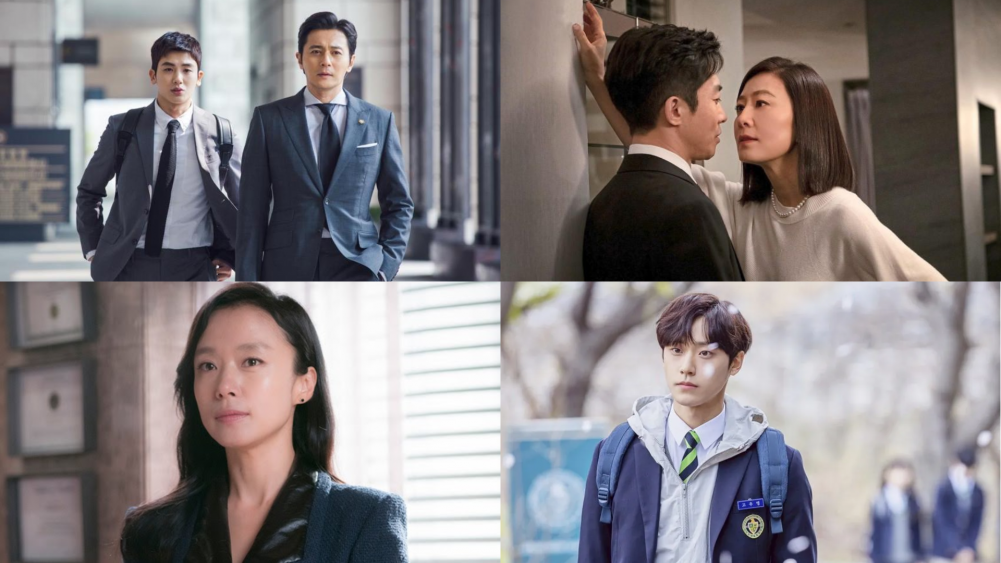 There are excellent and exceptional Korean drama series that display excellent storylines and plots, gaining popularity and support from domestic viewers and even international fans. Because of the extreme demand, some of these dramas are distributed through streaming platforms for more fans to have access. Sometimes, due to a drama's popularity and being well-loved in other countries resulted in various remakes adjusted to domestic preference and portrayed in their language.
Just like other series, Korean dramas also create remakes from other international series and put a touch like on the usual K-Drama series, a trademark, if one must say. Here are some of the K-Dramas which are actually remakes of international shows!
1. 18 Again
Remade from: 17 Again
Cast: Kim Ha Neul, Yoon Sang Hyun, Lee Do Hyun
2. The World of the Married
Remade from: Doctor Foster
Cast: Kim Hee Ae, Park Hae Joon, Han So Hee
3. Suits
Remade from: Suits
Cast: Jang Dong Gun, Park Hyung Sik
4. The Good Wife
Remade from: The Good Wife
Cast: Jeon Do Yeon, Yoo Ji Tae, Yoon Kye Sang
5. Life on Mars
Remade from: Life on Mars
Cast: Jung Kyung Ho, Park Sung Woong, Go Ah Sung, Oh Dae Hwan, Noh Jong Hyun
6. Designated Survivor: 60 Days
Remade from: Designated Survivor
Cast: Ji Jin Hee, Heo Joon Ho, Kang Han Na
7. Moon Lovers: Scarlet Heart Ryeo
Remade from: Scarlet Heart (Bu Bu Jing Xin)
Cast: Lee Joon Gi, IU, Kang Ha Neul
8. Boys Over Flowers
Remade from: Boys Over Flowers (Hana Yori Dango)
Cast: Gu Hye Sun, Lee Min Ho, Kim Hyun Joong, Kim Bum, Kim Joon, Kim So Eun
9. A Love So Beautiful
Remade from: A Love So Beautiful
Cast: Kim Yo Han, So Joo Yeon, Yeo Hoe Hyun, Jo Hye Joo, Jeong Jin Hwan
10. Rich Man
Remade from: Rich Man, Poor Woman
Cast: Suho, Ha Yeon Soo, Oh Chang Suk, Kim Ye Won
11. Criminal Minds
Remade from: Criminal Minds
Cast: Lee Joon Gi, Son Hyun Joo, Moon Chae Won, Yoo Sun, Lee Sun Bin, Go Yoon
12. Cleaning Up
Remade from: Cleaning Up
Cast: Yum Jung Ah, Jeon So Min, Kim Jae Hwa, Lee Moo Saeng, Na In Woo
13. One Ordinary Day
Remade from: Criminal Justice
Cast: Kim Soo Hyun, Cha Seung Won, Kim Sung Kyu
14. Uncle
Remade from: Uncle
Cast: Oh Jung Se, Jeon Hye Jin, Lee Kyung Hoon, Park Sun Young, Lee Sang Woo, Lee Si Won
15. Entourage
Remade from: Entourage
Cast: Cho Jin Woong, Seo Kang Joon, Lee Kwang Soo, Park Jung Min, Lee Dong Hwi
16. Mistress
Remade from: Mistresses
Cast: Han Ga In, Shin Hyun Been, Choi Hee Seo, Goo Jae Yee
17. Woori the Virgin
Remade from: Jane the Virgin
Cast: Im Soo Hyang, Sung Hoon, Shin Dong Wook, Hong Ji Yoon
18. Less Than Evil
Remade from: Luther
Cast: Shin Ha Kyun, Lee Seol
19. The Queen's Classroom
Remade from: The Queen's Classroom
Cast: Go Hyun Jung, Kim Hyang Gi, Chun Bo Geun, Kim Sae Ron, Seo Shin Ae
20. Mother
Remade from: Mother
Cast: Lee Bo Young, Heo Yool, Lee Hye Young
21. My Absolute Boyfriend
Remade from: Absolute Boyfriend
Cast: Yeo Jin Goo, Bang Min Ah, Hong Jong Hyun
22. Playful Kiss
Remade from: It Started With a Kiss
Cast: Jung So Min, Kim Hyun Joong, Lee Tae Sung, Lee Si Young
23. The Smile Has Left Your Eyes
Remade from: Sora Kara Furu Ichioku no Hoshi (Hundred Million Stars from the Sky)
Cast: Seo In Guk, Jung So Min, Park Sung Woong
Here are only some of the K-Dramas which are remakes of international dramas, and there are other upcoming K-Dramas that are remakes, too, such as Money Heist: Joint Economic Area. Which among the listed is your favorite? Do you want to see more series get remade into K-Dramas, and which do you want to see?