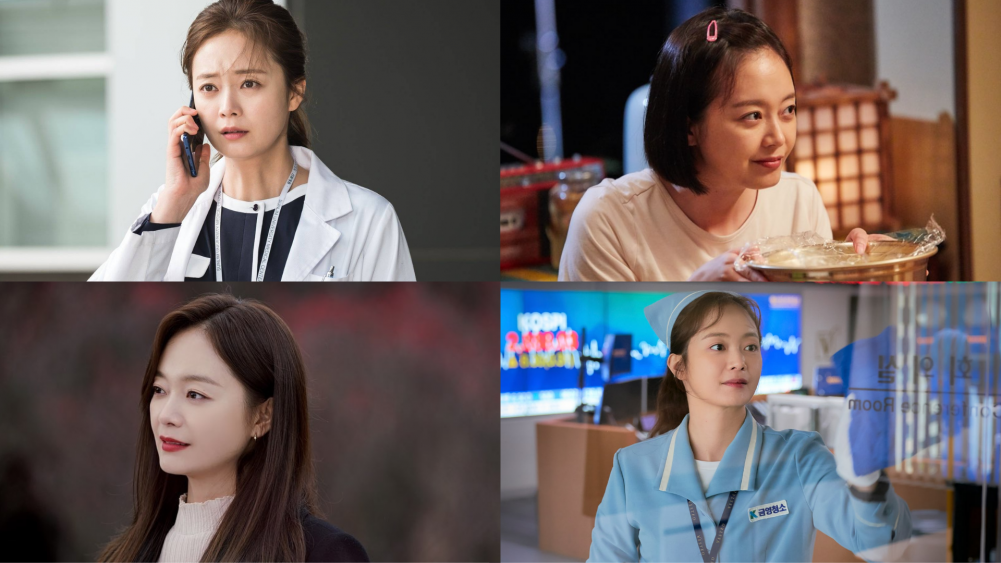 During an era where versatility is a significant plus among fans and the entertainment industry alike, gems who do an excellent job in two or more fields are definitely raising expectations in every role they take. Regardless of where they land, may it be in the variety, acting, or other fields, their undeniable talents speak for themselves, alongside their hard work, which leads to their well-deserved success and recognition.
Among the various gems the industry has, Jeon So Min proved herself to be an unexpected jewel, making her mark in different fields through her amazing performance. Before working and debuting in the industry she currently works in, she originally worked as a fashion magazine model in her second year of high school. As she majored in Broadcasting and Entertainment at Dongduk Women's University, her interest in acting sparked even greater, and she eventually debuted as an actress in the year 2004 in the drama series, Miracle. She has also reached her dream as a poet- to publish her first book titled You Can Call Me After a Drink.
As years go by, she expands her horizon- together with the expansion of support from fans not only in Korea but internationally. Let's all take a glimpse at So Min's fruitful and shining career!
Actress Somin
1. Cinderella (2006) as Hye Won
A horror movie, Cinderella is So Min's big-screen debut as she takes on the role of Hye Won, a supporting character who is friends with the main character, Hyeon Su. Her first movie role will propel the rookie So Min to strive harder as an actress.
2. Princess Aurora (2013) as Oh Ro Ra
Beating the casting odds of 1 to 1000, So Min finally lands her first lead role in the daily morning drama, Princess Aurora. Her superb acting impressed viewers, gaining the nickname "Queen of Daily Morning Dramas." She also won Best New Actress during the 2013 MBC Drama Awards and received a nomination for Excellence Award, Actress at the 7th Korea Drama Awards.

3. Endless Love (2014) as Kim Se Gyung
She portrayed Kim Se Gyung, a supporting character who is the daughter of Min Hye Rin and has a crush on Han Gwang Chul. Her portrayal as a conflicted daughter and a devoted lover landed her great comments and feedback.
4. Tomorrow Victory (2015-2016) as Han Seung Ri
Landing yet another main character role in a daily drama, she cements her status as an actress in morning dramas in Tomorrow Victory. Her role as Han Seung Ri gave her a chance to showcase extreme emotions, and she did well, gaining a nomination for the Excellence Award, Actress in a Serial Drama, during the 2016 MBC Drama Awards.
5. Something About 1 Percent (2016) as Kim Da Hyun
Kim Da Hyun, a teacher who would accidentally get entangled in familial affairs and arranged marriages, becomes one of So Min's most beloved characters. Her great acting and undeniable chemistry with Ha Seok Jin helped them gain international attention, with various scenes reaching millions of views and becoming one of the most well-loved dramas with the arranged marriage trope.
6. Cross (2018) as Go Ji In
So Min takes on a role of a doctor, particularly an organ transplant coordinator, and the love interest of Go Kyung Pyo. The conflict her role is experiencing has been portrayed very well and became the start of her acting comeback in the year 2018.
7. Review Notebook of My Embarrassing Days (2018) as Do Do Hye
So Min portrays Do Do Hye, a mathematics teacher who has been avoiding her embarrassing moments, meets Na Pil Seung, whom she shared embarrassing moments with in the past. She also gained a nomination for the Excellence Award, Actress in a One-Act/Special/Short Drama, during the 2018 KBS Drama Awards.
8. Top Star Yoo Baek (2018) as Oh Kang Soon
She lands yet another main lead role as Oh Kang Soon, an islander who is unpredictable but bright and optimistic and will develop romantic connections with extremely different men, Yoo Baek, a former idol-actor, and Choi Ma Dol, her childhood friend and a sailor.
9. Birthday Letter (2019) as Kim Jae Yeon
In another KBS Drama Special, So Min portrays Kim Jae Yeon, Moo Gil's granddaughter, who will discover the history and past love of his grandfather through a birthday letter.
10. Big Data Dating (2019) as Ahn Bit Na
Ahn Bit Na, a romanticist in another Drama Special where she falls in love with a cold-hearted and genius app developer who believes blindly in big data.
11. My Name (2020) as Seo Ri Ae
In her big-screen comeback, Seo Ri Ae becomes one of her most emotional and challenging portrayals of a woman who wants to fulfill her unfinished dream of making her very last art project with a nameless artist.
12. Hee Soo (2021) as Hwang Joo Eun
Her reunion Drama Special with Park Sung Hoon, Hee Soo marks her resurgence as an actress with high caliber as she portrays the role of Hwang Joo Eun, who pursues the afterimage of her beloved child through VR technology. Her emotional and thrilling portrayal gave Joo Eun a multidimensional perspective, and went on to win the Best Actress in Drama Special/TV Cinema Award during the 2021 KBS Drama Awards.
13. Show Window: The Queen's House (2021-2022) as Yoon Mi Ra
Following her continuous resurgence, she now portrays a villain and a mistress for the first time in her whole career for Show Window. Her portrayal as Yoon Mi Ra has set aside the character from the usual mistresses and gave conflicting feelings towards the viewers, from hate to pity. She also veered away from her very sweet image and rebranded herself for this very role.
14. Cleaning Up (2022) as Ahn In Kyung
Coming this June 4, she takes on the role of Ahn In Kyung, one of the cleaners who resort to insider trading in order to fulfill her dreams, after accidentally overhearing a piece of financial information. During the live presentation, it was revealed that the director decided to wait for her despite her hectic schedule and her former injury, as she perfectly fits the role.
15. 2037 (2022) as Jang Mi
Her latest movie comeback, 2037, is to be broadcasted this coming June 8. She portrays Jang Mi, one of the female inmates who would try to give hope to a young inmate. She is the last adultery inmate before the abolition of adultery.

Entertainer Somin

So Min, a surprising gem of entertainment, has proved her talent not only by her gained fans and support but also received various awards such as the Best Rookie for Entertainment and Top Excellence Award in Variety Category in consecutive years, a feat which is hard to reach. She has also received multiple Best Multi-Entertainer awards through the years. Currently, she is a permanent member of Running Man since 2017 and a member of Sixth Sense since 2020. Here are some of her most remarkable variety show appearances and performances.
1. Living Together in an Empty Room
2. Running Man

3. Village Survival: The Eight

4. Sixth Sense
Music Video Appearances

She also shared her talent for acting not only in dramas and movies but also in various music videos through the years. Here are some of her appearances in various music videos.
1. Just Looking at You is Nice by No Reply
2. Sun & Star by Joo Suc
3. Atlantis Princess by Lena Park
4. Be With Me by SORAN

Somin's Discography

As a great writer and poet, she has also shown this as a lyricist in various songs officially credited to her. She has also participated as a vocalist in various songs, which can be a pleasant surprise among fans. Here are some songs she has worked on through the years.
1. He_Starlight with Kim Dong Wan

2. Confession of Love with SORAN and Yoo Jae Suk

3. Blue & Blue with Choi Botton (as narrator and lyricist)

4. I Love You with Choi Botton (as narrator and lyricist)

5. Why Not Cut Long Hair with Choi Botton (as narrator and lyricist)

6. Let's Be Forever by Choi Botton (as lyricist)
7. One Room by Lee Ki Chan (as lyricist)

So Min is undeniably multi-talented, and we hope to see even more of her in the coming years. Which among her personas and projects are your personal favorites? Cheer her on in her upcoming dramas and projects.