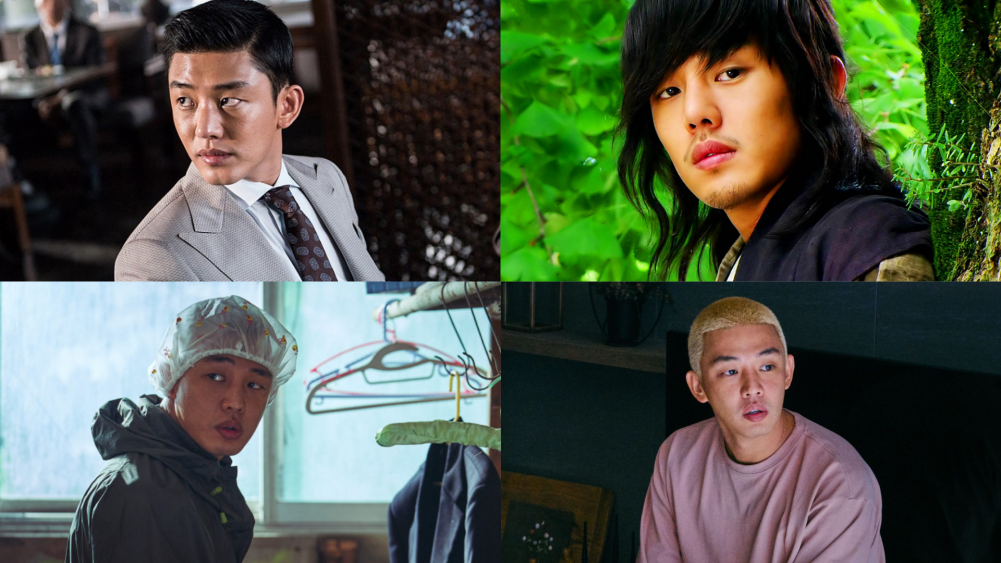 Uhm Hong Sik, known professionally in the entertainment and acting industry as Yoo Ah In, is an all-rounder actor, creative director, and gallerist. He is known for playing a diverse spectrum of roles in both television and film, where he often portrays dynamic characters that have emphasized his undeniable acting skills and immerse himself in each story he portrays.
He is the recipient of various accolades, including the Asian Film Awards, the Fantasia International Film Festival's Cheval Noir Award, two Blue Dragon Film Awards, and two Best Actor Awards from the prestigious Baeksang Arts Awards. He received international critical acclaim, including being selected for The New York Times' "The Best Actors of 2018" feature, making him the only Asian to be on the list and the first Korean actor to do so.
Since his debut in the industry in the year 2003, he has given life to various characters that have made a mark among viewers and critics. Here are some of his most remarkable roles in the history of his colorful career.
1. Yoo Ah In of Sharp
In his breakthrough role, he took the role of a model student majoring in painting. He gets nominated for Best New Actor in Drama Series for his amazing portrayal despite being a rookie.
2. Jeon Jong Dae of Boys of Tomorrow
After his acting hiatus, he starred in the low-budget indie film Boys of Tomorrow, taking over the role of a young man Jong Dae, who carries the psychological scars of a traumatic childhood accident. With his acting, he sweeps all his nominations, winning Best Newcomer and Best New Actor at the 3rd Pierson Youth Film Festival and Best New Actor at the 28th Blue Dragon Film Awards.
3. Yang Ki Beom of Antique
He starred in Antique, a movie invited to the 59th Berlin International Film Festival, and took on the role of boxing champion turned apprentice at a bakery. For his fantastic acting and portrayal of Ki Beom, he wins Best New Actor at the 11th Director's Cut Awards.
4. Moon Jae Shin of Sungkyunkwan Scandal
His rise to fame came in 2010, when he acted in the fusion period drama Sungkyunkwan Scandal, adapted from a book with the same title. He played the role of an unpredictable man who moonlights to reveal the corruption of rich nobles, Moon Jae Shin, with the nickname Geol-oh. His wave of popularity among viewers was later referred to as "Geol-oh-al-yee" (Geol-oh fever), coined after the name of his character. He gets nominated for Best New Actor and wins the Best Couple Award with Song Joong Ki.

5. Do Wan Deuk of Punch
He portrays Do Wan Deuk, a rebellious high school student from a poor household, in a leading role as a biracial teenager in the coming-of-age film Punch, a critical and commercial hit. The film premiered at the 2011 Busan International Film Festival and competed for Crystal Bear at the Berlin International Film Festival. For his acting, he was nominated at the Buil Film Awards, his first nomination for the Best Actor category.
6. Kang Young Gul of Fashion King
The next year, he starred in the drama Fashion King, taking over the role of a self-made but obsessed-with-success fashion businessman. His portrayal gained nominations from the 2012 SBS Drama Awards, and he has described his joining the project as an adventurous and satisfying step as he was able to play a character with worldly desires.
7. Lee Soon and King Sukjong of Jang Ok Jung, Living by Love
He then gets cast as King Sukjong in the 2013 period drama Jang Ok Jung, Living by Love, a revisionist take on infamous royal concubine Jang Hui Bin. His portrayal gained nominations from the 2013 SBS Drama Awards, and then called the role one of the biggest challenges of his career, and he garnered favorable press reviews for his mature, charismatic, and versatile portrayal of Sukjong.
8. Lee Sun Jae of Secret Love Affair
He takes on the leading role in the cable melodrama, Secret Love Affair, in which he plays a poor piano prodigy in love with his married, much older teacher. To prepare for his role, he practiced the piano and listened to classical music. Due to his popularity, he was dubbed "the nation's younger boyfriend." He also garnered favorable press reviews for his delicate, three-dimensional, and passionate portrayal of a genius pianist, alongside remarks that this is his turning point in acting.
9. Jo Tae Oh of Veteran
He played an amoral young millionaire who faces off with a detective in the crime thriller/comedy Veteran, which became one of the highest-grossing films in South Korea. He gains the amazement and praises of their film director as he was interested and active in expressing this villain character. For this role, he won multiple Best Actor awards, which he deserved more than anything.
10. Crown Prince Sado of The Throne
He plays the tragic Crown Prince Sado in the period drama The Throne, described by the director Lee Joon Ik as an actor with so much dissatisfaction and anxiety, who has an internal flame bottled up inside. He has won and received Best Actor awards at influential film awards and ranked number two on Korea Power Celebrity 40 by Forbes.
11. Yi Bang Won and King Taejong of Six Flying Dragons
He was then cast in the historical drama Six Flying Dragons, which occupied the number one rating slot throughout its run. His portrayal of the ambitious prince Taejong of Joseon won him Best Actor in the TV Category at the prestigious Baeksang Arts Awards. Due to his success in both film and television, the entertainment media coined 2015 the "Ah In Shidae" (Ah In Era).
12. Noh Jin Woo of Like for Likes
He played Noh Jin Woo, a Korean wave star in the ensemble cast film Like for Likes, his first romantic comedy since his debut. This was also his first film directed by a woman, where he deeply discussed the topic of feminism with the director. This film depicts the stereotypical perception of women that is deeply rooted in Korean society.
13. Han Se Joo and Seo Hwi Young of Chicago Typewriter
He then starred in the fantasy-romance drama Chicago Typewriter. He played the double roles of Han Se Joon, a famous present-day novelist, and Seo Hwi Young, the leader of a resistance group during the 1930s Japanese occupation of Korea.
14. Lee Jong Su of Burning
In 2018, he starred in Lee Chang Dong's film Burning, portraying a pure and sensitive young man, Jong Su, who tries to solve the mystery surrounding the woman he loves. The director said the reason he cast Yoo Ah In is because of his undeniable talent in delivering emotionally charged performances. He received various nominations from domestic and international award-giving bodies, alongside praises from various movie critics.
15. Oh Joon Woo of #Alive
In 2020, he starred in a zombie thriller #Alive as survivor Joon Woo, which premiered on June 24, 2020, and became the first film to surpass 1 million admissions since February 2020 prior to the outbreak of COVID-19 in South Korea. In September 2020, #Alive became the first Korean film to top the Netflix Movies Worldwide chart.
16. Tae In of Voice of Silence
In October 2020, he starred in the low-budget indie film Voice of Silence, portraying Tae In, a mutism character without a single line throughout the film. For his role as a mute clean-up worker Tae In, Ah In has gained over 33 pounds (15 kilograms) and shaved his head to better portray the role. For his performance in Voice of Silence, he won Best Leading Actor and Popular Star awards at the 41st Blue Dragon Film Awards, Best Actor in the Film Category at the 57th Baeksang Arts Awards, Cheval Noir Award for Best Actor at the 25th Fantasia International Film Festival, and Best Actor awards at the 30th Buil Film Awards and 15th Asian Film Awards respectively in 2021.
17. Jeong Jin Soo of Hellbound
His next role was that of the cult leader Jung Jin Soo in the Netflix series Hellbound which was released in November 2021. The series had its world premiere at the 2021 Toronto International Film Festival in the Primetime program of TV series in September 2021 and became the first Korean drama to make it to the festival. He received various critical acclamations as he was dubbed to become a memorable antagonist and an actor who stole the spotlight.
Here are some of the most remarkable roles of Yoo Ah In through the years! Which among these roles is your absolute favorite and recommendations for new viewers and fans?