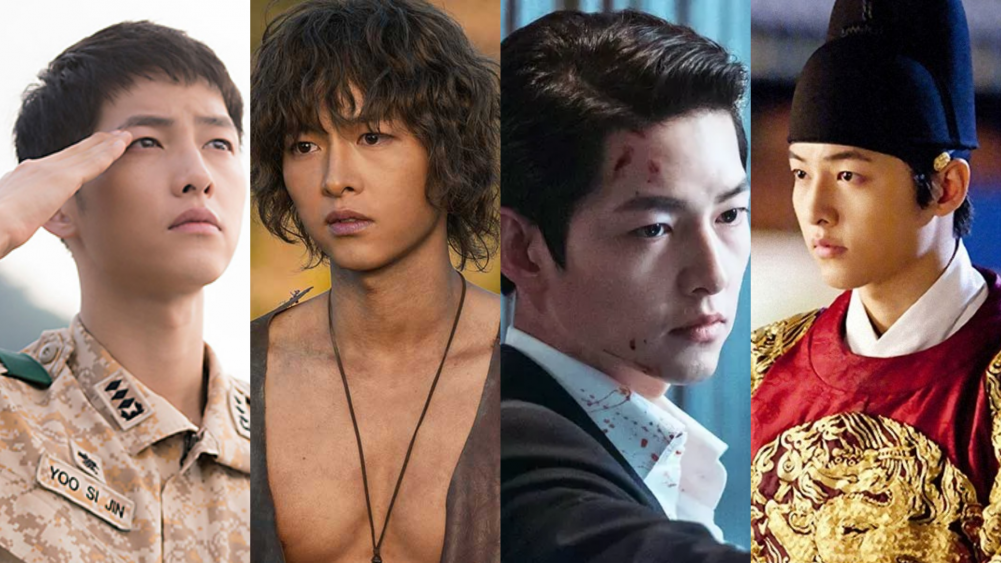 Many actors had eventful and successful careers right in front of them, an evident result of their talent and hard work, including the unwavering support of their fans and even casual viewers. Today, we put on the spotlight on the award-winning and one of the top Hallyu stars, Song Joong Ki.
Here are some of Song Joong Ki's roles that have built his career up until today!
Special Mention: KBS Quiz Korea
Before he was an actor, the young Song Joong Ki, who was then a student of the prestigious Sungkyunkwan University, first appeared in a TV show as a contestant on KBS's Quiz Korea, substituting for a senior who was sick. Through his wits, he ended up winning second place during the quiz show and became a way for the entertainment industry to discover him, where he ends up being scouted for university magazines.

1. Reporter 2 of Get Karl! Oh Soo Jung
Song Joong Ki's first acting debut will never be forgotten by the media or himself. He had his humble beginning as an extra, specifically the Reporter 2, with only one official spoken line for the drama Get Karl! Oh Soo Jung. His role will propel the young actor Song Joong Ki to bag more roles, small or big, until he reaches success.
2. No Tak of A Frozen Flower
He makes a mark as he lands his first movie debut as one of the supporting and minor roles in the movie A Frozen Flower. He bags the role of No Tak, the youngest of 36 "flower boys" that were cast as soldiers who were stationed under Hong Rim. He actually had to convince the director to get another dialogue, eventually giving him a chance as he showed determination and talent.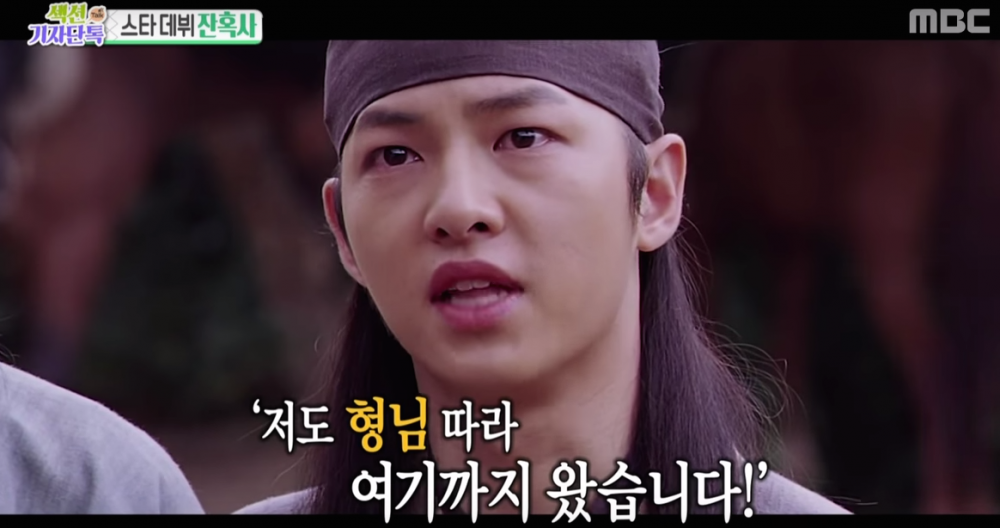 3. Cho Jong Pil of The Case of Itaewon Homicide
In one of his breakout roles, Song Joong Ki stars in the movie The Case of Itaewon Homicide, based on the true story of the Itaewon murder case, which shocked Korea. He takes on the role of Cho Jong Pil, a Hongik college student who became a victim of murder and was found dead at an Itaewon Burger King in 1997.
4. Gu Yong Ha of Sungkyungkwan Scandal
He rose to fame in the historical coming-of-age drama Sungkyunkwan Scandal, as he plays a well-beloved character among viewers. He takes on the role of Gu Yong Ha, an 18th-century Joseon-era rich, indolent playboy who had secrets behind him, intelligent despite mischief, and a part of the coveted Jalgeum Quartet. He won the 2010 KBS Drama Awards Popularity Award and even Best Couple with co-actor Yoo Ah In for their outstanding bromance.
5. Chun Ji Woong of Penny Pinchers
One of his earliest movie leads, Song Joong Ki, becomes Chun Ji Woong in the movie Penny Pinchers. He is an unemployed college graduate who continually fails job interviews and lives off an allowance from his mother, who runs a small restaurant in the countryside. He is highly optimistic and develops a relationship with Hong Sil, who is his polar opposite and will teach him about the art of penny-pinching.
6. Yi Do of Deep Rooted Tree
Song Joong Ki becomes the young Yi Do who will someday be King Sejong in the drama Deep Rooted Tree. During his early years as king, while trying to create Hangul, Yi Do had a strained relationship with his father and harbored guilt for seeing the people suffering and death under his father's tyrannical rule.
The drama showcased Joong Ki's praiseworthy performance, with critics calling it a portrayal of a genius who "realizes the futility of power early in life" and hides in his books to cope with growing up under the rule of his tyrannical father, Taejong. He eventually bags the Producer's Award during the 2011 SBS Drama Awards.
7. Kang Ma Ru of The Innocent Man
He finally takes on his first leading role in a drama series entitled The Innocent Man as Kang Ma Ru. He portrays a smart but poor medical student who has to look after his little sister without any parents, whose life and character will shift due to an extreme betrayal, and becomes arrogant and ruthless as he crafts revenge.
Alongside high viewership ratings that won the hearts of the audiences, he also won multiple awards, such as won Top Excellence Award (Actor) at the 20th Korean Culture and Entertainment Awards, 1st K-Drama Star Awards, and the 2012 KBS Drama Awards, among many others.
8. Chul Soo of A Werewolf Boy
A chance for Joong Ki to further prove and cement his status as a rising actor, he stars in yet one of his challenging roles as Chul Soo for the movie A Werewolf Boy. He portrays a feral boy whose blood type is unidentifiable, and he can neither read nor speak. In preparation for his role, he watched nature documentaries and observed stray dogs on the streets to learn how to mime and imitate the body movements of an animal, alongside movies with similar themes that will require detailed acting.

The movie ends up becoming the most successful Korean melodrama of all time, with more than 7 million tickets sold. For this role, he bags his first-ever Baeksang Arts Awards nomination as Best Actor for Film in 2013 and won the Favorite Actor Award during the 2013 Nickelodeon Kids' Choice Awards
9. Yoo Si Jin of Descendants of the Sun
Arguably his best-known and the most awarded role in his career, Song Joong Ki, has embraced his newfound popularity with his comeback drama after being discharged from his military service. He portrayed Yoo Si Jin, the Captain and leader of Alpha Team, a fictional elite special forces team of the 707th Special Mission Battalion in South Korea. The drama Descendants of the Sun provides him a solid comeback as it was incredibly popular in Korea with a peak viewership rating of 41.6%, and even known internationally, broadcasted in multiple countries that rebranded him as one of the actors that led the Hallyu Wave.
He bagged no less than a dozen of awards for his role as Yoo Si Jin, winning Grand Awards (Daesangs) from the 2016 APAN Star Awards and the 2016 KBS Drama Awards. He also got nominated for various categories during the prestigious 2016 Baeksang Arts Awards, such as Best Actor – Television, and went on to win Most Popular Actor (TV) and iQiyi Global Star Award. He also received the Presidential Commendation for his role in 2016, awarded to those who have contributed to the arts and South Korea's pop culture.
10. Park Moo Young of The Battleship Island
After a year, Song Joong Ki stars in The Battleship Island, a movie set during Imperial Japan's occupation of Korea during World War 2, where a group of over 400 Koreans endured harsh forced labor and attempted prison break from a forced labor camp on Hashima Island. He takes on the role of Park Moo Young, a member of the Korean independence movement who infiltrates the island in order to rescue a fellow independence fighter being held captive there.
11. Eun Seom and Saya of Arthdal Chronicles
In 2019, Song Joong Ki portrayed the dual role of Eun Seom and Saya, the main leads and identical twins in the first ancient Korean fantasy drama, Arthdal Chronicles. The story takes place during the Bronze Age and is loosely based on the story of Dangun, the founder of the first Korean Kingdom of Gojoseon.
Eun Seom and Saya are a mixed race of the Saram which pertains to the human race, and the Neanthal, a pair of Igutus born during the Great War. They grew apart from each other, both born with the cursed prophecy, but both determined to keep the people their love and cherish, including Tanya.
12. Kim Tae Ho of Space Sweepers

After a long-acting hiatus, Joong Ki comes back with the first South Korean blockbuster space Western film, Space Sweepers. The film is set in the year 2092 when Earth has become nearly uninhabitable, and there are various space sweepers who collect space debris, hence the title.
He portrays the role of Kim Tae Ho, the former Commander of the Space Guards, and the first-ever UTS Genius who is on a search for his daughter Su Ni, who was ejected into space after debris collided with their station. His sole aim is to pay the authorities' recovery team to locate her body tracker before she drifts out of orbit and is lost in space forever. Song Joong Ki receives acclaim for his portrayal, including the Best Actor Award during the 26th Chunsa Film Art Awards and Popular Star Award during the 2021 Blue Dragon Film Awards.
13. Vincenzo Cassano / Park Joo Hyung of Vincenzo
His long-awaited drama comeback is his titular role in the 9th highest-rated drama in Korean cable television history, Vincenzo. He portrays an Italian lawyer and Mafia consigliere of Korean descent. He is the adopted son of the late boss of the Cassano Family and Geumga Plaza's true owner. He becomes an Advisor/Foreign Legal Counsel to Jipuragi Law Firm, working with Hong Cha-young to destroy the Babel Group and reclaim the gold hidden in Geumga Plaza.
To prepare for the role, Joong Ki had to learn how to speak Italian and had to act alongside CGI for scenes set abroad. His acting gave him awards such as Actor of the Year during the 2021 Brand of the Year Awards, Top Excellence Korean Actor during the 2021 Seoul International Drama Awards, and bagged a nomination for Best Actor for Television during the 57th Baeksang Arts Awards.
In 2022, he is set to appear in the crime thriller film Bogota City of the Lost as Guk Hee and a series adaption of the popular web novel The Youngest Son of a Conglomerate as Yoon Hyeon Woo. Which among his various role is your favorite, and which among these roles has been really made for Song Joong Ki?