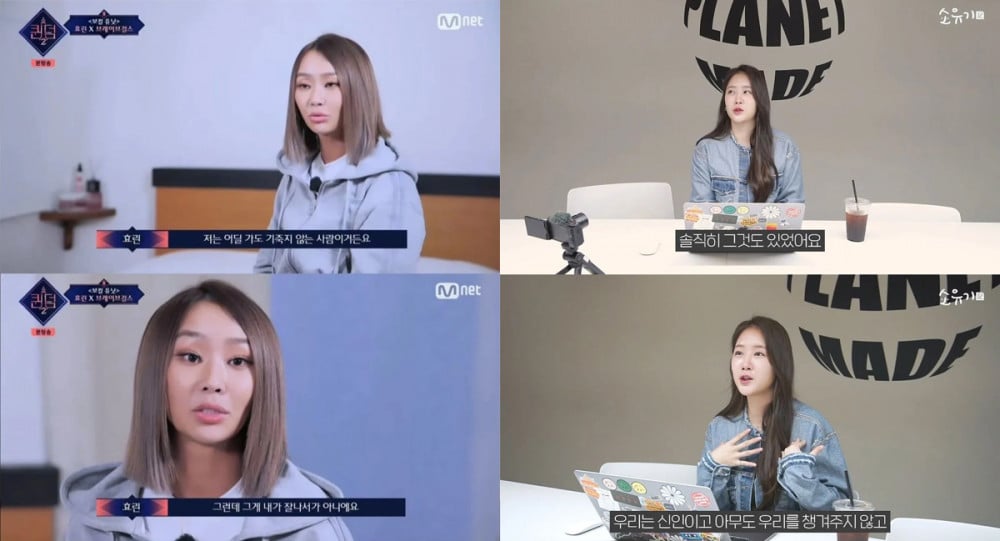 Netizens were both amazed and inspired by the comments made by SISTAR members Hyolyn and Soyu, as they both happened to be reflecting on their early debut days while on different broadcasts.
On the April 28 broadcast of Mnet's 'Queendom 2', Hyolyn formed a team with Brave Girls's Minyoung for the vocal unit competition round. However, as they began preparing for their stage, Minyoung displayed a lack of self-confidence. Here, Hyolyn firmly told Minyoung, "You haven't done anything wrong yet, so why are you worrying about something that hasn't happened yet? Even if you do make a mistake, I'll cover you."
Later on, during her interview, Hyolyn revealed, "I was upset with Minyoung's attitude. I am someone who holds my head up high, no matter where I go. But that's not because I feel like I'm a top star or something like that. When I first debuted in a small company, I wanted our team to become so big that we shook this whole industry. I always told my members, 'We are so talented. We're so good. There's no reason why we should not feel confident'. I think that's why I was also straightforward with Minyoung."

Coincidentally, on this same day, fellow SISTAR member Soyu also spent time reflecting on her early debut days in a video on her YouTube channel, SOYOUGI.
Here, Soyu reminisced about the time SISTAR garnered attention for sweeping the gold medals at the 'Idol Star Athletics Championship' in track and field.
Soyu began, "This program was one that helped us gain a lot of public attention. This show gave us the title of 'Athletic Idols'."
She then continued, "Honestly, during this time, we had a certain mindset. We were rookies from a very small company, and no one paid any attention to us. So we were all full of passion, and we said, 'Let's show them what this team from a small company can do!'. I had no idea that our members would be so good at running either. But in the end, we won the gold medal."
Finally, Soyu also added on, "Actually, the day after this recording, I found out that I tore a muscle. I was trying to sit down, but I couldn't cross my legs. So I went to the hospital, and the doctor was like, 'Did you get in a car accident?'. No, I tore my muscle running at the 'Idol Star Athletics Championship'."

Netizens couldn't help but express their respect toward the two SISTAR members, who remembered the same mindset that they had during their debut days. They said,
"Wow, they must have worked so hard back then."
"They were out for blood. That's how you become successful."
"You learn from comments like these how they poured their souls into the group."
"The reason why Starship is such a big company now is all because of SISTAR."
"No one can deny that they achieved what they worked for. They shook up this industry so hard."
"They were so talented ever since debut."
"It must have taken so much work. That's amazing."
"That's the mindset of successful people."