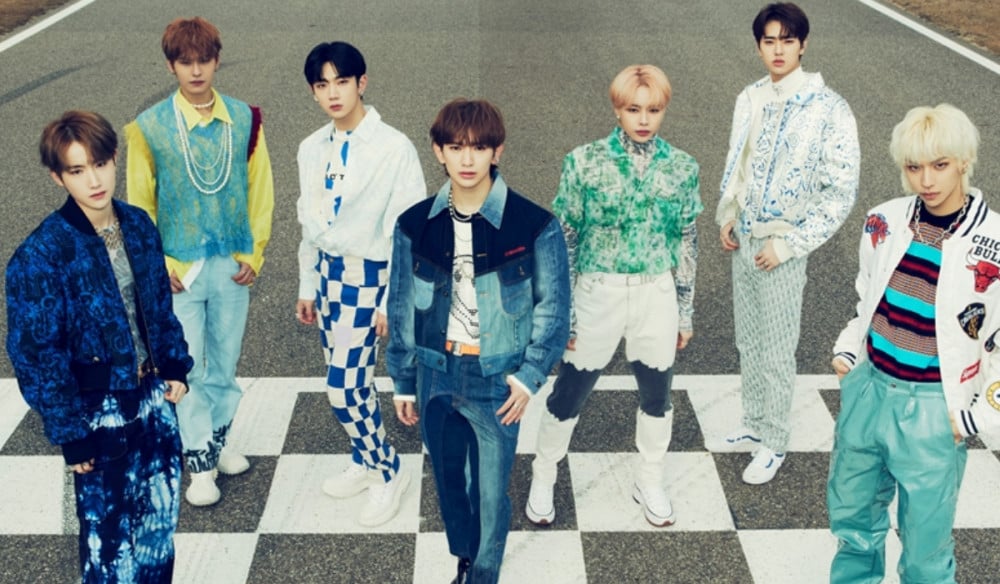 As Yuehua Entertainment's first K-pop boy group debut since 2014, all eyes were on TEMPEST when they made their debut with first mini album 'It's ME, It's WE' this March. Not only were they following an impressive roster of Yuehua Entertainment artists (labelmates include EVERGLOW, WOODZ, and former IZ*ONE member Choi Ye Na), but among the TEMPEST members were formerly some of the most highly-anticipated idol trainees. Previously on 'Produce 101 Season 2,' members LEW and Hyeongseop first debuted as duo Hyeongseop x Euiwoong, while rapper Hwarang finished in 32nd place on 'Under Nineteen.' Hanbin, who competed on 'I-LAND,' also gained attention for becoming the first Vietnamese K-pop idol, coming up from his beginnings as a cover dancer in his hometown of Hanoi.
Through their debut single "Bad News," TEMPEST invites K-pop fans to find hook-laden refuge in their high-energy choreography, confidence-packed lyrics, and addictive 'la la la' vocables. The single drove the album to #48 on the worldwide iTunes album chart as well as regional iTunes top album charts in the Netherlands, United Kingdom, United States, Japan, and more.
Last month, TEMPEST met up with allkpop in Seoul to celebrate their debut, talk about their new album, and share more intimate thoughts and feelings about taking their first big step as a team. Read what the members had to say below!
akp: First, we just wanted to say we loved your debut showcase! You handled everything with such professionalism. None of you seemed nervous at all! What was preparing for debut day like? Were you able to get a lot of sleep the night before?
LEW: Thanks for saying that you had fun watching the showcase! While preparing for the showcase, we had a lot of fun, and I think we prepared while feeling really excited. We were able to show fans a total of five performances, including the title song. We were confident that the five songs in the album were great, but we wanted to make sure we could perfectly prepare them, so we slept less and practiced hard until the showcase.
You said that we didn't look nervous, but actually, we were all very nervous. [Laughs] I was so nervous that even before the rehearsal, I worried a lot, like "What happens if I forget something" and "What happens if I mix up the things I prepared to say?" I spoke calmly, but if you watch the video recording closely, you'll probably see our hands shaking while holding the microphones. [Laughs] Even though our hands were shaking, I think we were able to have a lot of fun at the event.
akp: The music video for "Bad News" has such bright and youthful energy that makes it really fun to watch. What was your first reaction when you got to watch the finished music video? Do you have a favorite scene?
HANBIN: When we first watched the music video, we all thought things like "Wow, exciting!" and "So this is how they shot it." When we were shooting, my favorite scene was the one where the TEMPEST members were all dancing together. I really liked that scene the most. When we were shooting that scene, it seems like we were having a lot of fun, so whenever I see that part, I can look at our smiles and feel how fun it was. It was really great.
EUNCHAN: At first, when we filmed the music video, there were no effects behind us, so I was amazed to see emoticons and other elements in the video. My favorite scene is my part. [Laughs] There's a part where I come out while singing "과감히 전진해 (Trans: Dare to move forward)." That's the best part.
akp: Did anything memorable happen while shooting the music video?
HWARANG: When we were filming the music video, I was the first one to start shooting. I was filming in a bathroom, and during my rap part, I made a strong gesture and broke a toilet. [Laughs] After that, the staff that had been helping me fixed it for me and prepared [the scene] again for me, and I felt so bad about it. I remember being so anxious while waiting for them to be finished that every second felt a minute long. I also remember being so nervous that I bumped my face into one of the camera directors and filmed with a swollen nose all day.
HANBIN: There was a scene where we dance on a high platform. At first, I was a little scared, but as soon as we started shooting, all the scared thoughts went away and I feel like I only thought of how fun it was. It was really fun because it was a scene where we danced together. That was memorable.
akp: Aside from title track "Bad News," we're curious to know what each member's favorite B-side track on the album is and why.
HYEONGSEOP: I like all five tracks, but I like "Bad at Love" and "to YOU" the most. With "Bad at Love," the lyrics are really easy to relate to. I like it because if you've ever had an unrequited crush, I feel like it can resonate with you even more easily. Also, "to YOU" is a song that was made for [TEMPEST's fandom] iE, who have been waiting for us and giving us lots of love, so I like it more. A lot of love went into it.
HYUK: My favorite songs are "Just A Little Bit" and "Find Me." In "Just A Little Bit," I like it because each of the members' vocal tones can be heard well, and its dreamy and sentimental sound is so good. On the other hand, I think I like "Find Me" the most because it has a strong beat and melody.
TAERAE: "Just A Little Bit" is different from our title track, so even when we perform it on stage, it has a fun, new feeling. And the song itself is calm. It has a warm and dreamy vibe, so I think iE will like it.
akp: Making 'It's ME, It's WE' was the very first time some of you recorded studio tracks, while for others, it's the first time they have been able to participate in songwriting for a studio album. What are some of the biggest things you learned during the album-making process?
HWARANG: LEW and I both participated [on the album] as songwriters. Personally, when I was writing the lyrics, one of the biggest things I learned was even if I was satisfied with something, others might not be. Because of that, we wrote three or four verses for each part. We wanted to be able to give even more people lyrics they could resonate with and were satisfied with by writing a number of verses like that.
EUNCHAN: When we first started recording, I feel like I was really nervous and anxious. Because I was so nervous, I couldn't do as well in the recording studio as I'd rehearsed, and I made a lot of mistakes. I was personally pretty upset, but through this, I realized that I should practice enough so that everything comes out the same even if I close my eyes and prepare two or three times harder than I did that time.
akp: Hanbin, your journey has taken you from being a K-Pop cover dancer in Hanoi to becoming the very first Vietnamese member of a K-Pop boy group. How does it feel to have accomplished so much already and be representing Vietnam in such a big way?
HANBIN: First, I'm so happy I was able to make my dream come true. It's really great. Also, I'm honored to be the first idol to represent Vietnam. Honestly, there's pressure, but I want to be able to show my family and everyone else who has been supporting me someone they can be proud of, someone who is doing a good job, and someone who is always putting in a lot of effort.
akp: Both individually and as a group, you've all been preparing for your debut for a long time. During that time, what do you think is the most significant advice or feedback you've been given?
HYUK: While we were preparing for our debut, I received feedback from my parents – even my little sister. [Laughs] "Always be humble." "Whenever you meet someone, greet them well." "Don't be nervous." "Keep doing things as you've always done them." I received a lot of that kind of feedback.
akp: Your fans have been asking us to find out who your celebrity role models are. Which artists do you really look up to? And likewise, what kind of role model would you like to become for both your fans and later artists?
HYUK: Our biggest role model is BTS. Just like BTS, we want to be a group with good influence that gives off positive energy. And in the same way, we also want to become a group that junior artists or other groups look at and consider a role model too.
LEW: I also think that BTS are our role models, and I also really like IU. Our members all want to continue participating musically [in songwriting, etc.], and we want to write lyrics that our fans can relate to a lot and use a lot of familiar words so that many people can enjoy the songs. Just like IU.
akp: As you're still a newer group, there is still so much opportunity when it comes to trying out new genres and concepts. Is there any concept that TEMPEST hasn't tried yet that you think would really suit the group?
HYEONGSEOP: TEMPEST's strength is our bright, youthful, and bouncy energy. However, I've also thought, 'Should we move a little away from that and try something like a vampire concept too?' I feel like our rap line, Hwarang, Taerae, and LEW, played a big role while working on our album, so I've also thought about how we should try a hip-hop concept. It's a personal wish, but I've thought about how a cyberpunk concept similar to movies like 'Akira' and 'Blade Runner' would be really fresh too. I really want to try it.
akp: Have any of you thought about a hair color you haven't been able to try yet that you'd be excited to try in a later concept?
EUNCHAN: I want to be able to try black hair again because black hair looks preppy and chic.
TAERAE: Personally, I want to try dark blue. Right now my hair is bright, but I think if I make my hair dark, wouldn't my image change a little bit? I want to be able to show iE different images, so I'd really like to try dark blue hair.
akp: How about activities outside of TEMPEST? We know Hyeongseop and LEW both got to try acting before, but are any other members interested in making their acting debut?
LEW: Actually, when we were trainees, we all took acting lessons, so the first thing that I want to say is that the TEMPEST members all have the ability to do so. They're really good at acting and great at conversation, so I think there are a lot of ways we can present ourselves [like music, dramas, etc.]. Since we've just debuted, we're focused on developing our musical side so we can provide more TEMPEST music and performances, but later on, if the opportunity arises, can't each member also show their acting skills if there's a good project coming around? I think they're so talented.
akp: Wow, we're looking forward to it!
HWARANG: [Laughs] Please look forward to it! We're always ready.
akp: How about variety shows? Is there a specific variety show you really want to go on, and which member do you think has the best personality for variety shows?
HWARANG: I like spontaneous, unpredictable, and surprising situations, so I think we'd go well with a program like 'Running Man.' We have a free-spirited atmosphere and lots of energy, so I want to try having fun and talking with our seniors [on the show]. If I had to pick a member that would be good on variety shows, I'd honestly pick all of us! It's never quiet when we're together.
LEW: Programs with activities like 'Running Man' are good, but I think that we're also really good at talking, so I feel like it would be cool if all seven of us could appear on 'Knowing Bros' and have a fun conversation with our seniors. [Laughs] As I said before – if you give us a chance to show you our free spirit and energy, we'll do it.
akp: We've come up with a number of different scenarios and want to know which member you think fits the scenario best:
- Best selca taker? Group's choice: HANBIN
"He takes selcas well, but he's also good at taking photos of others."
- Best at cooking/baking? Group's choice: HANBIN
"Hanbin's egg tarts are really wow."
- The member who uses emoticons most often? Group's choice: TAERAE
"We have our own KakaoTalk chatroom, and Taerae uses emoticons there quite often. Whenever he responds with 'Okay!' or 'Yes!,' he adds a really cute emoticon."
- The member who would best suit a dark concept? Group's choice: HWARANG
- Best member to babysit Hanbin's cats? Hanbin's choice: LEW
"I've been to LEW's house before, and he has an adorable dog and an interest in pets, so I think that maybe he would be good at taking care of my cats too."
- Most competitive during games? Group's choice: HYUK
"I make bets when playing games pretty often."
- The 'happy virus' member that cheers others up during hard times? Group's choice: HANBIN
akp: What are your goals for debut promotions? Also, what are the group's goals for 2022?
LEW: TEMPEST debuted on March 2, 2022, so our biggest goal is winning a Rookie of the Year award. No spoilers just yet, but in order to earn the Rookie of the Year title, we're preparing a whole lot of things, and I can say that we have quite many things we're going to show this year. As for my personal goal for the group, I want to say that I hope the TEMPEST members can all promote in good health and without any injuries.
HWARANG: Our Rookie of the Year award is going to happen! It's going to happen!
akp: You can do it!
LEW: [Laughs] Thank you.
akp: Once TEMPEST is ready to start promoting overseas, are there any specific countries you're excited to visit for the first time?
HYEONGSEOP: If iE is there, we want to visit that region regardless of where it is, but the first country that comes to mind is Vietnam. It's because Hanbin came to Korea as a challenge to make his dream come true, and thanks to his choice and our own choices, we were able to become a team. Now that TEMPEST is complete, if the opportunity presented itself, I think we would want to go to Hanbin's home country. Not just Vietnam, but all of the other countries where the many people who like us are.
akp: Lastly, we want to TEMPEST to be able to introduce the group to our readers themselves. Let's have each member take a turn finding one word they feel best describes TEMPEST and explain why they chose it.
LEW: To me, TEMPEST is ONE.
HYUK: TEMPEST is a RAINBOW because all seven of us have a different personal color, and when we come together, we create a beautiful result. We're just like a rainbow.
TAERAE: TEMPEST is a THUNDERSTORM because storms use a lot of energy, and I'd like for us to be that impactful.
EUNCHAN: I think we're BIBIMBAP. [Laughs] As you know, bibimbap is delicious because it mixes in many different ingredients. I feel like we're bibimbap because we're awesome when we come together and become one.
HANBIN: I think that TEMPEST is a precious FAMILY. I'm a foreigner, but when all seven of us come together, we do our activities like a family. It's really precious to me and makes me happy.
HYEONGSEOP: I also think we're a THUNDERSTORM. We're a powerful storm that will sweep through all of your hearts.
HWARANG: To me, our team is more like the POWER RANGERS. [Laughs] Each of us has a different color, and I think each one of us is full of individuality and charm. When our members with different charms become one, we give others dreams and hope.
Want to check out more allkpop exclusives? Check out our recent interviews with SG Wannabe's Lee Seok Hoon, Brave Girls, and LUMINOUS.