BTS held their first concert in Las Vegas last night in the Allegiant Stadium, with the city going purple for them. As they took the stage today, fans shared their excitement over the band's performances.

During the soundcheck, Jungkook was seen wearing a sleeveless shirt with bucket hair with his tattoo sleeve on display. Fans could not share but praise the beautiful tattoos as peace of art and loved the new coloring in his tiger lily tattoo. Jungkook's bare-faced beauty was also complimented a lot.
As soon as the concert started, Jungkook showed his powerful vocals and dancing. He took over the Worldwide trends at #1 and U.S trends along with the trends in 71 countries. Jungkook garnered over 2M tweets becoming the most-talked-about person on the first concert day. He is the Highest trending member as well as the Most Mentioned Person of PTD On Stage LV D-1.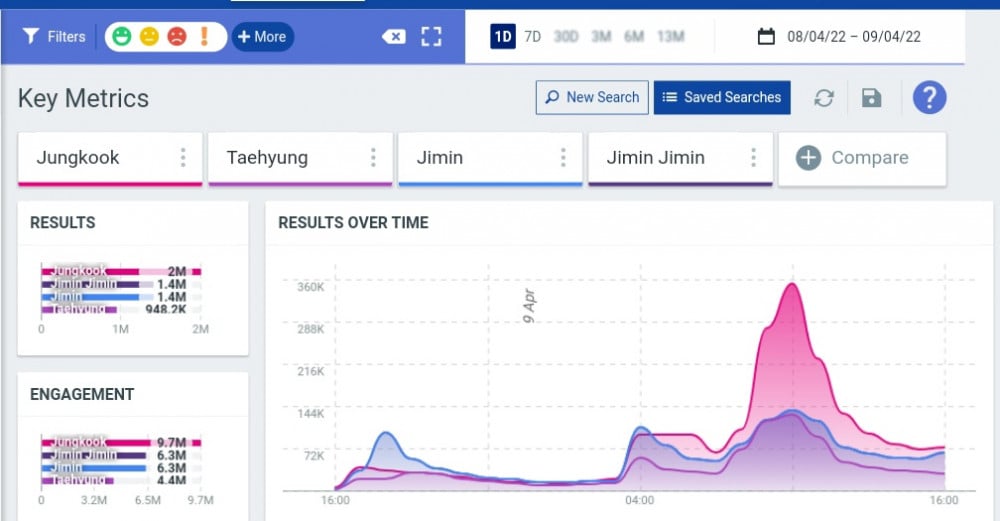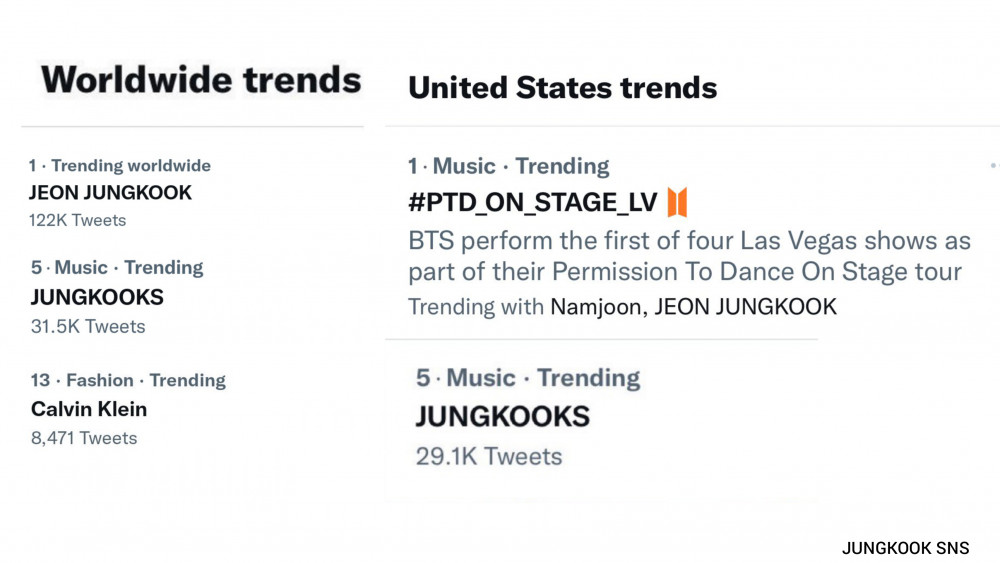 In Black Swan, Jungkook attracted everyone's attention with his graceful yet mesmerizing dance moves along with his beautiful model walk. Fans loved the new crop top outfit as well as the chains. His body proportions and small waist also received praises from fans.
Jungkook was seen dancing and vibing at the concert, enjoying his heart out on the stage. Everyone knows his love and passion for the stage.
Jungkook, who is known for catching fans' roses and flowers since their previous concerts, also caught a flower and then a bouquet. Fans are naming him the Flower Romeo due to his habit of catching flowers from fans and dancing with them.
When a placard held by a fan was shown on camera, which reads 'We want to focus on...' and included a picture of Jungkook's abs, he flashed a beautiful smile and pulled up his shirt. He showed up his abs three times by pulling his shirt up and then laughing, knowing what he has done.
Calvin Klein entered Worldwide trends at #16 as fans noticed Jungkook wearing it while he was flashing his abs. Fans showed their strong wish for Jungkook to become their model.
Jungkook showed his unrivaled stage presence and vocals, compelling fans to praise him as the stage genius. Despite being just recovered from covid, his energy and stamina did not change at all.
Jungkook received the loudest screams and cheers from the fans, always showing how much he is loved Worldwide.