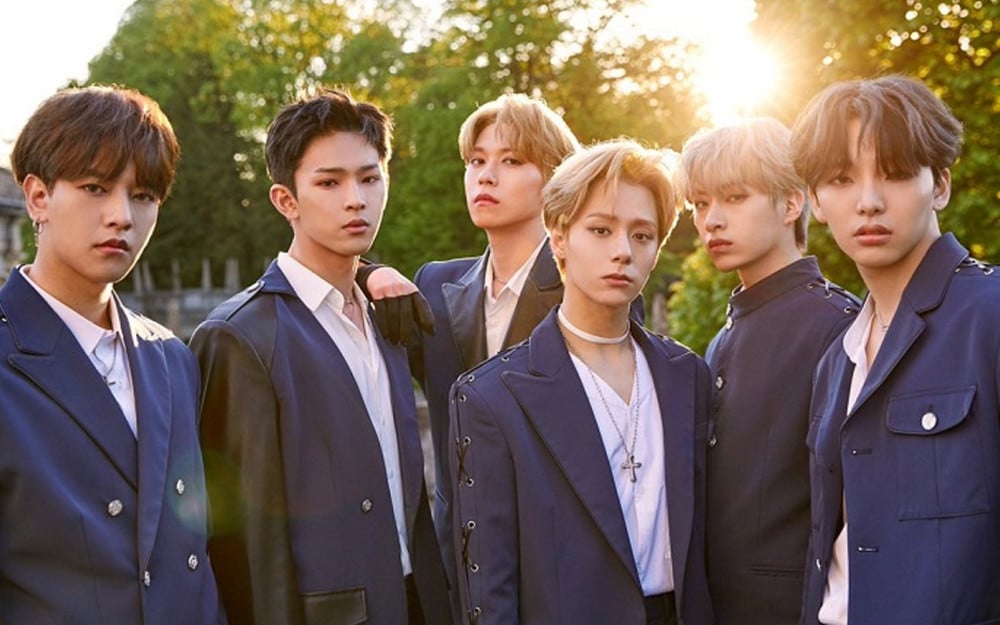 Boy group ONEUS has been on a whirlwind with their latest mini-album, 'Blood Moon,' and music video for lead single 'Luna,' which had 10 million views in the first 48 hours. Continuing their incredible success, ONEUS is joining LIVENow on January 29 as the very first K-pop boy group to hold an exclusive concert on the streaming platform.
In celebration of the upcoming concert, ONEUS joined allkpop for an exclusive interview. Check it out below!


allkpop: Before we get started, congratulations on your latest comeback! The music video for 'LUNA' had 10 million views in the first 48 hours and now has over 22 million views. What was your reaction to the extraordinary success of the song?
KEON HEE: We worked hard and tried new things on this album, so we weren't really sure how the fans would react. When it came out, fans liked it more than we expected. We're just over the moon that it is loved by our fans, and our hard work paid off.
allkpop: You guys have been incredibly busy in the past few months, even releasing an additional digital single 'STAY.' How have you been balancing your schedules with preparing for the concert? What does a day in your life look like?
XION: We prepared for the concert and the comeback at the same time, and to do this, we really wanted to pace ourselves but also at the same time to not be slacking. So we all tried to have fun and enjoy the process.
allkpop: In the midst of all of your busy schedules, how do you rewind? What do you like to do to relax after the end of a long day?
RAVN: When I'm resting, I try to refresh myself and liven up whilst doing my hobbies. I recently took on oil painting as a new hobby. If the weather's good, I take photos and also try to plan for my video content project - RVFILMS.
LEE DO: I try to compensate for the lack of sleep. I also work out, but I don't really go outside much.
allkpop: It's your first time doing a solo live stream concert for a global audience. Previous artists who have performed exclusively on LIVENow include MAMAMOO, Maroon 5, SZA, and more. How does it feel to be the first K-Pop boy band to perform on a platform that has hosted such successful artists in the past?
SEO HO: It's quite an honor. We'll do our best to make this performance a show to remember as all our predecessors did on LIVENow. I really hope we have an outstanding performance.
allkpop: On the topic of accomplishments, you've already achieved so much as a group at such a young age. How would you define success? Are there any other projects you hope to pursue and/or milestones you hope to achieve in the future?
HWAN WOONG: It would be a success for us if we can share our music and stage with our TOMOONs. And since this is what we believe in, our band, staff, and everyone involved is working day and night to make a difference. We want to be "ONEUS," the most hardworking group, always giving our 100% in the future.
allkpop: What are you looking forward to the most about your online concert with LIVENow? Does each member have a song they are looking forward to performing the most?
RAVN: We want this performance to resonate beyond the screen with a strong but soft performance that only ONEUS can do, and we're preparing hard for this. I'm excited and curious how our fans will receive it. I'm looking forward to performing "LUNA" the most.
SEO HO: I really want to know how our fans watching virtually will react! I hope their reaction reflects the hard work that we have put into this performance. I really want to perform "No diggity" the most. I really love the energy of this song.
LEE DO: I'm looking forward to all of it. Every concert is nerve-wracking and exciting, which gets me pumped.
I also want to perform "No diggity" the most.
KEON HEE: I'm most excited to show the fans our live performance! And since our last show "ONEUS THEATRE" was such an amazing experience, I am thrilled to connect with fans from all over the world and interact with them. My pick has to be "TO BE OR NOT TO BE."
HWAN WOONG: I want the fans to enjoy the show that we worked so hard to show the true colors of ONEUS.
I am most looking forward to performing "Intro: Window" as we have worked on a new intro that I know the fans will love.
XION: I have to pick "BLACK MIRROR." It will be a performance with mirrors so you should not miss it.
allkpop: Lastly, can you leave a special message for allkpop readers?
RAVN: We wish that you are always healthy and happy! Please support ONEUS for more days to shine.
SEO HO: We will always do our best to show the greatest performances. Please support ONEUS always!
LEE DO: I hope your every day is happy and healthy. Stay healthy! ♡
KEON HEE: I hope that you are always healthy and happy. Please support ONEUS and love ONEUS!
HWAN WOONG: Hi allkpop readers! It's Hwan Woong from ONEUS! We prepared the most spectacular and eye-catching performances for this event, so I hope all of you enjoy the show! Thank you for being with ONEUS in the new year!
XION: Hi! It's maknae Xion! We hope you enjoy our performance and be happy with us in 2022! Thank you for continuing to show love and support! We love you!