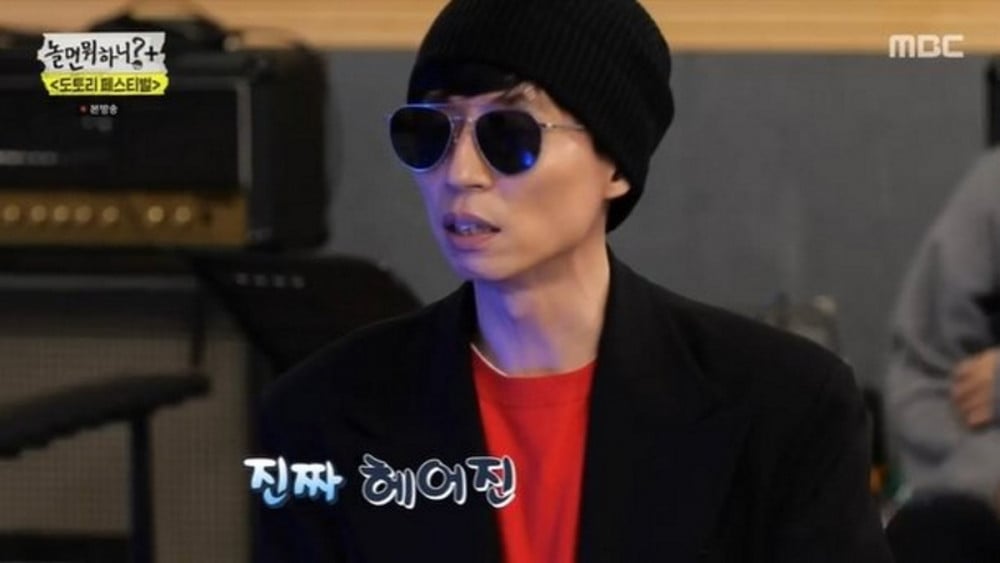 Yoo Jae Suk reminisced about an ex-girlfriend because of an Epik High song.

On the December 4th episode of 'Hangout with Yoo', Yoo Jae Suk, Jung Jun Ha, and Lee Mi Joo attempted to recruit artists for a year-end Cyworld concert. The trio met with Epik High and reminisced about the group's 2014 song "Umbrella" featuring Younha, and Tablo expressed, "I'm living thanks to 'Umbrella'."

Yoo Jae Suk then asked if Tukutz composed the song, and Tukutz joked, "He was eating jokbal at my house on a rainy day." Tablo then explained, "I was eating jokbal that Tukutz ordered, and I suddenly thought of chords and the lyrics, 'The rain began gathering to my ankles.' I stopped eating and went to the production room to make it." Tukutz added, "If I hadn't ordered jokbal at that time, the song wouldn't exist."

Yoo Jae Suk suddenly revealed, "As I listen to this song again, I'm thinking about the girlfriend I broke up with." When his co-hosts and guests grilled him, Yoo Jae Suk said reluctantly, "A friend. A longtime friend I separated from a long time ago." Tablo agreed, "We thought of an old friend we broke up with too."

Have you heard Epik High's "Umbrella"?