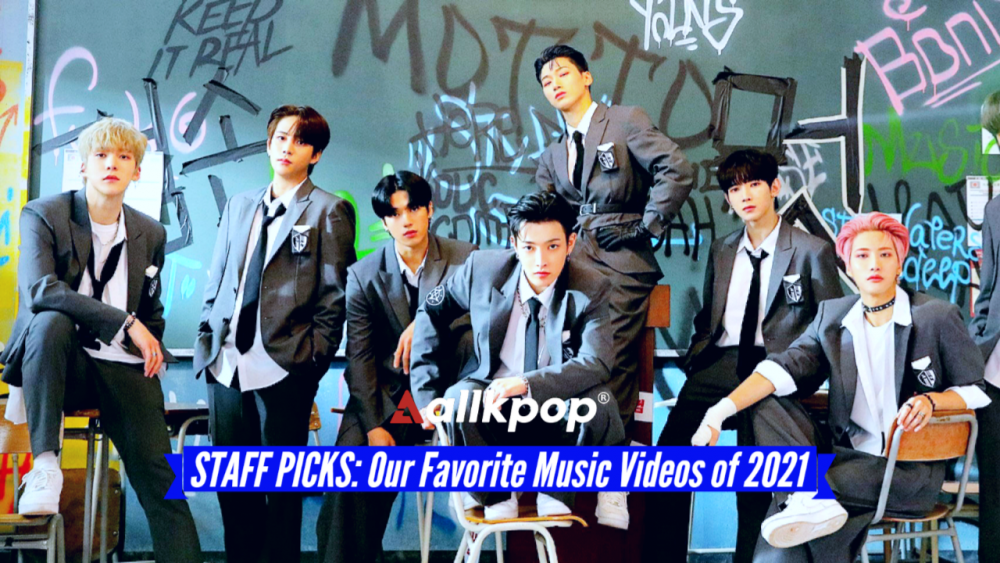 2021 was another year filled with amazing K-Pop releases. Out of the countless new music videos that came our way this year, here are the favorites that the allkpop staff loved the most!
Nishtha A's Pick: BTS – Permission to Dance
I like the music video as it has a fun and cheerful vibe; brings a smile to my face every time I watch it. Permission to Dance is what I believe many people needed in this difficult time.
Lorr-Ye's Pick: Coldplay x BTS - My Universe
Coldplay and BTS gave us one of the most epic collaborations in K-Pop history. The MV in particular hosted a budget akin to a Marvel movie. From special effects, insane costuming, and irreplicable overall energy, this MV was a much-needed morale booster. Just when the year was starting to feel heavy and burdensome, this song picked us all up. The MV is so detailed and well-done, I had it on repeat as soon as it dropped.
Germaine-Jay's Pick: EVERGLOW - First
The action, superpower theme of EVERGLOW's MV was perfect for "First". I enjoyed the pops of CGI effects and the dynamic camera work.
Sofia-Sayson's Pick: STAYC - Stereotype
Not to mention how the song itself is way above my standard for K-Pop songs, the music video portrays the meaning of 'Steoreotype,' the scenes align with the lines accompanied by gentle and soothing vocals of the members. The music video sets may be simple for you, but they put you into the song's mood. The bridge part really gets me every time I watch the MV, in the hopes of them performing on the stage with the same set and outfits. Everything's good, way up too good for this fresh girl group.
Ezra-Glow's Pick: Taeyeon - Weekend
This bubble-gum pink, Y2K-themed music video suits the song perfectly. It's upbeat, bright, and feels like a breath of relief amidst all the craziness of 2021.
Susan Han's Pick: HyunA - Good Girl
Basically, it's 2021 and HyunA is still carrying the entire "sexy concept" scene in K-Pop all by herself.
Jia-Lin's Pick: ONF - Beautiful Beautiful
ONF hands down have some of the best MVs ever in K-Pop. While most of their past MVs were filmed overseas, the pandemic has them settling for CG, and yet that did not cut their MV production quality a single bit. Beautiful Beautiful showcased some of the most flowery and extensive use of CG in a K-Pop MV, and a comprehensive storyline that ties in well with the lyrics the song meant to convey. Be sure to check it out if you have not already done so!
Yeom-My's Pick: IU - LILAC
The music video accurately depicts her final album in her twenties. Paired with the perfect song, IU succeeds in showing her professional side.
Sophie-Ha's Pick: Yugyeom - All Your Fault
Yugyeom's song at first listen seems like a serenade for the girl that he loves saying he can't help but keep thinking about her but the music video re-interpreted this song to depict something rather very shocking. In the video, Yugyeom plays a man who is obsessive over one woman and commits something atrocious at the end. I chose this music video not because it was my favorite of this year but because it left such a strong impression.
Jieun-Im's Pick: Lee Hi ft. B.I. - Savior
Lee Hi's "Savior (Feat. B.I)" tells a story, lends a shoulder, and offers so much with its simplicity. Lee Hi and her on-screen chemistry with B.I show a special type of friendship that enriches the track's emotional melody and calming beats. The delicate aesthetics seen in the music video are also highly in synchronization with Lee Hi's deep voice that vibrates in the most beautiful way.
KG's Pick: Taemin - Advice
There's a reason why Taemin is considered one of the kings of dancing in K-pop. This MV features Taemin's supreme dancing talent on full display.
Paul's Pick: Epik High ft. CL, Zico - Rosario
Although I'm not usually a fan of vertically-filmed videos, this is an exception. There's a lot of symbolism and visually interesting set-pieces in this music video. The song is great too.
David's Pick: Lisa - LALISA
Big, Bold, Loud, Colorful. This has all the elements you expect when you think of a "K-pop music video." It's fun and a music video you can watch on repeat.
James's Pick: Kai - Peaches
Kai never misses, everything he releases is wonderful, and "Peaches" is no different. It's good to see the mix of traditional Korean and other cultural elements in the music video.
Janie-Reign's Pick: ATEEZ - The Real (Heung Ver.)
Okay, frankly speaking, I rarely choose the same group for the yearly staff picks. But this year, even though I had already chosen an ATEEZ album, there really was no other humanly way for me to leave out this ATEEZ MV. The MV blew me away when I first watched it. The level of scale, action, visual variety, and embedded meaning could not be any greater. They have managed to take a rather typical high school concept to a whole different dimension. With Mingi coming back to the scene, the book of ethics he carries in his pocket becomes the most powerful weapon in the MV. Furthermore, each member either pairs up with another or appears solo (in the case of Yeosang), which makes each scene equally eye-catching and conceptually diverse. They also weave in the Korean traditional elements, which I must say is also quite typical, and yet they manage to use the perfect color scheme, hairdo, and hybrid models of East-West dynamics that do not appear cliche. And did I mention the perfect amount of CG, choreography, and the props, including the crazy amount of confetti at the end? It felt like I was watching a legit movie. I would honestly watch the MV again and again, even in 2022, and never cease to recommend it to my friends. Let's all get 'Real'!
Yaki Jones's Pick: aespa - Savage
I remember choosing aespa as the ROTY this past year and I can't be happier about how well the girls delivered this year. Although I liked their debut song "Black Mamba" more, "Savage" certainly showed their growth as an artist while staying true to their roots. Visually, this MV features aespa members dressed in a variety of amazing outfits along with a variety of computer and animated graphics to appease yearnings for aesthetic pleasure.
Dani's Pick: Jessi ft. SWF - Cold Blooded
Thinking back to K-Pop culture in 2021 will probably always have me thinking of the popularity of the Mnet dance program 'Street Woman Fighter.' Not only did it insight the "Hey Mama" dance craze, but it brought some of the industry's best choreographers and dance teams to the forefront. The music video for Jessi's "Cold Blooded" celebrates this in a big way – with the original 'ssen unnie' Jessi teaming up with the 'Street Woman Fighter' crews for a group performance reminiscent of a flash mob that got almost a little too fierce.