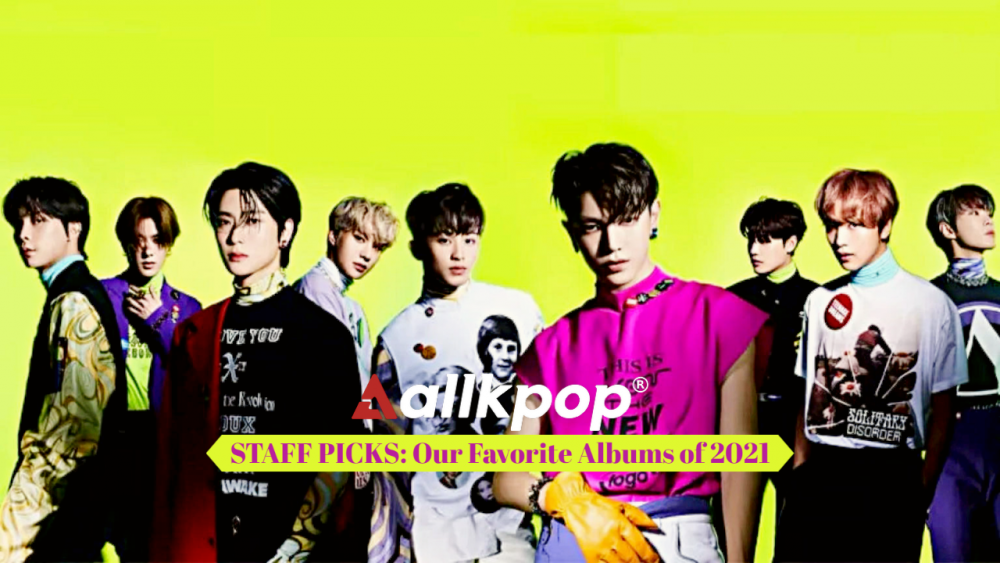 2021 was another year filled with amazing K-Pop releases. Out of the countless new music albums that came our way this year, here are the favorites that the allkpop staff loved the most!
Nishtha A's Pick: Ateez – Zero: Fever Part.2
The album was a good blend of hype and feel-good tracks. I listen to the songs while working and it helps me keep energized.
Lorr-Ye's Pick: NCT 127 - Sticker

Sticker was a hot and cold album for a lot of people. Prior to this release, I didn't feel super passionate about NCT 127, but Sticker changed all my preconceived notions about the group. I thought the title of the release was experimentally satisfying and the rest of the album was well-balanced with an impressive show of range. The group's eldest, Moon Taeil, in particular, stood out to me with his incredible display of vocal stability and control on every track. Sticker topped my Spotify Wrapped for the year. That's how much "Magic Carpet Ride" had me in a chokehold.
Germaine-Jay's Pick: TWICE - Taste Of Love
Every song on 'Taste of Love' could be a title track. TWICE touch on everything from funk to R&B and eighties pop, and each genre sounds natural on them.
Sofia-Sayson's Pick: TWICE - Formula of Love: O+T=<3
A cohesive banger filled with new and diverse tracks. This album has a lot of great songs of many styles, from appetizer to dessert, it's a whole course meal, you'll definitely enjoy it!
Ezra-Glow's Pick: Key - Bad Love
Key's BAD LOVE is a perfectly executed concept album that delivers on every level. You can really feel the passion and hard work that went into making it. It's a no-skip album with fun, atmospheric themes that help make it a modern classic.
Susan Han's Pick: Bobby - Lucky Man
It's always hard to describe when you find an album where every song just connects with you. Where do I even start? "BrEAk It DoWn" is for when you feel like you don't give a sh*t. "In THE DaRk" is personal and full of love, but it also has an odd way of picking you up. "Ur SOUL Ur BodY" is just so summer, the beach. (Donghyuk sounds amazing.) Then there's "HeartBROKEN PlaYBoY" which is so fun, great for long trips. "Let iT Go" is to help you feel better when you're not in a good place. Obviously, it's Bobby, so there are plenty of awesome hard raps ("DeViL" is probably my favorite of those.) Actually, when I was first getting used to this album, I was really surprised (in a pleasant way) by all the romantic love songs! But looking at 2021 in retrospect, maybe it makes perfect sense.
Jia-Lin's Pick: TXT - The Chaos Chapter: FREEZE
TXT's venture into punk rock was not something everyone expected, but they managed to pull it off with some of the most popular tracks this year including 'Anti-Romantic' and 'I Know I Love You'. Included in this album are tracks of various genres; and despite so, they came together to form a comprehensive concept and story that seem to convey the mixed yet hot-blooded emotions an emo teen would go through.
Yeom-My's Pick: Oh My Girl - Dear OHMYGIRL
Expectations were high from Oh My Girl's success from their previous album, but they once again exceeded expectations despite being a veteran third generation girl group.
Sophie-Ha's Pick: Yugyeom - Point of View: U
This album was released June 17, 2021, and is Yugyeom's first solo EP. The album is filled with songs that show Yugyeom's musical color and talent. I chose this album because I feel this album was the album that allowed Yugyeom to show his true colors and spread his wings further as an artist. All the songs in this album are perfect for listening to on all occasions - while on a drive, winding down after a tiresome day, or just chilling.
Jieun-Im's Pick: TXT - The Chaos Chapter: Freeze
TOMORROW X TOGETHER's 'The Chaos Chapter: Freeze' has to be my favorite, among all albums that were released this year. From creating a frenzy on TikTok with their side track "Anti-Romantic", to featuring the extremely talented, rising artist Seori on their title track "0X1= LOVESONG (I Know I Love You)", it can't be denied that TXT's album had a tremendous impact to the music scene this year.
Paul's Pick: Verbal Jint - Inflection Point
The real hip-hop. No "Show Me The Money" here. This album is straight head-bopping beats with thought-provoking lyrics. Other artists might "sell-out" and go commercial but Verbal Jint stays the same and is true to his roots.
David's Pick: Junoflo x G2 - Smiles And Tribulations
This rapping is perfect for gyopo's or specifically Koreans who were born and raised in the United States. This music focuses on some of the issues we went through and it's highly relatable for second or third-generation Korean Americans.
Janie-Reign's Pick: Ateez - Zero: Fever Part.2
ATEEZ kicked off this year's comeback series with this album, and there couldn't have been a hotter way to do so. Their title song "I'm The One" literally set everyone in flames with powerful lyrics, unconventional chord progressions, and heart-pounding beats. It grabs our attention with its first line and as the first track of the album. After that, the album carries us through a dramatic story of love and none other than good manners and humility (!) with the hip-hop track "The Leaders" and emotional turns with "Time of Love" and "Take Me Home". Finally, "Celebrate", now one of my personal favorite B-side tracks from ATEEZ, again, literally celebrates the very birth and existence of both the members and the listeners. Even though Mingi could not join the in-person promotions of this album due to his hiatus, his voice still resonates in this praiseworthy album. The album also came out simultaneously with their appearance on Mnet's 'Kingdom: Legendary War', which almost made it too good to be true for an ATINY. I remember having to split my excitement between this album promotion and their performances on 'Kingdom'. And, by the end of their promotions, I myself was quite nearly in ashes...
Yaki Jones's Pick: SHINee - Don't Call Me
If you're a fan of SM producer Yoo Young Jin's beats, you will definitely love this album. While staying true to SHINee's colors, the group successfully tapped into new genres of songs that will satisfy both long-time SHINee fans and new listeners. Some of my favorite songs are "Don't Call Me", "CØDE", and "I Really Want You" but honestly I've had this entire album added to my playlist for the longest time. Give this album a shot and you won't regret it.
Dani's Pick: Chung Ha - Querencia
In 2021, Chung Ha furthered her position as a 'crossover pop princess' – dropping a 21-track album broken into four sections showcasing different sides of her artistry. The album not only incorporates Korean, English, and Spanish, but also spans an impressive number of genres, from EDM ("Stay Tonight"/"Dream Of You"), Latin pop ("Demente"/"PLAY"), dream pop ("X"), even bossa nova ("Lemon"), all executed with the talent and sincerity of a crossover star. 'Querencia' makes it exciting to imagine Chung Ha's return to the stage. Can't wait until "Masquerade" gets its moment!