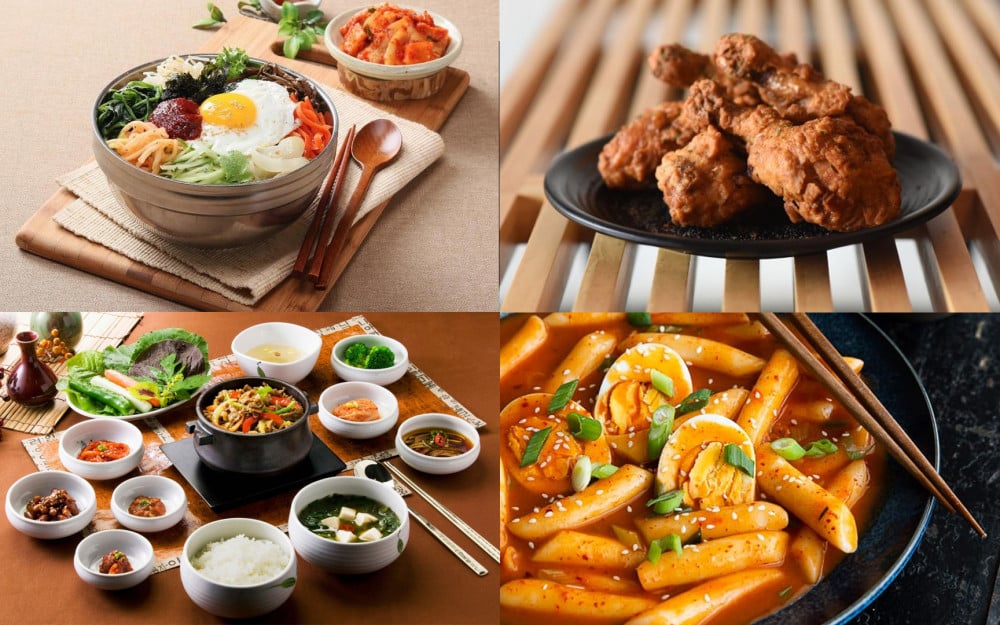 Korean culture has been spreading across the globe with the popularity of K-pop, K-drama, and K-beauty.
Many citizens of the global village have gathered their attention to Korean food as more and more people are wanting to try the cuisines seen in popular K-dramas and variety shows.
Recently, one Korean netizen shared the five best and five worst Korean foods picked by foreigners. Many other Korean netizens joined the online community to share their thoughts on the results.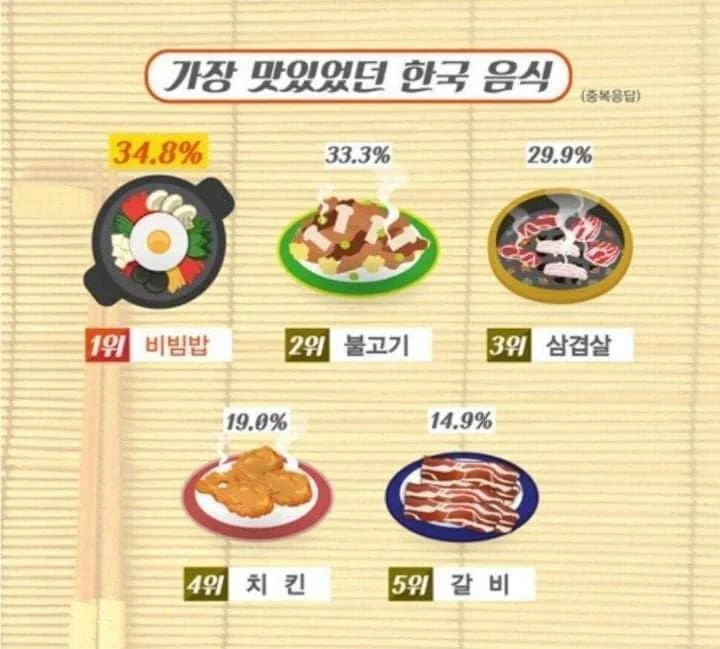 According to the results, 34.8% of foreigners voted for Bibimbap, which is a rice dish in which you mix a variety of vegetables with red pepper paste to your liking. 33.3% of foreigners voted for Bulgogi, a sweet soy sauce beef dish, 29.9% voted for Samgyupsal or pork belly, 19.0% voted for Korean Chicken, followed 14.9% voted for Galbi or Korean ribs.

6.9% of foreigners voted grilled fish as their least favorite dish, and 6.4% of them voted for Nengmyun, a cold noodle dish. 6.3% voted for Guk Bap, which is a rice and soup dish, and 5.6% voted for Ssam Bap, which is a dish in which you wrap the rice in lettuce with a Korean bean paste. Lastly, 5.1% of foreigners voted for Doenjang Jjigae, which is a fermented bean paste stew.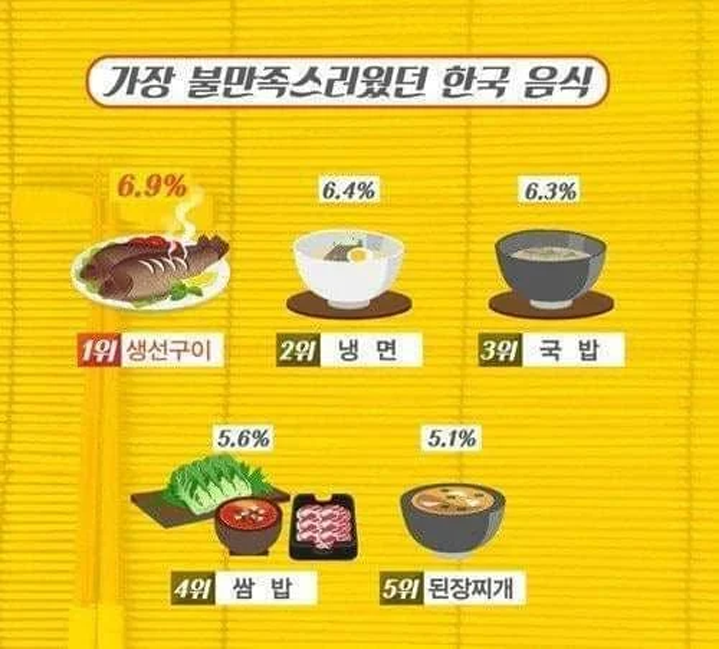 Korean netizens who joined the online community were surprised to see the results as some of the unexpected dishes were chosen in the results. Netizens commented, "I guess countries without heat don't understand Nengmyun, lol," "I'm surprised a lot of them chose grilled fish. I guess it's because in foreign countries they don't have the fish head," "Why did they choose Ssam Bap? It's a healthy dish like Bibimbap," "I thought meat dishes would come in the first place. I'm surprised it was Bibimbap," "I thought it would be Korean chicken," "They're all delicious dishes," "I thought people would vote Soondae (blood sausages) as the worst Korean food," "I'm shocked that foreigners don't like Ssam bap or Gook Bap," "Wow, Bibimbap beat galbi, lol," and "I saw people review nengmyun and foreigners just think cold noodles itself is weird. lol."