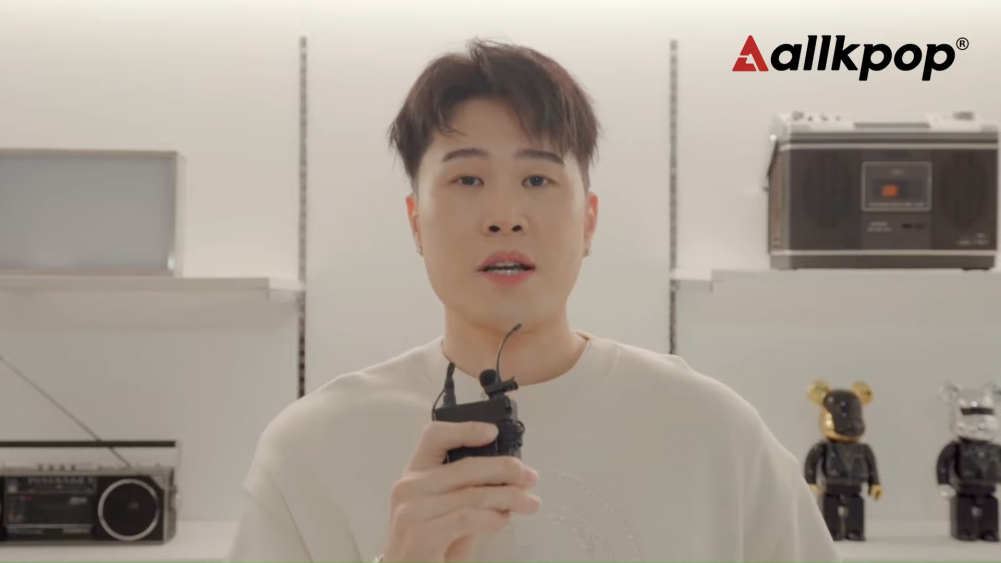 It's hard to imagine what the Korean music scene would look like without Chancellor's contributions – with the producer having spent the last decade working behind the scenes with some of K-Pop's top talents both on his own and as a former half of the hitmaking production duo Duble Sidekick. However, Chancellor has also made waves in the Korean R&B scene as a singer/songwriter, combining influences old and new, East and West to create his signature sound.

While having been in the industry for quite some time, Chancellor recently signed to Kang Daniel's growing KONNECT Entertainment and released his second solo album 'Chancellor' last month. AllKPop had the exclusive chance to talk to him about his new album, his single "Midnight," and his fresh 're-start' as an artist.
AllKPop: First, we'd like to sincerely congratulate you on your first release as a KONNECT Entertainment artist! How does it feel? Are there any major differences you felt during the album-making process or while promoting your music this time around?

Chancellor: Thank you! And yes, it feels great to release some new music finally. My album-making process definitely caught speed after signing to KONNECT. And there were so many new and interesting ways of promotion that we tried for the first time. It was a fun experience.
AKP: We saw that your new KONNECT labelmate Yuju joined you for a #MidnightChallenge TikTok video. How has it been getting acquainted with the other artists on the label (Kang Daniel, Yuju, CL)? We know that you already knew Daniel through previous work as his producer, but had you met the others at all prior to joining the label?
C: I've worked with Daniel since his 'CYAN' album, and also with Yuju on the song "Sunny Summer" when she was a member of GFRIEND, so it was a pleasant reunion in a way. CL, although, I haven't met her before, but I was always a huge fan, so I was excited to find out when she joined KONNECT.
AKP: You've been working as an artist for quite a while, and 'Chancellor' is your first album in five years, following 2016's 'My Full Name.' Is there any particular reason you've decided to release a new album at this moment?
C: I guess my satisfaction finally set in with me, and I was finally ready to let these songs go. Making an album these days is tough, especially with everything coming and going so fast. I didn't want to be trapped with time, so I took my sweet time perfecting this album (laughs).
AKP: "Midnight" has such a fun throwback vibe – both in the music video and in the song itself. How did you decide on "Midnight" as the title track, especially considering how each track on the album really presents a different mood and sound?
C: "Midnight" just stood out and felt great from the start. I think the album kind of evolved and fit like a puzzle one by one around that song. And having the closest vibe of the vision that I had for this album, I had to choose "Midnight" for the lead single.
AKP: Was "Midnight" always the decided title track, or did the album have other contenders?
C: Yes, it always was from the start. In fact, I had this song finished a year before making songs like "Afterlife" and "Dancing Alone," which were also some of the contenders later down the road.
AKP: Your new album features an impressive line-up of artists, including Dynamic Duo's Gaeko, Younha, PALOALTO, and KNAVE. If you had to introduce them to fans who have listened to your album, but haven't checked out their other music yet, which song(s) would you personally recommend?
C: Well, I think most of the artists are already well known with their own music, but I really want to give the spotlight to KNAVE. His song "Slowly" is my favorite. You guys should really check him out. Such an amazing singer-songwriter.
AKP: Speaking of collaborators, you seem to have had a blast recording the music video for "Midnight" with the different celebrities who guested on it – not only Gaeko, but Junjin from Shinhwa, Chaeyeon, Kim Johan, and Greg. How did these particular guests end up appearing in the music video?
C: Some I had personal relationships with like Junjin and Kim Johan, who has always been like a brother and a mentor to me. And with the help of KONNECT, I was able to have Chaeyeon on set. Greg was a last-minute cast that I had to get, but his appearance made a huge impact on the finale of the video.
AKP: Did anything funny or particularly memorable happen during the shoot? What was the most challenging part?
C: The most memorable part was that the set actually felt like a performance. We had a good crowd, and the show-like hype was there on the shoot. The most challenging part was the dancing part.
AKP: When we listened to the 'Chancellor' album, we could hear a real blending of influences that maybe comes from your background as a Korean-American songwriter and producer who really grew up with both of those musical environments. Who would you consider your musical influences or role models?
C: From Michael Jackson to Prince, D'Angelo, Boyz II Men, Aerosmith, and David Foster. The album has it all.
AKP: You've mentioned before that you've transformed into 'Dancellor' since beginning preparations for the album under KONNECT. Was there anything challenging about preparing for the dance element of "Midnight," and was there anyone who gave you good feedback or advice that might have helped you during the process?
C: My dance teacher, Ingyoo, went through hell teaching me these moves (laughs). But I guess I had it in me (laughs). It was tough getting back to my dancing days, but I really wanted to challenge myself with this song. I'm just glad it turned out well.
AKP: We've heard that you and Daniel will be coming out with a cover of Epik High's "Fly" for a Cyworld music project soon. We're really excited as it's such a legendary Korean hip-hop track, and we were wondering if you can give us a little behind story about what it was like to work on that cover together. What was it like working on it, and what was your goal when rearranging the song for your cover?
C: I always have a good time covering songs. Making it into my style and "Chancellorizing" them (laughs). So working on it was no different than any other covers. My goal was to really put more emotion out of this song and make sure the lyrics are delivered with a different mood. It is a very uplifting and hopeful song, but if you listen to them carefully, the lyrics can be quite sad. I think, with my arrangement, it brings out a different mood.
AKP: Now that the year is wrapping up and the album is finally out, you've probably already started to begin thinking about what you'd like to do next. What types of plans or specific goals do you have for 2022?
C: For next year, I want to produce more songs than this year – mine or for other artists. I feel very inspired these days, and since I am free from my second album now, I feel like I can move on to my next chapter.
AKP: Lastly, if Daniel is 'Nation's Center' and CL is 'the Baddest Female,' who is Chancellor? What type of entertainer would you like to be known as?
C: I would love to be known as "Of course. It's by Chancellor" (laughs). Thanks for having me, AllKPop!