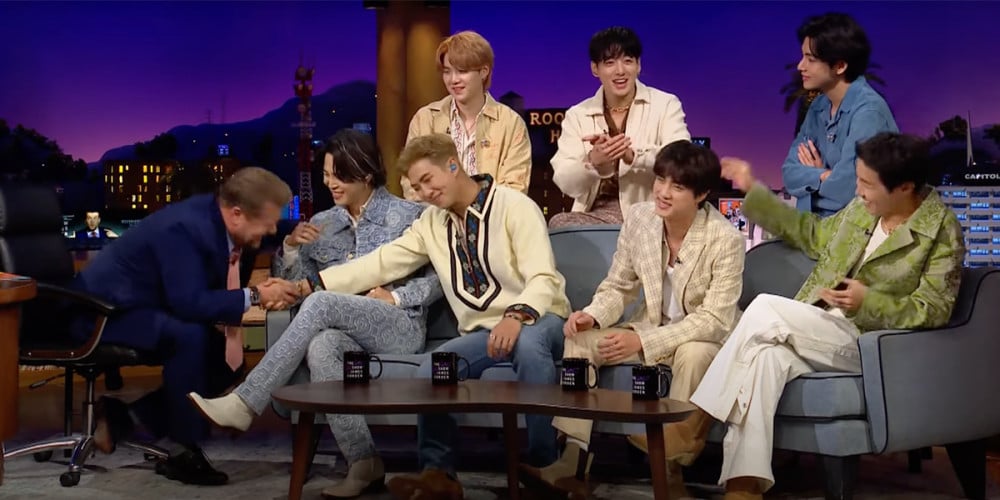 The biggest group in the world BTS is back on 'The Late Late Show with James Corden'!
The boys have finally arrived in the 'Late Late Show' studio for the first time in 2 years as a part of their latest activities in the U.S, and on this day, BTS performed their hit track "Permission To Dance" as the musical guest of the evening, and also sat down with host James Corden for an interview.
Now, on this day, the BTS members decided to tackle a rather uncomfortable issue head on.
Back in September of this year, 'The Late Late Show' host James Corden came under fire for making jokes about BTS's attendance at the 76th United Nations General Assembly. Numerous BTS fans, known as ARMYs, expressed their anger toward the show host, and made moves to "cancel" him. Some even demanded that BTS not appear on 'The Late Late Show' anymore.
Tonight, BTS's leader RM has proved that the best way to care for fans who were hurt is to speak up on their behalf. At the start of the interview, Corden asked the members, "How are you doing?", to which RM responded, "It's so good to be back, But how about you, James? In some hot water with ARMYs? Are you alright?"
Hearing this, James Corden became flustered as he addressed the controversy, and explained his side of the situation. The show host clarified again and again that no offense was intended toward anyone, that he was a big fan of BTS, and that he felt sorry for hurting the feelings of ARMYs.
Finally, RM extended his hand out to Corden and said, "James, it's alright. We appreciate your apology. We just wanted to clear the air."
So many ARMYs were moved by the fact that BTS stood up for them in light of the controversy, and took to Twitter to show love for RM and the rest of the members' sweet words and actions.