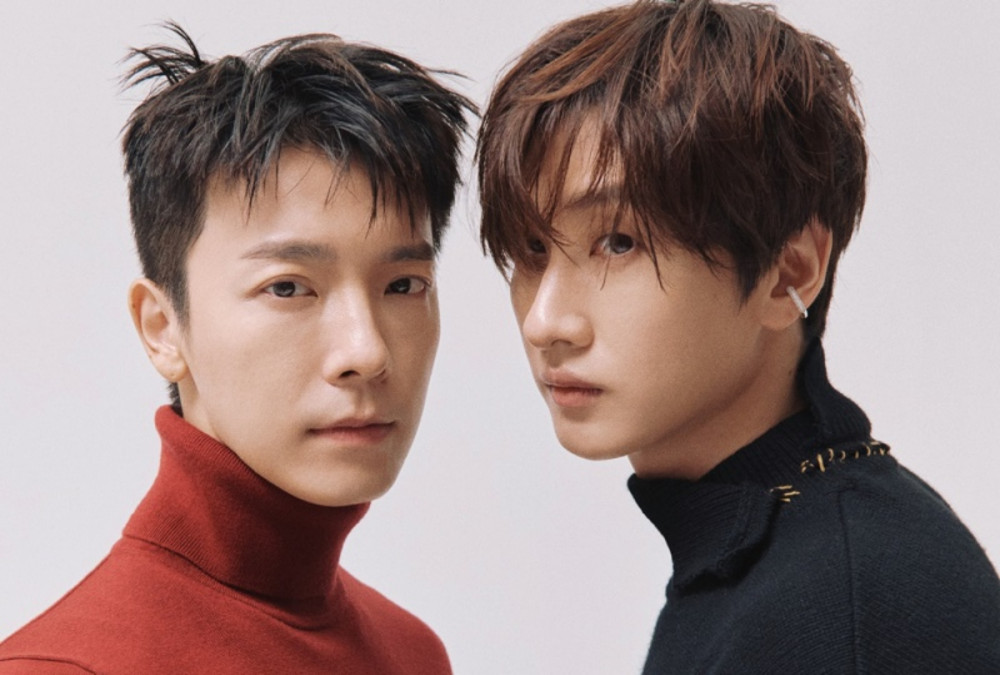 Super Junior D&E graced the cover of '1st Look' magazine.

WIth the keyword of '10th debut anniversary' for this pictorial, Super Junior's Donghae and Eunhyuk showed off autumn vibes with their contrasting colors and styling. In the first photo, Donghae and Eunhyuk show their side profile as they link arms with a man who is only showing his backside. The D&E members are wearing different shades of green suits and have their hair slicked back, as they stare directly into the camera. In the second photo, Donghae and Eunhyuk are wearing black and red turtle neck shirts. Here, they lean closer toward each other for a duo shot in order to amplify the combination of autumn colors that their outfits display. The third and fourth photos open space for Donghae and Eunhyuk to show off their individual charms, where they captivate with the use of black and white colors.

In light of their 10th debut anniversary, Super Junior D&E members Donghae and Eunhyuk will be releasing their 1st full album at the end of October. In the interview following their pictorial, the D&E members stated, "Our 1st full album is an album in celebration of the 10th debut anniversary of Super Junior D&E, but I think it's also a [symbol of a] different, new beginning. More than anything, this is an album for our fans, and our promotional activities are meant as gifts to them."
D&E's pictorial and interview in '1st Look' magazine, No. 227 will be available on October 7.