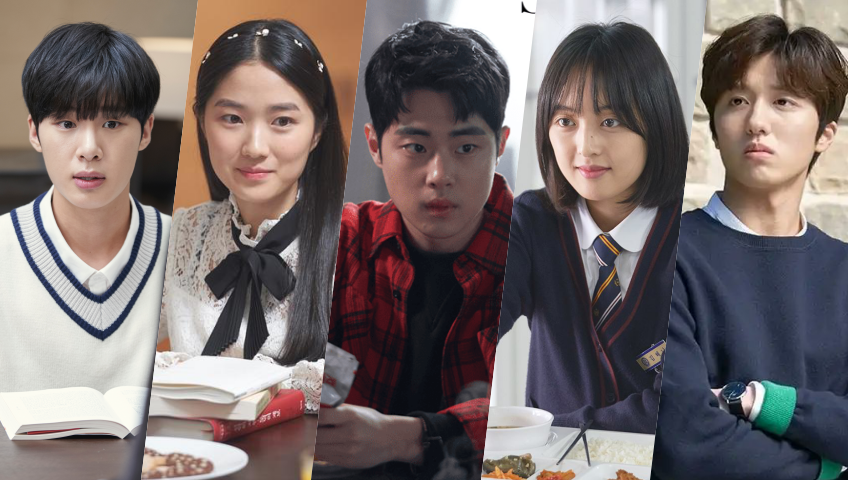 Socially relevant dark comedy 'Sky Castle' set the bar higher for K-dramas in 2018 to 2019. From a cast that flaunts unreserved top-tier acting, to a compelling screenplay, to its genius attention to detail in every scene, the series deservingly remains one of the highest-rated in South Korean television.
The main characters played by industry veterans were expected to hold the life of the show, and they delivered to perfection. However, the striking performance of the young bloods was an equally masterful revelation. It's been a while since the drama ended, so we round up recent and upcoming projects of these 2019 breakout stars you need to watch out for.
Kim Hye Yoon
The feisty and ambitious Ye-Seo proves she is still unstoppable up to now. Kim Hye Yoon joined the ensemble of the recently released thriller film Midnight, which was recognized at the Fantasia International Film Festival.
This November, she is Kim Jo Yi of Secret Royal Inspector Joy, an empowered divorced woman with progressive disposition. The historical comedy will also put the spotlight on Ok Taecyeon as Ra Yi-eon, a chill but charismatic foodie who ends up with an undercover job. Together, they hop on an investigative trail and expose corruption in the land.
By December, we will also be seeing her as Boon-ok in Snowdrop, where she reunited with former co-star Yoon Se-ah and the same team that wrote and produced Sky Castle. Set in the 1987 Democracy Movement, the series is also headlined by Jung Hae-in, Blackpink's Jisoo, Jang Seung Jo, Jung Yoo-jin, and Yoo In-na.
Kim Dong Hee
Since his portrayal as Seo-Joon, we have not escaped Kim Dong Hee's not-so-innocent charm, and honestly, we're not complaining! In 2020, he continued to seal our attention with his endearing presence in Itaewon Class, where he was Jangga Group's second son Geun-soo. This was immediately followed by his first lead role as Oh Ji-soo in the disturbingly good and gripping high school drama Extracurricular.
Last year, the 22-year-old started working on the film Season of You and Me, which is based on the life of the deceased musical legend Yoo Jae Ha. He is also confirmed to star in the Lee Hae young-directed Ghost alongside Park So-dam, Sol Kyung Gyu, Park Hae Soo, Honey Lee, and Seo Hyun Woo. The movie features 1933 Korea during the Japanese colonization and revolves around the search for an infiltrator from the anti-Japanese movement.
Jo Byung Gyu
Cha family's younger twin has not left the camera since Sky Castle ended with one project after another, proving that he's just starting to conquer the scene. Critically-acclaimed and multi-awarded 2020 sports-themed Hot Stove League gave Jo Byung Gyu a Best New Actor recognition for his performance as Han Jae-hee. Months later, he took on the role of student-turned-evil-spirit-hunter So Mun in The Uncanny Counter that propelled him to greater popularity. The series appealed to a wide local and international audience and is currently awaiting its second season.
Shortly after the fantasy mystery aired its finale, There is An Alien Here was released, where he depicted a man who becomes part of an alien research club. Just last month, it was confirmed that he will be on the frontlines of the film Even If I Die, One More Time as Jeon Woo Seok, a 40-year-old stuntman who returns to his youth.
Kang Chan Hee
The morally upright Woo-Joo is maximizing 2021 both in the big and small screens. Earlier this year, Chani starred in the webtoon-based music-fantasy-romance Must You Go opposite Park Jung Yeon. He is Park Yeon, a musical genius who time travels to the present and meets another artist. Just this August, his label announced that he will be working with Kang Min Ah in the upcoming idol romance drama Miracle, where he will be playing the globally-known celebrity, Louis.
The SF9 maknae reunited with former co-star Jo Jae Yun in the black comedy movie Sseol, which was released June this year. He portrayed Jung-seok, whose initial job is to take care of the almost dying Chairman Choi. The characters eventually find themselves in a situation where truth and fake can no longer be determined. He also teamed up with Sky Castle co-star Park Yoona for the PC game-inspired horror film White Day: Broken Boundaries.

Kim Bo-ra
2020 saw Kim Bo-ra lead a rom-com as Han Soo-Yeon in Touch alongside Joo Sang Wook. In the story, she was an idol trainee for ten years who gave up on her dream and shifted her career to being a make-up artist.
Last July, her horror movie Ghost Mansion with Sung Joon, Kim Hong Pa, Kim Jae Hwa, Park So-jin, and Seo Hyun Woo came out. Set in the Gwanglim Mansion complex, it follows a webtoon writer searching for his next story peg. The 26-year-old actress will be working on another horror film with Kim Jae Hyun, scheduled to premiere in 2022. Webtoon-based Oksu Station Ghost centers on revealing the context behind the peculiar tales happening in Oksu Station.