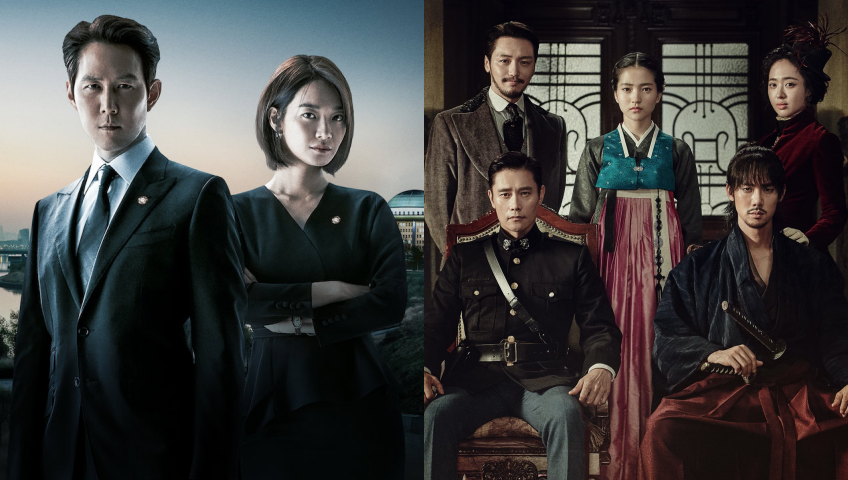 There's no doubt about it: Squid Game is expected to be the most buzzworthy Asian series ever to hit the screens. At one point, it even managed to steal the number one spot in Netflix - besting other globally popular shows such as Bridgerton, La Casa de Papel, and Stranger Things. Like the Bong Joon Ho-directed 2019 film Parasite, it also took the Hallyu wave to another level, engaging even non-Kdrama followers from different shores.
If you know someone whose first Korean series is Squid Game, here's a list of relatively recent K-dramas available on Netflix that you could recommend watching next, depending on their preferred genre.
For the friend who raves about rom-com: Fight for My Way (2017)
Although the friends to lovers trope might be common, it actually fits rom-com really well if executed in a refreshingly clever manner, and Fight for My Way does it brilliantly. Starring Park Seo Joon, Kim Ji Won, Ahn Jae Hong, and Song Ha-Yoon, it puts the spotlight on four long-time friends struggling into adulthood and trying to hit the equilibrium between passion and income - and finding love in between. It's one of those K-dramas that is relatively easy to adore regardless of your palate as a viewer because of the main leads' electric chemistry.
For the friend who's always on a hunt for horror/thriller: Strangers from Hell (2019)
More than jumpscares and chilling creeps, Strangers from Hell promises a gripping, thought-provoking ride right from its opening sequence. It is centered on Yoon Jong Woo (Im Si-wan), a young adult from the province who moves to Seoul after he gets hired for a job at his sunbae's company. Cash-strapped and tired from a day of house-hopping, he ends up renting a cheap goshiwon in the dark and eerie Eden Studio. As he meets his neighbors, things start to take the wrong turn: the overly-talkative landlady who gives out rotten eggs, a hot-tempered gangster, a porn addict, odd twin brothers, and a regular next-door dentist.
For the friend who's crazy about sit-coms: Welcome to Waikiki (2018)
Welcome to Waikiki offers a major comedy pill, so be prepared to have your cheeks hurt so much from laughing. It follows three best friends - film director Dong-goo (Kim Jung Hyun), actor Joon-ki (Lee Yi-Kyung), and freelance writer Doo-Sik (Son Seung Won) - who opened a guest house mainly for traveling foreigners while attempting to build a career in the entertainment industry. Clueless on how to run the business, the trio takes any job they can to save up a certain amount. It gets even crazier with the presence of Dong-goo's sister Seo-jin (Ko Won Hee), his ex Soo-ah (Lee Joo Woo), and single mom Yoon-ah (Jung In-sun) under one roof.
For the friend who's deeply interested in history: Mr. Sunshine (2018)
A golden ensemble of actors, stunning cinematography, meticulously-written screenplay, and detailed production laid out during an era that isn't so common on the small screen - such are the key points of the eternal beauty that is Mr. Sunshine. Set in the late 1800s to early 1900s Korea, this award-winning period drama highlights the fight of the RIghteous Army for Joseon's independence on the background of the Korea-US-Japan relations at that time. Headlining the project are Lee Byung Hun (who is also on Squid Game), Kim Tae-Ri, Yoo Yeon Seok, Kim Min Jung, and Byun Yo-han.
For the friend who's passionate about politics: Chief of Staff (2019)
If you're looking for another work of Squid Game's Lee Jung Jae, put Chief of Staff on your watchlist right away. In this series, he plays Tae-Joon, a lawmaker's chief-of-staff and brilliant political player, who is also in a secret relationship with the principled assemblywoman Seon-Yeon (Shin Min Ah). It unveils the dirty and ruthless game played by government officials and the ruling class and how some pro-people minority in the same institution try to beat this status quo.
For the friend who's also a family person: Hi Bye, Mama! (2020)
Not all shows employing the theme of family can come off as poignant or touching, but South Korea just doesn't fail to make it profoundly moving. Hi Bye, Mama! tells of a mom who has been dead for five years but is now given a chance to come back to life if she is able to take her place within 49 days. However, her situation is not as simple as it seems - she has witnessed her husband remarry, and her child grows up with another mother when she was a ghost. Led by Kim Tae Hee as Yu-ri and Lee Kyu Hyung as Gang-Hwa, this one will make you feel a broad spectrum of feels - from warmth, pain to helplessness - that come with caring for your loved ones.
For the friend who can closely relate to workplace setting: Kkondae Intern (2020)
There are a lot of office K-dramas, but if you are talking to someone new to the Korean wave, Kkondae Intern is a great suggestion. Compared to others, it is shorter, and the storytelling lies on the quirkier and lighter side. Portraying an intern-turned-manager who plans to make his former boss' new job a living hell, it is a comical depiction of corporate life layered with the characters' varying work ethics, individual differences, and highly competitive career race in the country. Park Hae-jin plays Ka Yeol-chan, the traumatized intern who becomes another brand's executive, while Kim Eung Soo is Lee Man-Sik, the male lead's arrogant terror supervisor from his early days.
For the friend who's an avid fan of fantasy: Goblin (2016)
Sitting among the ranks of shows that created massive cultural ripples across countries, Goblin, a.k.a Guardian: The Lonely and Great God, is one of the most internationally popular K-dramas in recent years. Mixing fantasy with history, it is about the prominent military general Kim Shin (Gong Yoo), wrongly accused of being a traitor. As retribution for all the lives he took, he becomes an immortal goblin after he dies, helplessly watching one loved one pass away after another. To be freed from the punishment, he seeks out the help of the Goblin's bride. The cast parades names known for an impressive background in acting, including Kim Go-Eun, Lee Dong Wook, and Yoo In-na.