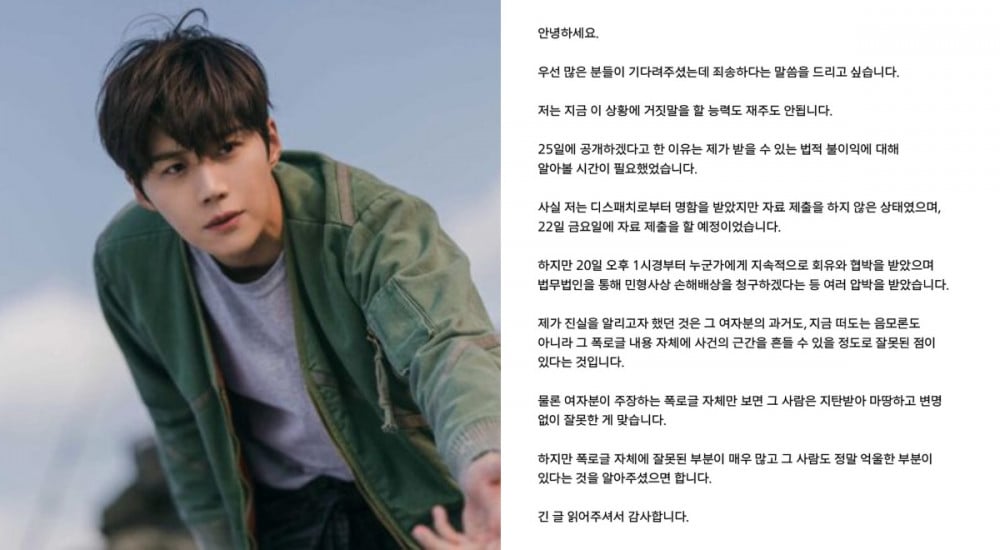 The anonymous netizen spoke up about why they decided on the specific date of October 25, in revealing the truth behind Kim Seon Ho's controversy.

On October 22, the anonymous netizen took to their Instagram and wrote the following:
"Hello.
First of all, many of you have waited for me and I would like to apologize.
I have neither the ability nor the talent to lie in this situation.
The reason I decided to disclose the information on October 25 is because I needed time to find out about the legal disadvantages I could be facing.
In fact, I actually received a business card from Dispatch, but I hadn't submitted any documents then. I planned to submit them on Friday, October 22.
However, starting on October 20 at around 1PM, I began to receive continuous threats and persuasive messages from someone, including one where they claimed they would file a lawsuit claiming damages from me, and I felt pressured.

The reason I am trying to tell the truth is not due to the woman's past, nor the conspiracy theories that are circulating the internet now. It is because the content of the accusatory post has problematic aspects to it, enough to shake the basic foundation of this case.

Of course, if you look at the claims made by the woman, [Kim Seon Ho] deserves to be condemned and he is in the wrong without room for any excuses.
However, I want you to know that there are also a lot of problematic aspects to her post itself, and there are areas in which [Kim Seon Ho] is extremely wronged.
Thank you for reading this long post. "
Meanwhile, some time earlier on October 22, the netizen also stated, "The issue has already been resolved by the two people involved, and things may blow up out of proportion if a third party becomes involved, so I have decided not to go forward with the 'exposing', which I initially said I would upload on October 25."