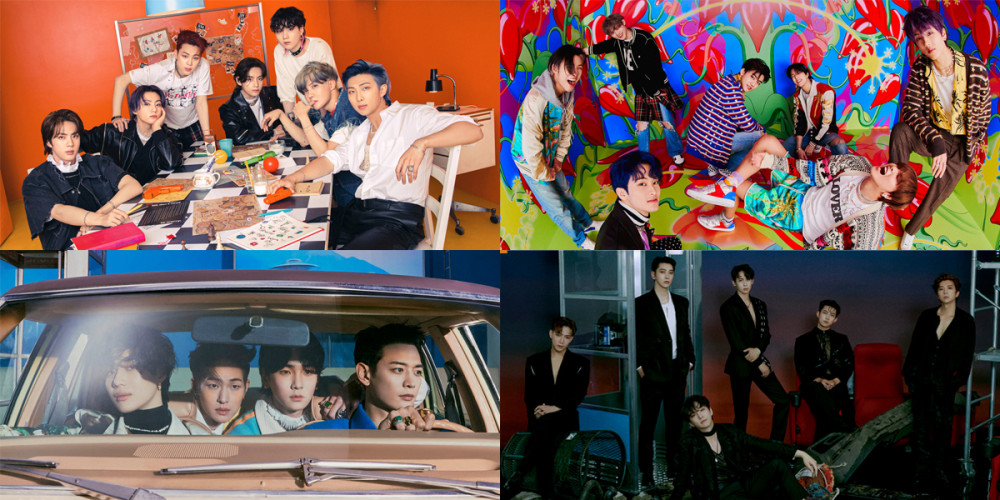 Netizens have gathered a list of the K-Pop boy groups and their songs which recorded the most unique Melon users in 2021 so far!
Here, the term "unique user" refers to a single account on Melon, which was used to stream music. Greater numbers of unique Melon users indicate that these groups and their songs were being listened to by more people, rather than indicating the number of times each song was listened to.
Check out the list for yourself, below!
1. BTS - "Butter" (Released 5.21.2021)


Total Melon Users: 3.1 million
2. BTS - "Permission To Dance" (Released 7.9.2021)


Total Melon Users: 2.2 million
3. SHINee - "Don't Call Me" (Released 2.22.2021)


Total Melon Users: 1.3 million
4. NCT Dream - "Hot Sauce" (Released 5.10.2021)
Total Melon Users: 1 million
5. Baekhyun - "Bambi" (Released 3.30.2021)
Total Melon Users: 764,000
6. 2PM - "Make It" (Released 6.28.2021)
Total Melon Users: 677,000

7. Highlight - "Not The End" (Released 5.3.2021)
Total Melon Users: 666,000

8. NCT Dream - "Dive Into You" (Released 5.10.2021)
Total Melon Users: 641,000

9. NCT Dream - "Hello Future" (Released 6.28.2021)
Total Melon Users: 592,000
10. Kyuhyun - "Moving On" (Released 1.26.2021)
Total Melon Users: 589,000
11. SHINee - "Atlantis" (Released 4.12.2021)
Total Melon Users: 543,000
12. EXO - "Don't Fight The Feeling" (Released 6.7.2021)
Total Melon Users: 489,000
13. Seventeen - "Ready To Love" (Released 6.18.2021)
Total Melon Users: 487,000
14. DAY6 - "You Make Me" (Released 4.19.2021)
Total Melon Users: 410,000
15. Kyuhyun - "Coffee" (Released 4.13.2021)
Total Melon Users: 393,000
16. iKON - "Why Why Why" (Released 3.3.2021)
Total Melon Users: 346,000
17. D.O. - "Rose" (Released 7.26.2021)
Total Melon Users: 326,000
18. TOMORROW x TOGETHER - "0X1=LOVESONG" (Released 5.31.2021)
Total Melon Users: 318,000

19. ONF - "Beautiful Beautiful" (Released 2.24.2021)
Total Melon Users: 294,000
20. DAY6 Even of Day - "Right Through Me" (Released 7.5.2021)

Total Melon Users: 290,000