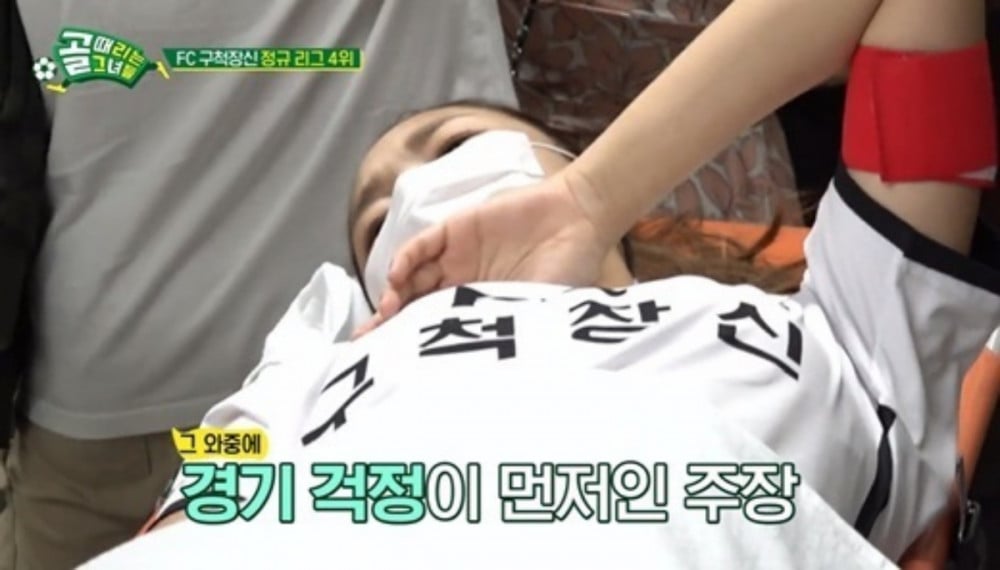 Model Han Hye Jin was taken to the hospital after collapsing from a head injury during filming for SBS's 'Goal Hitting Girls'.

On the September 8th broadcast of SBS's soccer variety show 'Goal Hitting Girls', the soccer teams 'World Class' and 'Nine Feet Tall' entered a soccer game in the ultimate fight for the bronze medal. During the second half of the game, Han Hye Jin scored a goal, but the referee declared it a foul after seeing that there had been a handball. After this moment, Han Hye Jin began to play more fiercely as if trying to make up for her mistake. However, during the game, Han Hye Jin was suddenly struck by a flying ball that had been kicked with much force across the soccer field.

At first, everyone thought it was okay as Han Hye Jin had been hit in the ear area, rather than directly at her head. However, concerns grew when Han Hye Jin was unable to stand up and stated, "I'm dizzy." Eventually, Han Hye Jin was taken to a nearby hospital on a stretcher in order to make sure she was okay. The rest of her 'Nine Feet Tall' team members tried to stay strong, and in tears, encouraged each other to do their best until the very end. However, team 'World Class' ultimately took the bronze medal, winning 3-0 points.
Fellow team member and model Lee Hyun Yi worriedly asked the production crew to call Han Hye Jin after the game, and thankfully, Han Hye Jin had significantly recovered. Han Hye Jin then brought viewers to tears when she showed that she was more worried about the game. Han Hye Jin asked the writer staff members, "I'm okay. How are they doing? Try calling them." However, Lee Hyun Yi could not easily reveal to Han Hye Jin that they had lost the game and burst into tears saying, "I'm feeling so sorry, how can I see her [face]?"