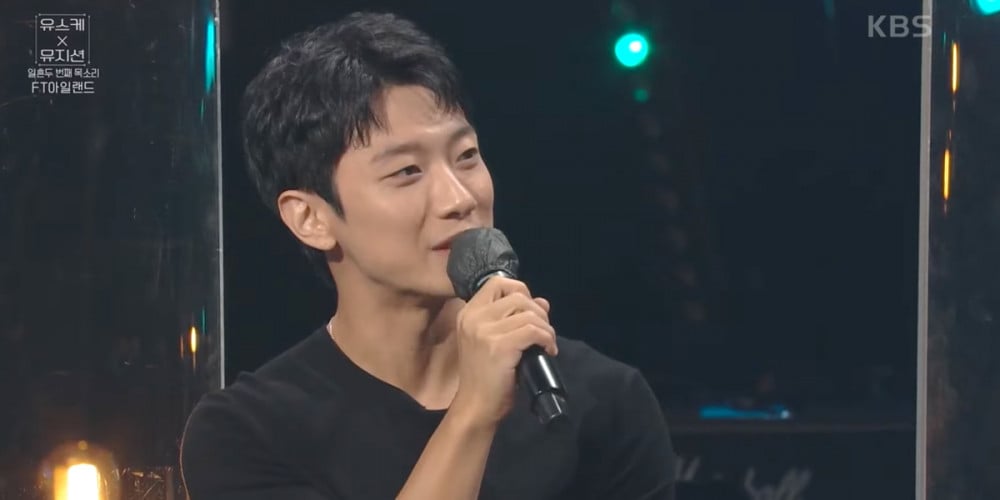 On the September 17 broadcast of KBS2's 'Yoo Hee Yeol's Sketchbook', F.T. Island appeared as a full band for the first time since the members' return from their mandatory military service duties!
On this day, MC Yoo Hee Yeol pointed out how happy Hongki seemed, appearing with his group rather than solo. Hongki agreed and said, "Last week, I came out by myself, and I was so nervous my hands were shaking. But now I feel so assured. I'm happy."
Next, Jaejin was asked to pick which member had changed the most since returning from their mandatory service. Jaejin answered, "Before we all began our mandatory service, our member Minhwan here had just gotten married, he had a kid to look after, and he quickly gained a lot of weight. Then, once we began military service, we couldn't really keep in touch. All of a sudden, he's back and become totally slim. His face was so small, I was shocked."
Hearing this, Hongki added on, "Plus, he has two more kids now."
MC Yoo Hee Yeol then shot two thumbs-up toward Minhwan, marveling at the size of his family. Moving on to the topic of raising three kids, Minhwan revealed, "In truth, I always feel bad when I leave the house, since that puts all of the responsibilities on my wife. So I am always on guard about that. I am sorry for being here by myself today, as well. It would have been nice if my wife could have joined us."
However, MC Yoo Hee Yeol and the other F.T. Island members called out Minhwan and said, "No way. You're lying. Your knees are smiling."
Meanwhile, F.T. Island's Minhwan was discharged from his mandatory military duties back on September 2. He then garnered attention for his 13 kg (~ 28.7 lb) weight loss, ahead of his full return to broadcast activities.