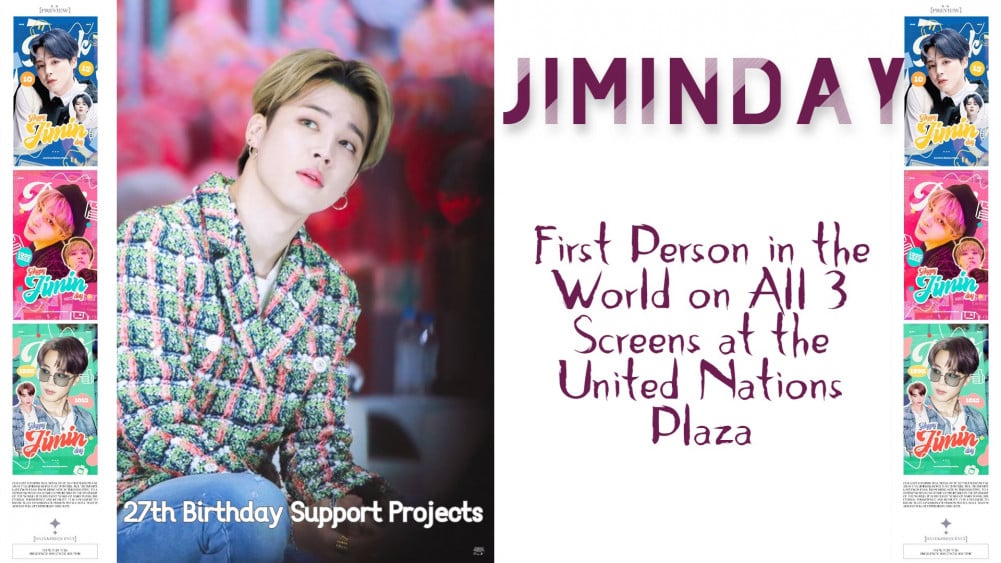 Jimin's birthday is always filled with celebrations of all kinds, lasting all through October, his birthday month. His fans are known to prepare some of the grandest projects in honor of his birthday, with the Climax being on October 13, the actual birth date. So far, Jimin's fans and fanbases have unveiled a diverse scope of projects spread across the globe.
PARKJIMINBAR, Jimin's Chinese fanbase, is known to come up with some of the best projects ever made for birthday support for an idol. The fanbase already unveiled the first part of this year's support projects, which included an exclusive customized airplane, with Jimin-themed in-flight cups as well as flight tickets with Jimin's face printed on them. The second and third parts simultaneously included a large-scale promotion in 'The Times and 'The New York Times,' making Jimin the world's first artist to receive such support from fans.
The fanbase unveiled the fourth and fifth parts of the support projects. The fifth part was unveiled on September 19, which included placing Jimin on all three screens at the United Nations Plaza, making Jimin the first person in the world to be on triple screens at the UN Plaza. The project would see advertisements for Jimin, running on all three screens from September 20th till September 26th at a frequency of every 80 seconds and lasting for 10 seconds each. This project was particularly impressive, not just for the thought behind it but also for the timing. BTS attended the United Nations General Assembly on September 20th, where they gave their speech and performed their latest single, 'Permission to Dance.' Additionally, important world leaders and heads of state were present, and the UNGA General Debate is expected to last till September 27th. Therefore, this project is a big opportunity and perfect timing to promote Jimin, with high chances of seeing the ads.
The fanbase had previously announced the fourth part of the support projects on September 18, which included the adoption of 27 emperor penguins. Jimin is known to love and care for animals, and this project is a reflection of his kind heart. The penguins adopted totaled 27, to represent Jimin's age.
Numerous touching birthday support projects have been announced by other fanbases and individual fans as well.
On September 19, it was announced that a Canadian fan of Jimin had donated free meals for the vulnerable elderly in Busan, Jimin's hometown. The donation came from the Kingsley family, who have a deep sense of gratitude towards Jimin and his classic masterpiece of a song, 'LIE.' According to the family, this song has helped the family's father to keep away during meals, something that had been difficult to do through his illness despite trying everything that the doctor had recommended. On hearing this news, Korean netizens were highly impressed, praising Jimin for his positive influence throughout the world.
In Myanmar, three birthday support projects have been announced so far. The first one, called the 'BE A GOOD HUMAN DONATION PROJECT,' will see Jimin's fans donating medication and food to the country's underprivileged population in the country. The donation is expected to take place on October 13, covering 100 households, and will include food such as rice, oil, eggs, onions, canned fish, and noodles.
The second project, named 'VOICE WITH KINDNESS,' will have 130 fans visiting the Kyi-Myin-Dine Blind School Yangon in Myanmar, where they will read novels and narrate stories t the blind children. Myanmar ranks high among Asian countries struggling with visual impairment, hence the idea to have this project, especially since Jimin has the kindest heart and loves children.
The third part is titled 'Our Blood. Their Lives' will include 30 to 50 fans donating their blood to help save lives.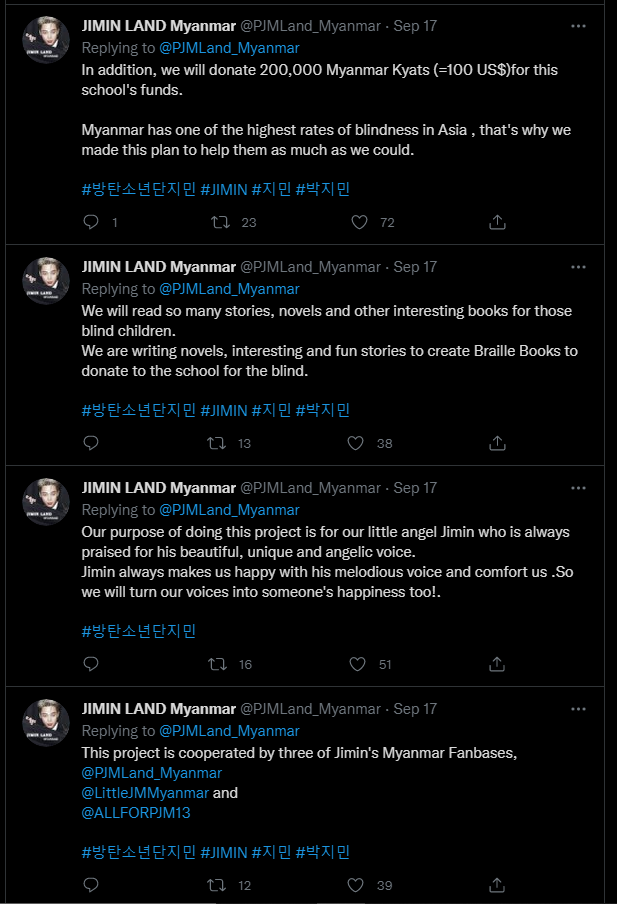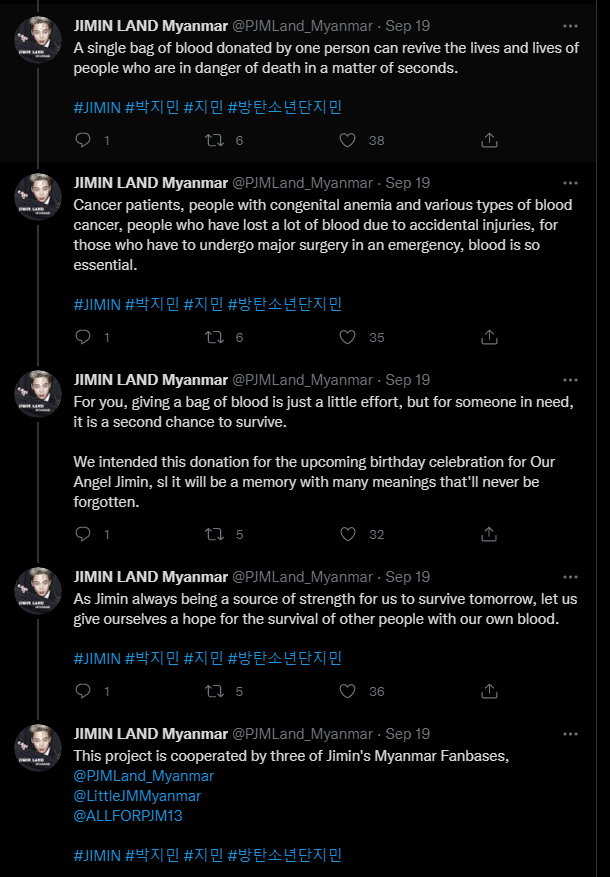 Jimin's Nigerian fanbase has organized two projects, the first being sponsoring of surgeries needed by patients of sickle cell in the country, and the second being an electronic LED advertisement. This fanbase has also chosen to show kindness to others in honor of Jimin's birthday, just as Jimin does to others in need.
The BTS fanbase in Pakistan also chose the same route of helping those with medical needs. Fans here have opted to set up a FREE medical camp that will see various doctors attending to those in need.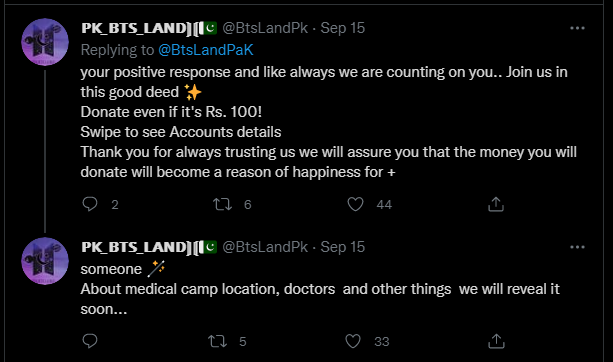 On the other hand, fans in India are taking an alternative route to help transgender men in India to get gender affirming surgeries. Eight transgender men have so far approached the Jana Seva Samithi organization for financial help to undergo gender affirming surgeries. Donating towards this organization will help these men to live their lives more comfortably and at peace.
Jimin's fanbase in Portugal has selected a project to help support the Acreditar Association, which is a support team for friends and parents of children with cancer. Treating such a disease as well as the emotional toll that it can take on those affected is enormous, and helping them in any way to ease their burden can go a long way in helping them go through this journey. Again, Jimin cares a lot for children's health and education, and it is only natural that his fans emulate his deeds.
In other countries, one Jimin fan has organized a Jimin exhibition in Tokyo, which will have different kinds of merchandise for sale.
Back in Jimin's home country, there have been endless projects reported so far.
Jimin's largest fanbase in South Korea, ALLFORJIMIN, has announced three projects so far, all focused in Seoul. The first will see the entire building of Konkuk University Common Ground wrapped up into a Jimin Theme Park (My Serendipity), starting from September 10th till October 10th. This area is Korea's largest container pop-up shopping mall, Common Ground. There will also be a large ad balloon event.

For the second part of the support projects, the fanbase has arranged for a 'Hybe office building bus shelter advertisement, running from October 1st to October 31st. The bus stop/shelter is just opposite Hybe's office building, and the ads will be posted on 14 sides of 7 bus shelters located on the central lane for a month.

The third project will include an advertisement wrapping on the wall opposite the Hybe office building, running between October 7 and October 13. Here the fanbase will run a 34M large-scale wrapping advertisement featuring Jimin's solo song stage in a panoramic view on the wall opposite the Hybe office building.

Other projects include a Jimin road in Daegu, with 300 pairs of banners, which is pretty large-scale as most projects will usually only have 50 pairs of banners.
Another fan has set up a project in Busan, Jimin's hometown, where there will be 17 total banners spread across 16 districts.
Another project in Busan will include a Jimin Road at Busan Seomyeon Station Bus shelter, and the advertisement will run from October 1st to October 31st.
The projects to celebrate Jimin's birthday are countless, and these are just but a few. It is heartwarming to see so many people around the world shower him with love and place much importance on his birthday with all these projects. More will be updated in due time as we approach D-day.
Many thanks to all who have set up such wonderful projects for Jimin day.