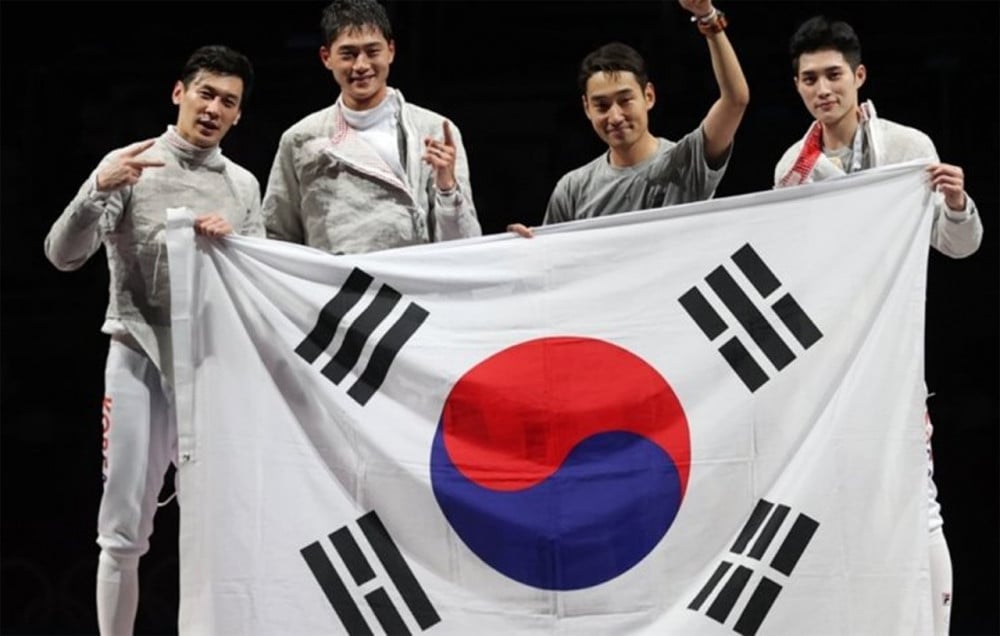 The 2020 Tokyo Olympics concluded a little more than a week ago. The event was held one year later than the projected date due to COVID-19. South Korea was able to perform very well despite the challenges from the pandemic, placing 16th overall with six golds, four silver, and ten bronze medals.
People have noted that the Olympic performance this year was not as good as the previous Olympics, as South Korea typically ranks in the TOP 10 in the gold medal count. Nevertheless, the Korean athletes tried their very best in Tokyo and left some legendary moments. Check out some of Korea's best moments from the 2020 Tokyo Olympics! Just when you thought it was over, Korea's legend continues today.
1) South Korea Men's Fencing - Gold Medal Match

We can proudly say that the national fencing team did a tremendous job, defending the gold medal in dominant fashion. It was without a doubt that the "Avengers" Korean team was going to dominate. They succeeded and earned the gold for South Korea!


2) South Korea Women's Volleyball Team - Quarterfinals vs. Turkey

While this wasn't a medal match, and while the women's volleyball team couldn't earn the medal they were hopeful for, this was an important match for the team and the country as they were able to advance to the quarterfinals for the first time in nine years. More importantly, Kim Yeon Koung is an absolute beast when it comes to women's volleyball. They played their hearts out, and that's what made this national team stick out despite coming home medal-less.
3) South Korea Women's Archery Gold Medal Shoot-off (An San)

This Olympics definitely showed us that South Korea is the boss when it comes to archery. An San was totally killing it, whether it be in a group or solo. An ends up beating Russia in a final shoot-off and brings home the gold.


4) South Korea Inaugural Mixed Team Archery

Another proud archery wins, as South Korea was able to take home the gold for the mixed team archery match-up as well.
5) South Korea vs. South Korea - Women's Badminton Bronze Medal Match


This game was definitely interesting to see as South Korea had already confirmed the gold medal. It was a matter of which athletes were going to get it, and although it looked like a friendly match, it depended on who was going to get that bronze medal.
6) South Korea vs. Honduras - Men's Soccer

Though South Korea went home early in the group stages (with many hopeful fans), South Korea showed us ONE dominant performance when they demolished Honduras 6-0. The South Korean soccer team often gets criticized for their poor performance or lack of teamwork, but this game showed that they are still a solid team with a ton of potential. Check out some of the highlights!
7) South Korea vs. Japan - Men's Single Badminton
The 38th ranked Huh Kwang Hee was able to defeat the #1 player in the world, showing that South Korea IS capable. This was a huge upset as the general public was expecting the #1 to defend his position; however, the South Korean dark horse did not comply. He was able to defeat Japan without trouble!
8) South Korea vs. Japan - Badminton

Last but not least, we finish with a classic Korea vs. Japan match where Korea tops Japan in badminton doubles after a whopping 27-point final set. This game dragged on longer than expected, but Korea took home the W after a long set! Congrats Korea!
The good news here is, we only have to wait 3 more years until the next Olympics and one more year until the next major worldwide sporting event (2022 FIFA World Cup). Sports definitely does a great job of bringing the world together -- what was your favorite 2020 Tokyo Olympics moment, specifically by South Korea? Let us know in the comments below!