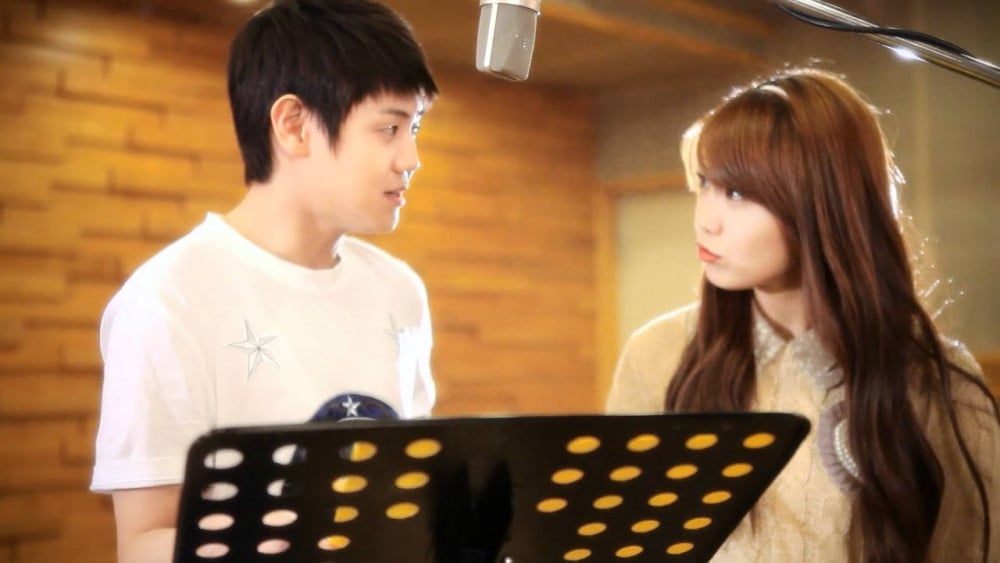 Remakes and covers seem to be the newest trend in South Korea, as many artists have begun releasing covers or remakes of songs that were popular years ago. It also became common to add the year name next to the name. In 2020, we saw Kyung Seo controversially hit it big on the music charts with "Shiny Star (2020)," and it was important to always put that 2020 at the end of the song title, so it didn't get mixed up with the original track. Though it did receive negative attention for potential sajaegi, it cannot be ignored that she still was able to peak the chart, and since the top music of the charts is played more often, the song was exposed more and more to the public.

In 2021, we began seeing much more remakes than 2020 -- some were great, some not so great. People are feeling more nostalgic and are wanting a piece of the past. Some are complaining that singers are taking credit for music that was not even initially theirs. Here is a list of some re-made songs in 2021. You can compare to the original and be the judge -- what do you think of these remakes?
1) A PINK's Eunji & HIGHLIGHT's Yoseob - Love Day (2021)
Original: A PINK Eunji & BEAST's Yoseob - Love Day (Released in 2012)
This remake was quite possibly the most successful remake as the song topped the charts upon release. The slightly slower tempo, along with the matured voices of Eunji & Yoseob, gave music listeners joy and pleasure when spring arrived. It's crazy to see how they improved in every aspect possible!
2) NS Yoon-G feat. MONSTA X's Jooheon - If You Love Me
Original: NS Yoon-G feat. Jay Park - If You Love Me (Released in 2012)
So this one was strange enough not to have 2021 added at the end of the title. Nevertheless, fans were happy to be able to hear NS Yoon-G again, and listeners were happy to be able to hear this bop again.

3) Chungha x Colde - My Lips Like Warm Coffee
Original: S#arp - My Lips, Like Warm Coffee (Released in 2001)
This song has been remade numerous times, but it's a new type of feeling in every version I hear. And just like that, Chungha and Colde slayed their own remake version of it. It was quite weird that the song was released in the middle of summer, as it's a winter song, but that does not degrade the quality of the song at all.
4) Lunch - Way Back Home (2021)
Original: Shaun - Way Back Home (Released in 2018)
It hasn't been quite a long time since the original version of the song was released, so people were quite confused. The song, however, has a refreshing beat that it's quite hard to resist. Lunch's version is definitely a different vibe from the original version -- both great to listen to!
5) Heize - On Rainy Day (2021)
Original: BEAST - On Rainy Day (Released in 2011)
It's quite crazy that it's already been a decade since this song was released. I personally loved this album, and it was fascinating to see Heize's version of it. It had Heize's own little style into it, and the song became totally hers!

6) Song Ha Yea - Broken Heart (2021)
Original: NAVI feat. Crown J - Broken Heart (Released in 2009)
While I wouldn't say this song was completely successful back in 2009, NAVI still had a steady fanbase, and ballad listeners loved NAVI. Netizens had more of a mixed response when Song Ha Yea's version was released, just because the song was just not buzz-worthy to have a remake of. Regardless, it's a great song to listen to!
7) Lee Seok Hoon x Locoberry - Ten Reasons I Love You (2021)
Original: Lee Seok Hoon - Ten Reasons I Love You (Released in 2010)
Another great mid-tempo lovey-dovey track to listen to. The original can be considered Lee Seok Hoon's biggest hit yet. The collaboration with producer Locoberry made the song even a better tune to listen to!
8) Mighty Mouth feat. Baek Ji Young - Will Love Come (2021)
Original: Mighty Mouth feat. Baek Ji Young - Will Love Come (Released in 2010)
This song is another great classic, and I was astonished that it was remade, mainly because Mighty Mouth has not been actively making music. Even if they release a track, the performance is not even close to their peak days. Fans were definitely happy to be able to see a different perspective on a hit track!
9) Hwang In Wook - Emergency Room (2021)
Original: Izi - Emergency Room (2005)
Izi was definitely a one-hit-wonder, but he has every right to say that because EVERYONE can clearly remember his track, and his song is still one of the most widely sung songs at a karaoke bar. It was so popular that even trot audition programs began covering this song, and it will always be remembered as a legend. Which do you like better?
There are so many more tracks that were remade in 2021. Because the trend is continuing to shift this way, it looks like we'll be able to see more remakes -- which one was your fave? Is there a legendary song that should be remade with the iconic "(2021)" at the end? Let us know in the comments below!