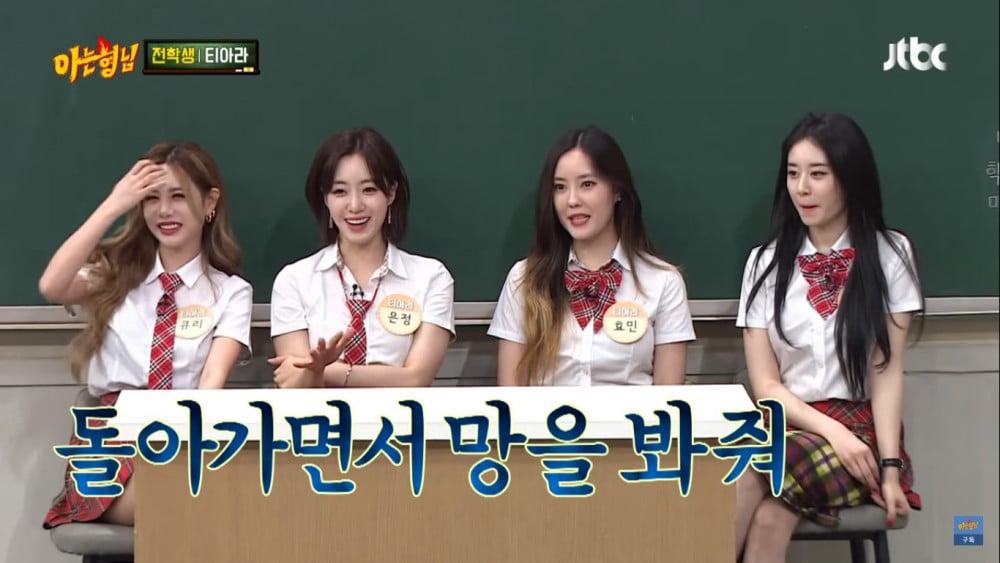 T-ara members revealed how they used to help each others' dating life.
On the July 10th episode of 'Knowing Brothers', T-ara's Qri, Eunjung, Hyomin, and Jiyeon talked about their past dorm life that consisted of ghost stories and secret relationships. Eunjung revealed that the members used to look out for each other whenever someone would say that they needed to leave the dorm that day: "We decorated the empty bed with all kinds of objects and hair pieces so that it looked like someone was sleeping there."
Hyomin added, "Since it was difficult to find a meeting place, we would go up to the rooftop and see each other for about 30 minutes. When our date nights would overlap, we would do rock-paper-scissors or yield to the other person."
The girls also said that they used to divide up the rooftop area when things got crowded and remarked that "spots with benches were the most popular."
Teasing the members, MC Lee Soo Geun assumed that their ex-boyfriends were celebrities and asked: "And those guys are also promoting well these days, no?"
To this question, Eunjung coolly responded: "Of course. They are all living quite happily."