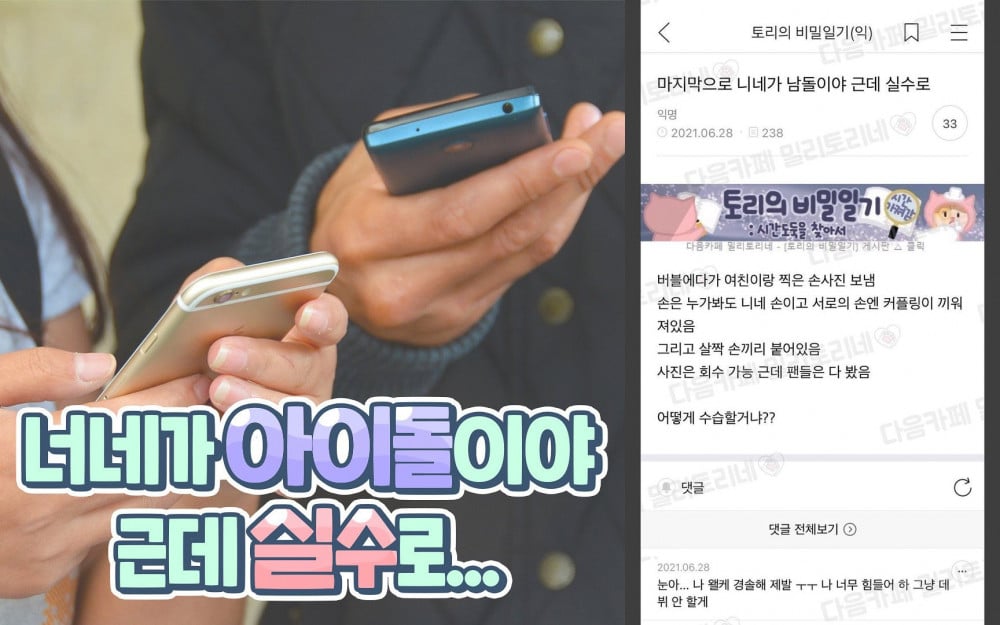 There are numerous and diverse online community posts on the internet that intrigue netizens from all across the world.
Recently, K-pop fans and online users took an interest in an intriguing post that was shared on various social media platforms. The post included various "what if questions" that many netizens gave their thoughts and answers to. The questions gave examples of certain difficult situations and asked netizens to post how they would react.
Here are some of the questions asked: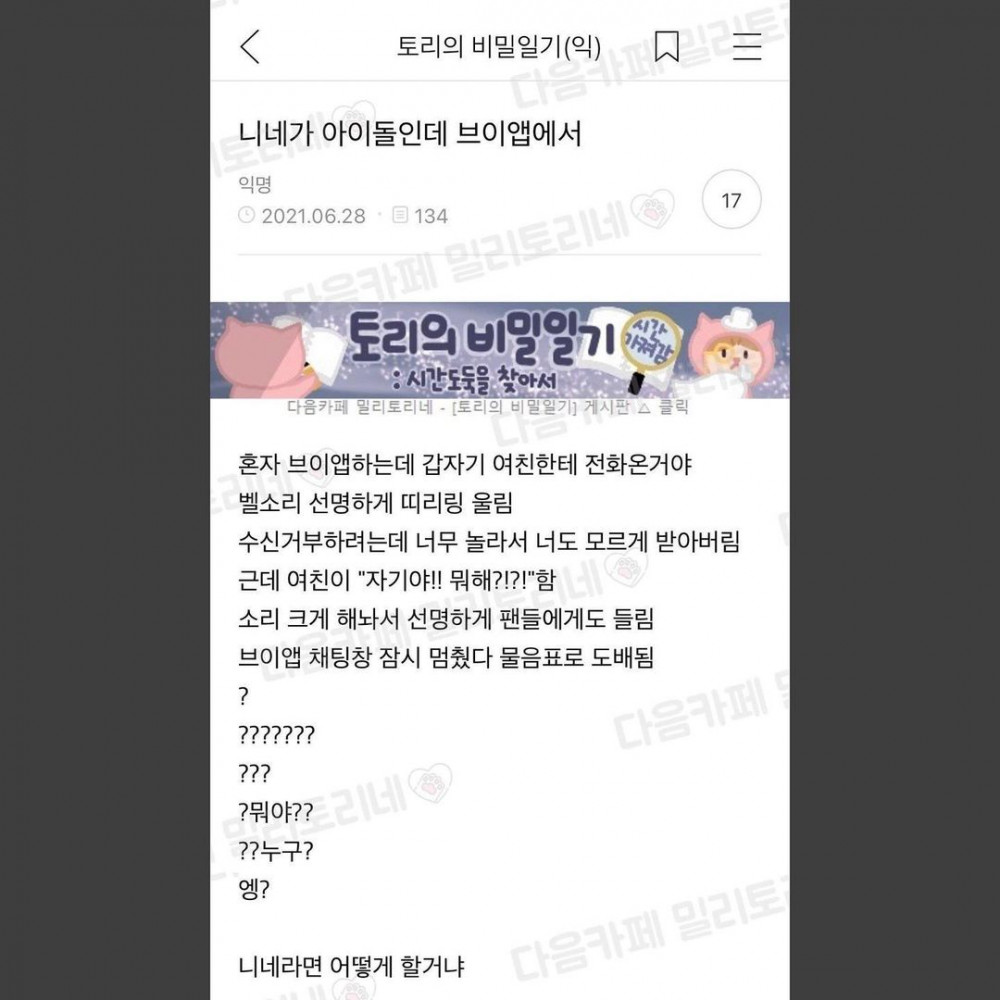 One post asked, "Let's say that you are a male idol group member. While having a V Live broadcast, your girlfriend called and your phone rang out loud. You were going to ignore the call but got taken aback so you picked up the call by accident. At that moment, your girlfriend shouted, 'Hey honey!! what are you doing?!?!' It was so loud and clear that your fans definitely heard it. The live chatroom began being filled with '?' '???' 'Who is that???' 'What???' What would you do?"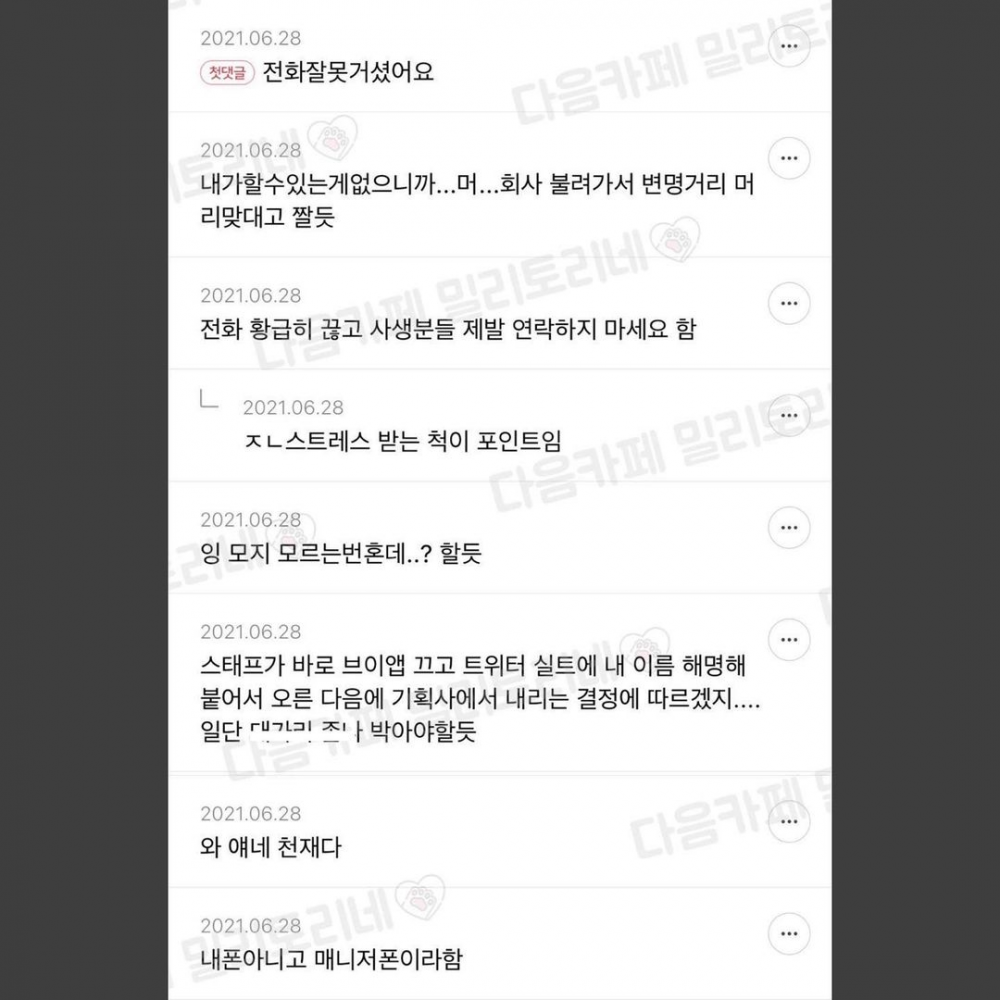 Netizens responded, "I would say 'You got the wrong number'." "There's nothing I can do so...well...I'll just ask the company and make up an excuse," "I would hang up the phone and say to the camera, 'Please stop calling Sasaeng fans'," "I'll just say, It's a number I don't know," "the staff probably would turn off the V app right away and then take a look at my name up on the Twitter Trends and follow the actions that the company would take," and "I would say it's not my phone but my manager's phone."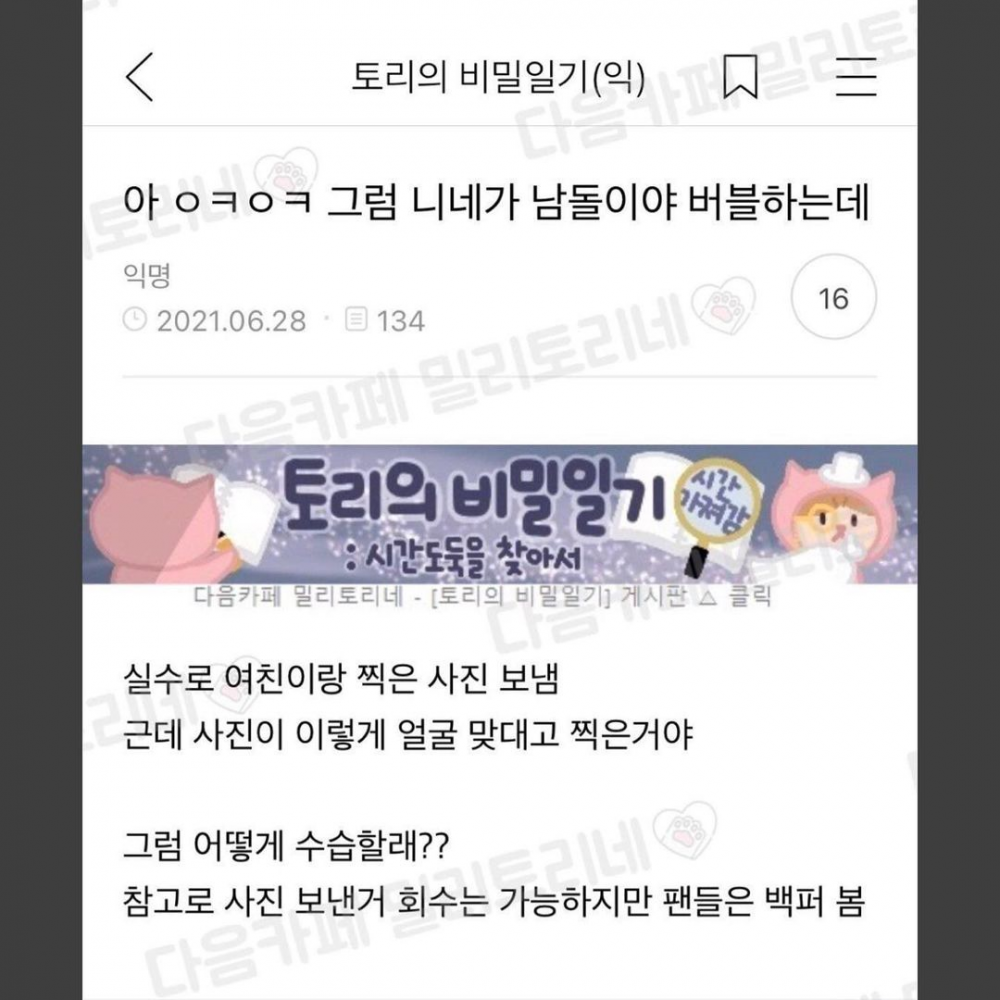 Another post asked, "Oh, what if you're a male idol group member. You were using the bubble chat app and posted a photo with your girlfriend by accident. It was a photo where you two have your cheeks stuck to each other. How will you take care of this? You can take back that photo but the fans will definitely share the photo on other social media platforms."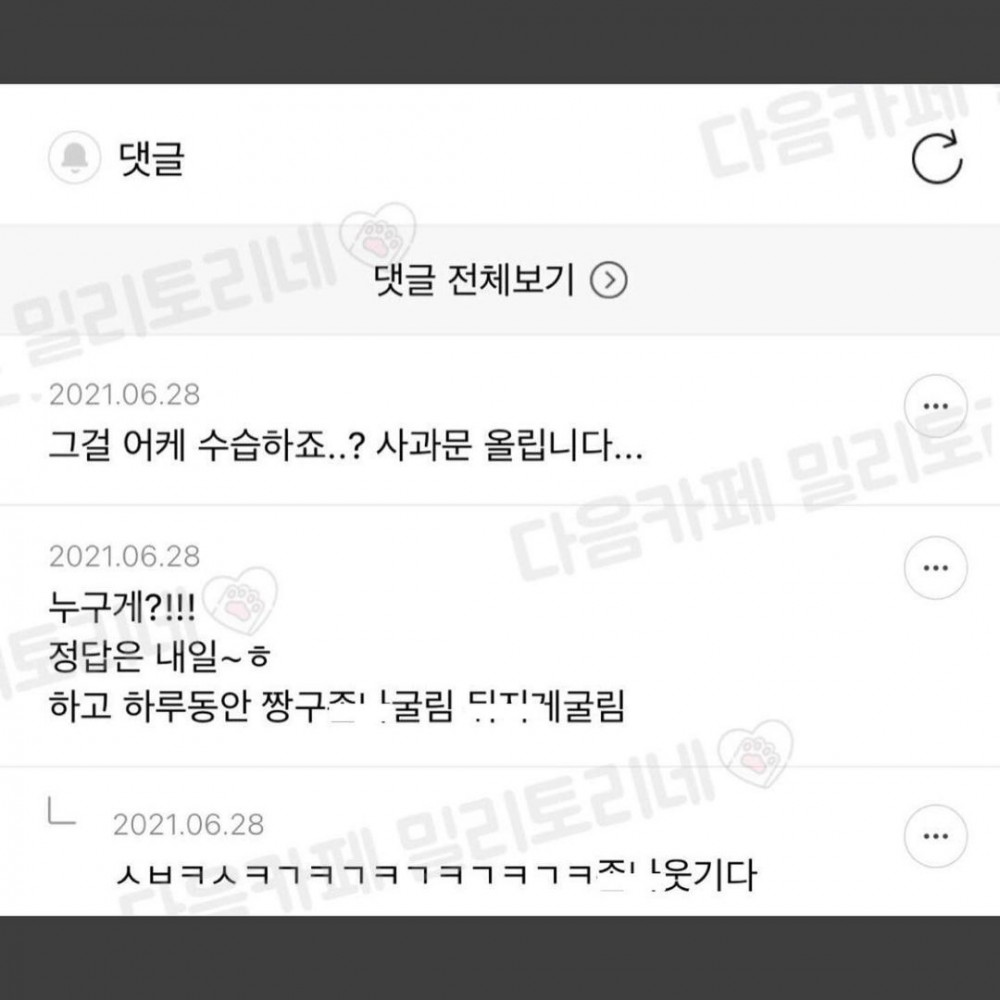 Netizens responded, "How would I take care of this situation...? I would post an apology," and "I would post 'Guess who this person is?!! The answer will be given tomorrow~ lol,' and then I would think my a** off (for the next 24 hours)."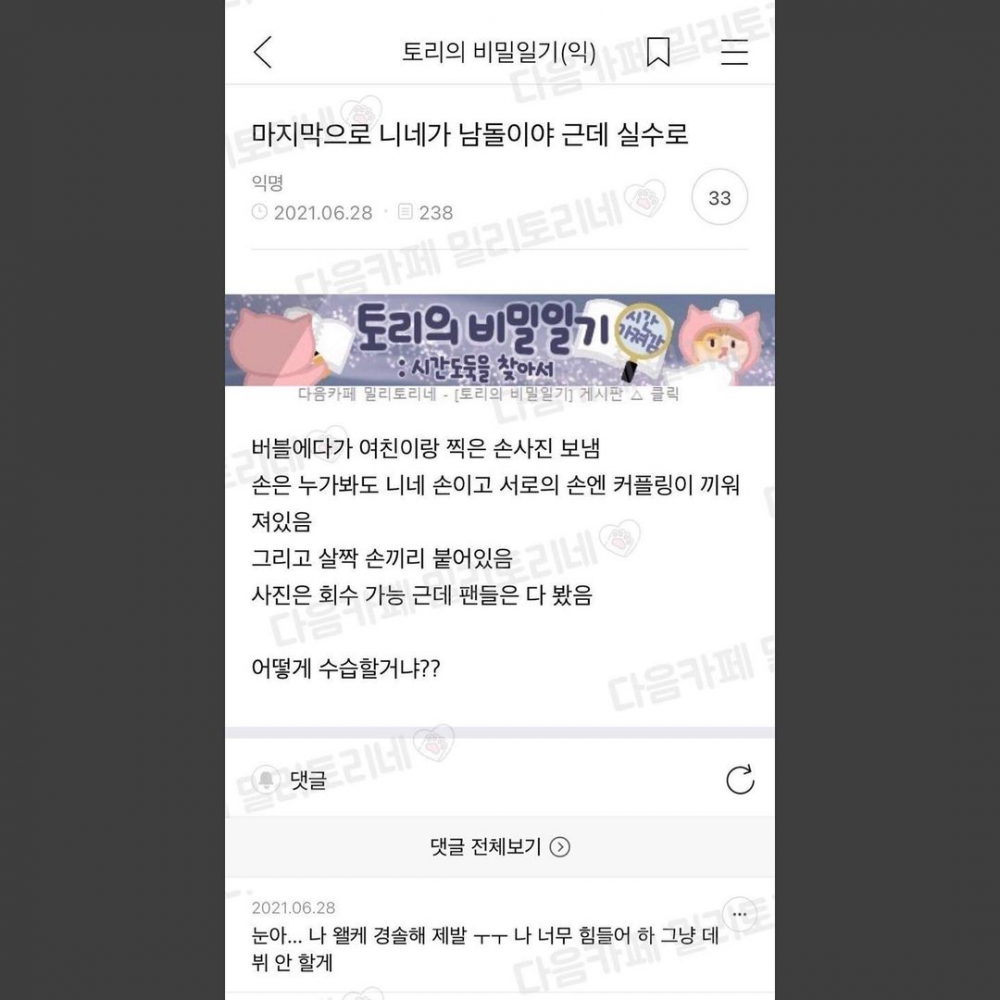 The last question asked, "Lastly, you were on bubble chat and then sent a photo of your hand and your girlfriend's hand by accident. It was a photo where your hands were side by side and had the same ring on for couples? You can take back the photo but the fans definitely all saw it. How will you take care of this?"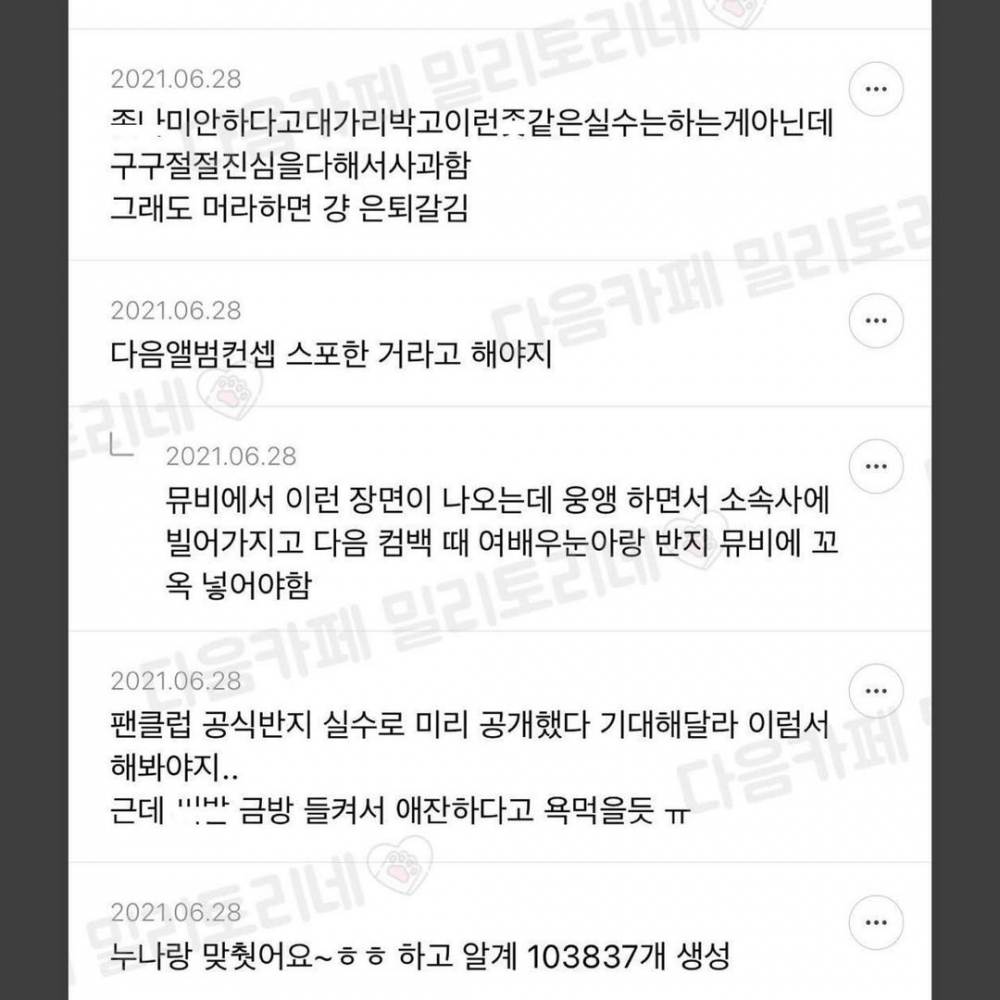 Netizens replied, "These questions are so hard. I'm just not going to debut," "I'll just apologize instead of making excuses. If they say something then I'll retire," "I'll just say I spoiled the next album promotion content. I'll say this is a scene that appears in the music video. Then I'll beg the company to add a scene like that with a girl and wear the same rings." "I'll say I revealed the official fan club rings by accident and tell the fans to wait for it" and "I'll say, I got sibling rings with my sister~ lol..."
How would you answer these questions? Let us know in the comments below!