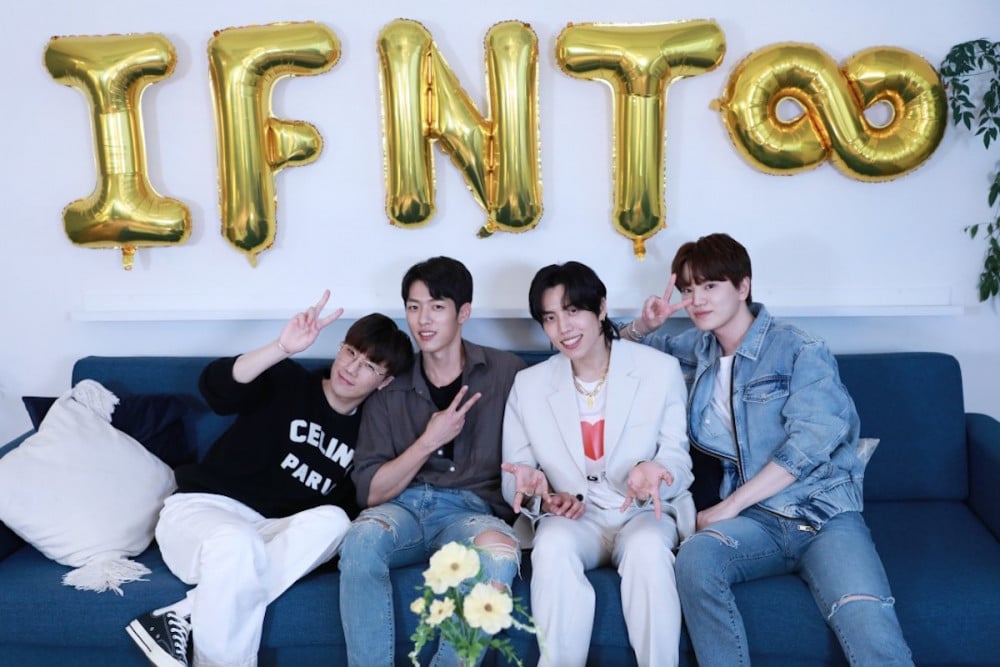 Back on June 9 at 6 PM KST, INFINITE members Sunggyu, Dongwoo, Sungyeol, and Sungjong held a special 'V Live' broadcast to celebrate their 11th debut anniversary with their fans!
During this broadcast, maknae Sungjong talked about feeling nervous due to the fact that it's only been about a month since his return from mandatory military service. Member Sungyeol also recalled watching INFINITE's 10th debut anniversary live broadcast while he was still in the military, and how envious he was of fellow member L back then for eating delicious food.
Sungjong also assured fans, "It's a wonder in itself that we have come this far, reaching our 11th anniversary. All of the members have a lot of affection for this team. We talk with one another all the time, we keep in touch, and we also meet up. I'm so thankful to have the members and Inspirit, who made it possible for us to reach 11-years." Sungjong then gifted each of his fellow members with bracelets he personally prepared.
Later, the members also called up Woohyun, currently carrying out his mandatory service duties! Woohyun told fans over the phone, "I am doing well. I have 56-days now [until his discharge]. I'll greet you guys real soon, so please wait just a little longer."
Finally, Sungyeol said, "I was disappointed that we weren't able to greet our fans properly during our 10th anniversary. On our 11th anniversary, we were able to get together as 4-members, but on our 12th anniversary we will almost be complete, so we really hope we can greet you as a full team by then." Dongwoo also relayed, "In the beginning, we grew our roots on the land that was our agency, and we grew and grew with the help of nutrients. From now on, we hope to receive the love from our fans which is like the light of the sun, and bear fruit in the form of albums, growing more and more as INFINITE."
Congratulations to INFINITE on their 11th anniversary!