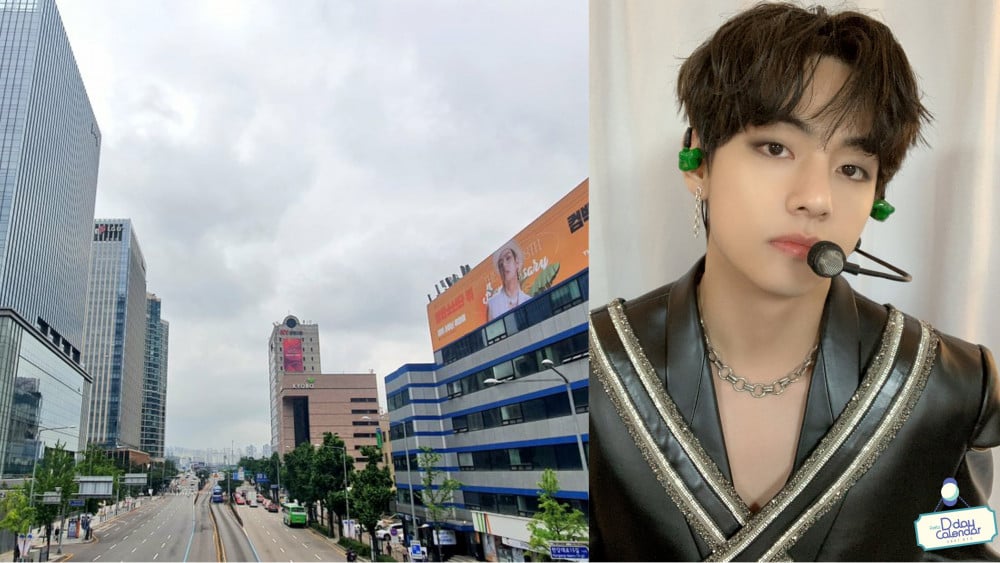 The city of Seoul has been adorned in purple as fans celebrate BTS' 8th anniversary. Congratulatory advertisements for the group, as well as individual members, can be found in every nook and cranny of Seoul. However,
BTS V's fans were seen celebrating his 8th year debut anniversary in a very boisterous and flamboyant style.

Known for celebrating V's birthday on the Burj Khalifa last year, KIMTAEHYUNGBAR, V's Chinese fanbase, has once again left everyone stunned.
The fanbase put up the biggest billboard right opposite HYBE's new building, and thanks to them, banners bearing V's face can be seen at every entrance. The gigantic billboard can be seen from every floor of the HYBE building, and the whole street encircling the building has been filled with an abundance of love for V.

The project's massive scale made sure that not only V, but every employee working in the HYBE building would have to face the ads while entering and exiting the building.

Another fansite, Ruler_V, arranged for a humongous digital ad at COEX Media Tower in Gangnam. V's visuals and the ad's scale garnered a lot of attention.

From debuting as a hidden member to emerging as the face of BTS, V has come a long way and has achieved a lot of success.