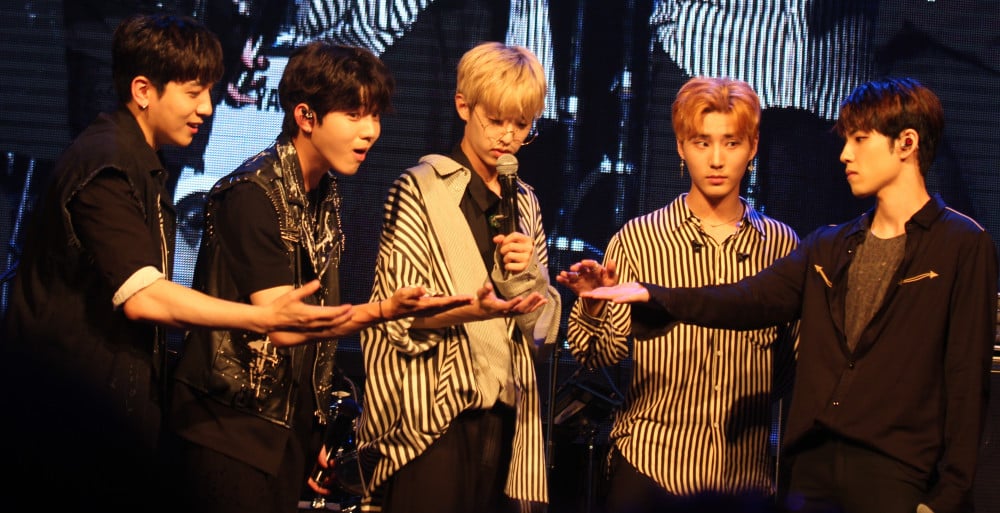 Hello, this is another short compilation. This time the focus is on underrated male bands. Please do note that it is not possible to include every band in one list, so I apologize if your faves are not mentioned this time. Also, this is not a ranking list. I hope newer fans will find some hidden gems here. Enjoy.
1. The Rose
The band is composed of four members: Kim Woo-sung, Park Do-Joon, Lee Ha-Joon, and Lee Jae-Hyeon. Before their debut with J&Star, the band enjoyed decent popularity as an indie group before making its official mainstream release with "Sorry" in 2017. The Rose is a rock group that specializes in songs with a more sad tone but catches and expresses those feelings on an extraordinary level with their songs even being considered as free therapy for those who seek it. With a hint of Coldplay, fantastic vocals, instrumentals, and songwriting, it's very easy to see why they are considered underrated. Currently, the band is on a hiatus, and their comeback is not determined as of date.

2. Day6

And yet another rock band, Day6, consists of five members: Sungjin, Jae, Young K, Wonpil, and Dowoon, and they debuted in 2015 with EP The Day, which peaked at No.2 on Billboard's World Album Chart a week following its release. Most of their songs are themed around love and sadness with an admirable level of expression, and outstanding vocals combined with meaningful lyrics make them a joy to listen to. Even though many of you here can argue that they enjoy good popularity, going by the numbers and their sheer potential, one can certainly say that they deserve at least a better international following. Let's keep that hope for their next comeback.

3. Pentagon
Pentagon was formed in 2016 with the group consisting of currently nine members: Jinho, Hui, Hongseok, Shinwon, Yeo One, Yan An, Yuto, Kino, and Wooseok. Originally composed of ten members, E'Dawn left the group and the record label on November 14, 2018. As described by their fans, Pentagon can adapt to any concept and have their unique and distinguishable style, which easily sets them apart. They are also known for effortlessly creating bops with fans saying "they don't have a single bad song." Their most popular single is "Shine," which was a massive hit, and their most recent one is "Do or do Not," which is a very catchy and positive song. Pentagon got their first win with "Daisy" in 2020, and fans think this is only the start for them, hence earning their spot on this list.

4. Oneus
Oneus is a boy band formed by RBW. The group consists of six members: Ravn, Seoho, Leedo, Keonhee, Hwanwoong, and Xion. The group released their debut EP, Light Us, on January 9, 2019. Listening to this particular song for the first time with your eyes closed, one could easily say that this has hundreds of millions of views, yet that's not the case. On a better note, this band is well on the rise, releasing a full 11 track album this year called "Devil," with their single "No Diggity," featuring powerful vocals and solid rap lines; they certainly have a bright future ahead.

5. The Boyz
The Boyz is a boy group formed by Cre.ker Entertainment. The group currently consists of 11 members: Sangyeon, Jacob, Younghoon, Hyunjae, Juyeon, Kevin, New, Q, Ju Haknyeon, Sunwoo, and Eric. The group debuted on December 6, 2017. The Boyz currently are contenders in MNET's Kingdom, and it's easy to see that they are top-notch live performers. This particular song was released just before Kingdom and showcased their artistic talent and unique concept very well. You can definitely say that you are motivated and uplifted by this music video, and that's exactly what they intend to. Either way, hopes are high for The Boyz in the future, as hopefully, they get the needed exposure they deserve.

6. N.Flying
N.Flying is a rap-rock band formed by FNC Entertainment in 2013. The band originally consisted of four members: Kwon Kwang-jin, Lee Seung-hyub, Cha Hun, and Kim Jae-Hyun. Yoo Hwe-Seung was added to the band in June 2017. Kwang-jin left the group on December 26, 2018, and Seo Dong-sung filled his position on January 1, 2020. Another unique band with the capabilities and quality to mix both genres perfectly. Their fans know them for having top-tier live vocals and their songs hitting you in the feelings deeper than you could imagine. Their latest album is "Brotherhood" from 2019.
7. Highlight
Formerly known as Beast by the name which the band debuted in 2009. The band consists of four members: Yoon Doo-Joon, Yang Yo-seob, Lee Gi-Kwang, and Son Dong-Woon. Original member Jang Hyun-Seung officially left the group in April 2016, and Yong Jun-hyung left in March 2019. In late 2016, the group moved labels from Cube Entertainment to Around Us Entertainment and subsequently changed their name to Highlight in 2017. Highlight retained their quality music over time, releasing bops like the linked song, which certainly will cheer you up! They made their long-awaited comeback in this hear with the single "Not the End." Even though the band itself has won a substantial amount of awards so far, they still don't enjoy a huge international success which is why they earn their spot on this list.