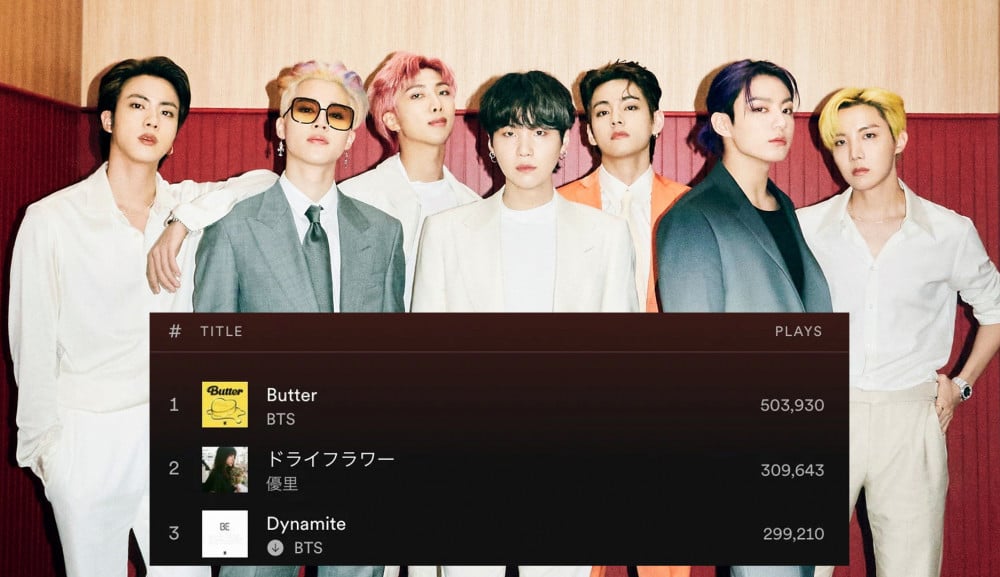 BTS sets another record and proves the K-pop act's global popularity.
On May 25, BTS's "Butter" became the first song on Spotify Japan to receive more than 500,000 streams in a day. BTS has been the K-Pop group setting new milestones and breaking numerous records.
BTS now has another record under their belt as their new English single "Butter" received 503,930 steams in just a day on Spotify Japan. In addition, this is the only song to break the record of having over 500,000 steams in just one day as the record follows with Yuri's "Dry Flower," with 309,643 streams in a day and BTS's "Dynamite" with 299,210 streams in a day.

In addition, BTS's "Butter" is currently ranked number 1 on various music streaming platforms in Japan. The song is number 1 in iTunes, Apple Music, YouTube, LINE Music, and more.
This record was shared on various online communities as many netizens have become impressed with BTS's constant achievements. Netizens commented, "This is so impressive," "They're amazing, congrats," "This is the influence of BTS," "They have so many people listening, congrats," "It's pretty cool BTS is popular in Japan," "They got more streams than Dynamite, that's pretty awesome," and "They're number 1 in everything."