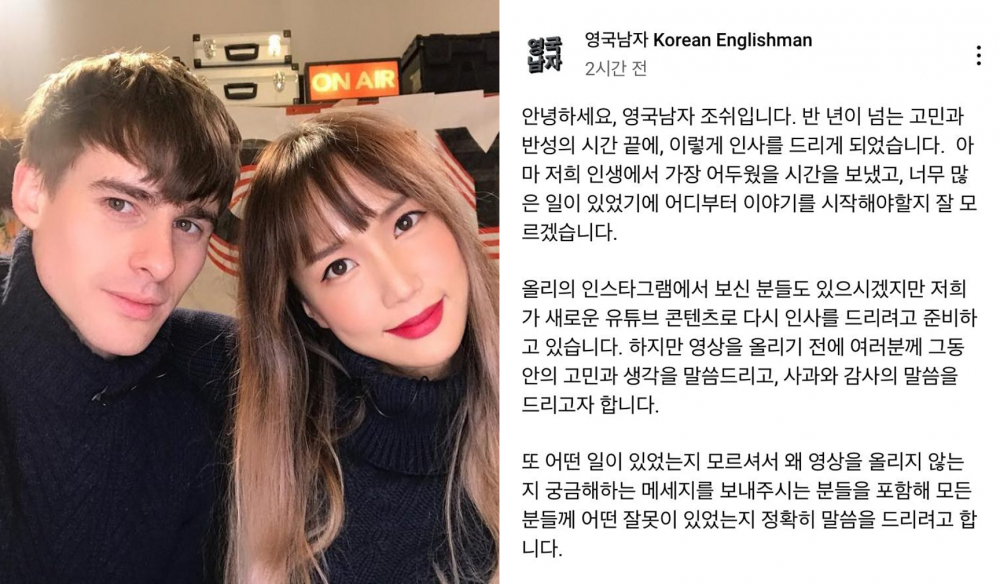 YouTuber Korean Englishman, Josh, and his wife, GabieKook, have been embroiled in various controversies during the COVID19 pandemic. GabieKook was under controversy for holding a birthday party during self-quarantine and then officially apologized after six months.
GabieKook posted a video titled, "Hello, this is Gabie," on her YouTube channel on April 20, and Josh also posted an apology on his Youtube channel community page. This is the first time in six months that the two YouTubers returned to the platform since the controversy last year.
However, despite their apology, many netizens believe that their apology has more excuses than being sincerely apologetic.
Korean Englishman Josh wrote, "Hi guys. Josh here. I know it's been a long time, and I've had a lot of time to think and reflect over the last half a year. To be honest, it's easily been the worst 6 months of our lives, and so much stuff has happened that I hardly know where to begin."
The YouTuber continued to write, "Firstly, let me be clear, last October Gabie and I messed up. We took stupid, unnecessary risks by inviting people to the apartment we were quarantining in after arriving in Korea from the UK. I thought at the time that as long as people didn't come in and we didn't leave, that it would be ok. Looking back now, this was obviously wrong."

Josh continued to then explain the difficult time that he and his wife have spent by writing, "After we messed up, things escalated very quickly. The initial reaction was on the internet, but within a day or so, mainstream media and news outlets picked it up, and it became a top news story. As I mentioned before, a politician in Korea noticed the attention that the situation was gathering, and in a public court setting, he used us as an example of foreigners who are taking advantage of Korea. He falsely accused us of not paying our taxes and of breaking the law in various ways. This, of course, spurred on a whole new round of media articles about us."

He continued that his mental health deteriorated as the media continued to release articles about the two and netizens went on to doubt GabieKook's nationality, wondering if she was really Korean because she was born in Argentina. The YouTuber explained that things became difficult as things shifted to other issues and controversies, such as whether GabieKook has been paying her health insurance in Korea.
He continued to explain the difficulties he and his wife had to face and explained, "Over the last 6 months, I don't think we dealt with this whole process very well. We tried... and I spent hours and days and nights talking to people close to me, to friends, to our team, even to a PR team and lawyers about what we should do next and how we should respond. But I don't know if there are any measures you can take that can prepare you to deal with the pressures and stresses of facing the scrutiny of a nation's media, on top of the public shaming of the internet in response to a mistake."
Unfortunately, Korean netizens did not receive the apology too well as many believed it was filled with excuses. Netizens responded to the apology through the comment section of an online community by writing, "I mean you can work hard, but I won't be watching," "I'm done with them," "I want to unsubscribe to them so much that I would subscribe and unsubscribe again, lol," "So basically, he's saying, 'We were wrong, but we didn't need to get that many criticisms, so let us earn money in Korea again," "I wouldn't mind if he comes back with different content that has nothing to do with Korea, but if he makes things about Korea then he's shameless," "His apology is too long," and "Everything these two get involved in is controversial, they never seem genuinely apologetic."