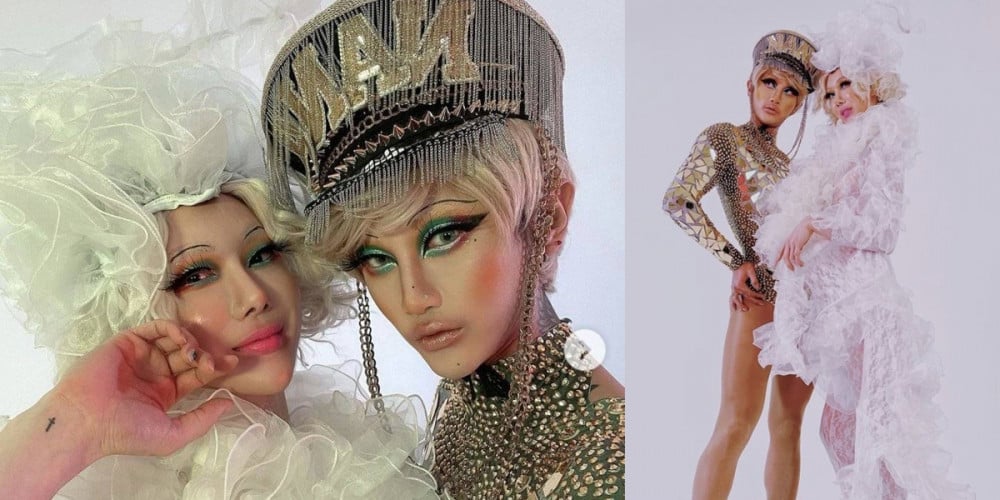 An unexpected collaboration between 2AM's Jo Kwon and Korea's #1 drag artist, Nana Youngrong Kim, is garnering avid reactions from netizens!

Jo Kwon recently invited Nana Youngrong Kim for a collaboration in his ongoing YouTube channel series, 'Watch or Not'. In the video, Jo Kwon decided to learn the art of drag makeup with his own hands, as he has often received drag makeup for his musical roles but has never tried his own makeup.
After the collaboration, both Jo Kwon and Youngrong Kim shared stunning photos of their self-photoshoot via Instagram, wooing netizens.
Jo Kwon, in his SNS post thanking Youngrong Kim for the collaboration, wrote, "I finally got to learn rainbow makeup from drag artist Nana Youngrong Kim~! I've received drag makeup countless times for my musicals and stages, but I've never done it on my own, so I've always wanted to learn how it's done. When I was doing the musical 'Jamie', I got a lot of energy and inspiration from Nana Youngrong Kim. For this installment of 'Jokwon Cinema', I tried an 'Avatar Makeup' challenge where we put a wall between us and I had to follow directions without being able to see my instructor. It was not easy!"
Seeing the visually striking, final results of the two stars and their collaboration makeup looks, netizens praised,
"Jo Kwon looks so good... he has amazing skin."
"Daebaek! A collab with Youngrong Kim!"
"So gorgeous. You look great."
"I really respect the fact that they live their lives the way they want."
"His skin though.... doesn't he age..??"
"I couldn't even tell it was Jo Kwon in some of those photos!"
"But his skin is literally like a smooth, hard boiled egg..."
"Nana and Jo Kwon! This is the best."
"His skin is amazing and the the shape of his face is so small and perfect..."
"OMG so pretty."
Watch Jo Kwon's full collaboration episode of 'Jokwon Cinema' with Nana Youngrong Kim, below!