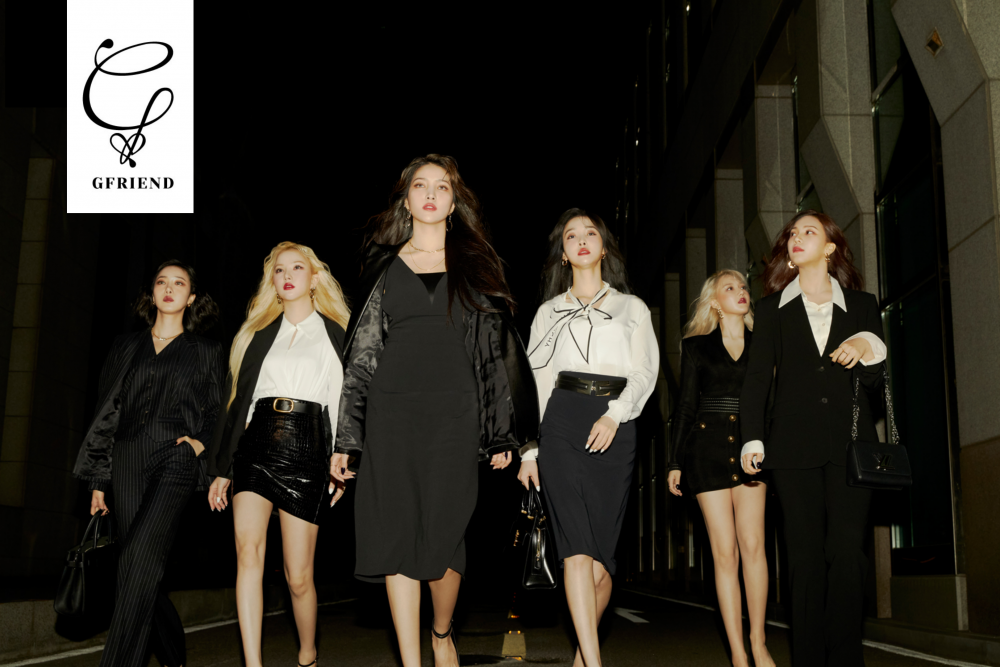 GFRIEND have forged a musical identity that is uniquely their own — a mix of lush, feminine vocals delicately placed against some of the most aggressive guitar lines of the K-pop scene, rounded up with the drive of the mid-2000s pop-rock boom. — Seoulbeats
Aside from the recognition as the handler of "Queen of Synchronization" title that the Korean netizens entitled for them prior to their unstoppable knife-like dance executions despite the different dance challenges they had been exhibiting such as pioneering the 2X-Speed Challenge, One-Line Formation, Tray-Dance, and Blindfold Dance Challenge, GFRIEND is also known for their unique signature sound that definitely encapsulates serendipity yet nostalgic feeling that people can often identify as GFRIEND's right away.
Along with a "trust-and-listen" artist label for the evocative and healing song lyrics and pioneering the narrative of cinematic storytelling with BTS and TXT, here are some of the fun facts regarding how GFRIEND's music reinvented the obscuring Orchestral-Pop genre:
1. Most of GFRIEND's Instrumentals are produced through a Live-Orchestral band, and not computer-generated ones.
— As GFRIEND's Passionate-Melancholy concept being the most recognizable brand of the group, in such a way that it cohesively accompanied both pop-music and distinct orchestral instruments, their producers (No Joohwan and the team) tend to record a legitimate Live-Orchestral band for their songs, including the lead singles — Time for the Moon Night, Sunrise and Fallin' Light, unlike to the mainstream's typical computer-generated ones.
2. GFRIEND's Time for the Moon Night was awarded as the Performance of the Year - Best Instrumentals at GCMA 2018, making them the first Korean-Pop act to bagged the trophy.
— GFRIEND's Orchestral-Pop recognized by one of the most transparent and prestigious award show in Korea, winning the Performance of the Year - Best Instrumentals at the '8th Gaon Chart Music Awards' for Time for the Moon Night (2018). The trophy is given to music industry professionals in such aspect of outstanding performance based on the enrichment and utilization of instrumentals of a certain song, something that not a Korean-Pop group but Korean traditional music acts would usually garner.
3. Orchestral-Pop could be incorporated through various genres, establishing GFRIEND's musical identity.
— Some of the songs in GFRIEND's discography incorporate both Orchestral-Pop and various genres such as Summer Rain and Flower.
Summer Rain somehow reduces the gap regarding the under-appreciation of youngsters and contemporary audiences to Classical Music by sampling a forlorn classical piece by Robert Schumann's Dichterliebe Op. 48:1, interlacing them with propulsive beats of new-jack swing.

Experimenting with the mixture of tango dance-track with the accompaniment of various elements of the orchestra, GFRIEND successfully made a catchy yet instrumental-rich song with their 2nd Japanese lead single - Flower.

4. GFRIEND's discography medium is something that rookie groups would adapt.
— The relevance of GFRIEND's music in the Korean-Pop industry is visible yet being taken for granted.

Golden Child recently pulled incorporation between EDM-pop elements to an orchestral piece for an exhibition round of Mnet's Survival Show - Road to Kingdom (2020). The said 4th Generation rookie boy group successfully combined their EDM-pop lead single - Wannabe to the extravagant violin piece by Niccolo Paganini entitled Caprice No. 24.
5. GFRIEND has the Best Instrumentals in the Korean-Pop industry — Classical Musicians.
— Classical Musicians often see GFRIEND's discography and lead singles as diverse, generally against the majority of netizens' popular saying - "GFRIEND always sounds the same." These musicians can differentiate the musical technicalities regarding GFRIEND's musical identity and often praises them for their signature sound.
GFRIEND basically re-invented a musical genre from the 1980s, making themselves having a notable impact within K-pop, influencing other groups with their recognizable style, and setting a new standard for younger groups.

Do you love GFRIEND's orchestral-pop songs? Which songs are your personal favorites? Share your insights below.