BTS's Jimin local and international fans have been sending protest trucks in front of Big Hit Entertainment's building for eight weeks now.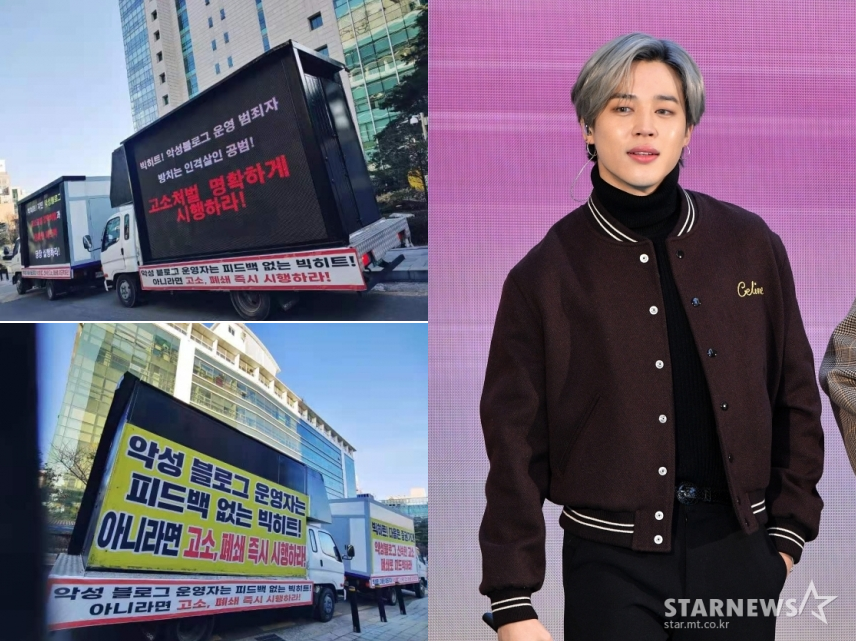 The protest trucks have been parked in front of Seoul's Big Hit office in Gangnam and Yeouido since January 13th. The fans sent the trucks due to the agency's lack of duty towards Jimin against toxic fans who post malicious comments about him on blogs.


Fans said, "For three years, fans who have been maliciously criticizing, blaspheming, and spreading false rumors against Jimin through malicious blogs, weren't legally pursued by the agency, or at least shutting down their blogs."
Fans also mentioned, "The purpose of malicious blogs is to encourage daily searches and views by solo stans of BTS, so that hate and toxicity can be spread inside the fandom."
By using the trucks, fans have called for "immediate action by shutting down malicious blogs," "fast closing and violent punishment," since they were used to harass Jimin and his family for years, including death threats.
Jimin's antis have always harassed any platform putting him in the front like Gallup and every YouTuber daring to praise him. His fans have been fighting this hate for years and are asking Big hit for help by sending emails, but no answers are given, and no actions are made. This angered these fans as they feel like they're being ignored.
Jimin has done his best in everything since his debut, including being recognized as the most mature and affectionate by the members, and has frequently communicated with fans and treated them with love and sincerity, so they urge Big hit to protect him.