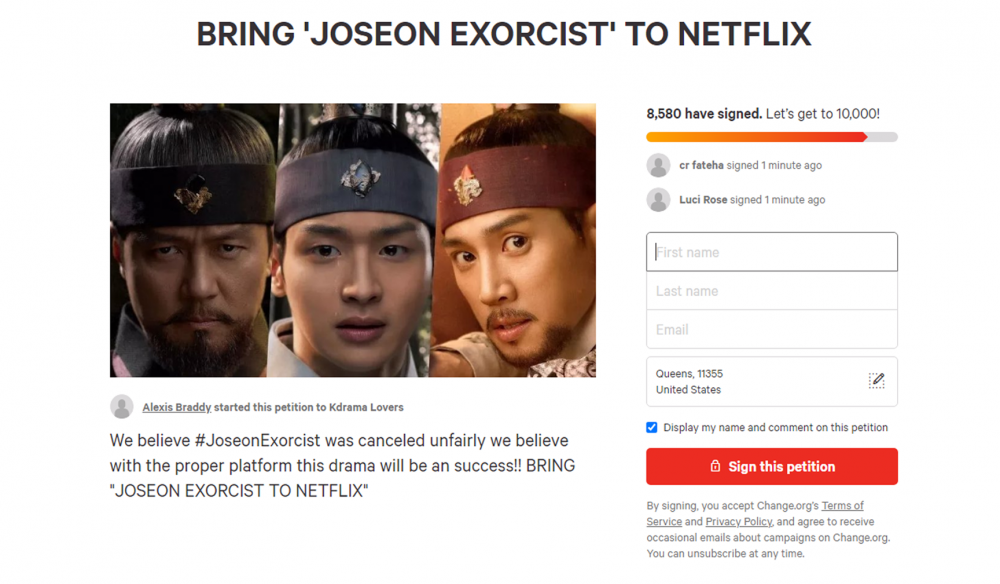 Previously on March 22, SBS issued an official statement in response to the major controversy surrounding the fantasy-historical drama series 'Joseon Exorcist'.

SBS explained that the "problematic" props were "appropriate" for the scene's setting, stating, "We set up the location in the vicinity of Uiju County, which is close to the Ming Dynasty's border, in order to emphasize the situation where the third prince, Prince Choong Nyeong, had to travel a long distance to the border in place of the Crown Prince Yang Nyeong in order to bring back the western exorcist; we added subtitles to explain this."

Since the controversy surfaced, the issue greatly heightened leading many companies to pull out their sponsorship from the drama. Then on March 26, SBS announced that the drama has been cancelled, after just two episodes.
Meanwhile, some international fans have started a petition on 'change.org' asking Netflix to bring the controversial drama onto their platform. The creator of the petition claimed that the drama has been "canceled unfairly" and that "with the proper platform this drama will be a success."
Currently, there are 8,580 people who have signed the petition and there are various comments asking Netflix to buy the copyrights to the drama. However, there are others also opposing this petition, leaving comments explaining the reason for the controversy.