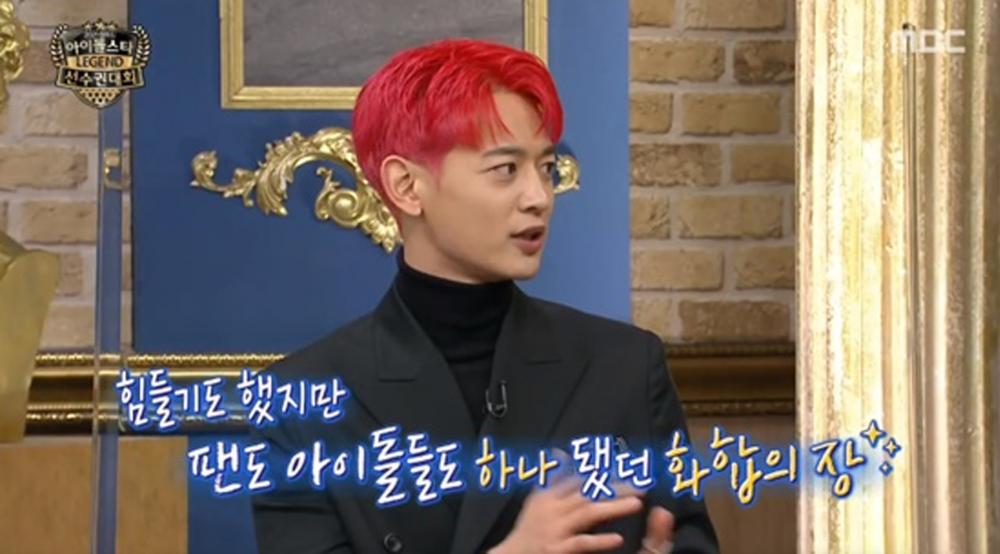 A few idol members had the time to look back at the twelve years of history of 'ISAC' on MBC's '2021 Lunar New Year Special Idol Star Athletics Championship: Hall of Fame,' which aired on February 11th.

SHINee's Minho, Highlight's Doojoon, BTOB's Minhyuk, A Pink's Bomi, Oh My Girl's Seunghee, The Boyz's Jooyeon, Stray Kids' Hyunjin, ITZY's Yeji, and Lia appeared as guests to look back on past videos with MC Jun Hyun Moo and Lee Teuk.
In particular, SHINee's Minho and Highlight's Doojoon shared that they competed against each other in the Futsal match. The Jooyeon of The Boyz confessed, "I've watched Idol Star Athletics Championships every holiday since elementary school," and chose Doojoon as his favorite Futsal legend.
In past videos, SHINee's Minho stood out in various events such as swimming, high jump, hurdles, and futsal. Highlight's Doojoon also performance was no less. He was as good as a player in racewalking, spear-throwing, and futsal. Especially in Futsal, Minho and Doojoon faced each other for an intense game.
At the film studio during the show, Doojoon said, "I wanted to be on the same team as Minho, but it never happened." Minho praised Doojoon for his speed and stated that Doojoon was much faster than him.
Then Jun Hyun Moo added, "Doojoon may not remember, but we have met on the soccer field. I was a goal-getter for Kim Yong Man's team, and Doojoon was a midfielder. At that time, I was given a special order to guard Doojoon, but there was no chance. He was so fast that I tripped over the grass and was replaced in six minutes."


On this day the idol members chose 2AM's Jo Kwon, ZE:A's Dongjun, B1A4's Baro, and BTOB's Minhyuk as the legendary track and field athlete idols. In particular, at the '2015 Idol Star Athletics Championship's,' four of the legendary track and field idols competed in the 60m final, and ZE:A's Dongjun was able to take the gold medal.

On this day, the show revealed that A Pink's Bomi appeared on 'Idol Star Athletics Championships' thirteen times and won a total of ten medals. In particular, she competed against ITZY's Yeji in the finals of the baseball pitching competition.
ITZY's Yeji said, "I studied while watching the pitching video of the participants, and Bomi was the best. If the other people's throws make a 'tap' sound, Bomi's throws made a 'bang' sound. I expected her to take the first place since I started practicing."
The girl groups Gugudan and Oh My Girl were exceptional when it came to archery. Seunghee's eyes watered as she watched the videos from the past. She stated, "I remember our members had to go up by themselves during the archery and must have felt the pressure. I felt sorry and so proud at the same time when she shot the last arrow."