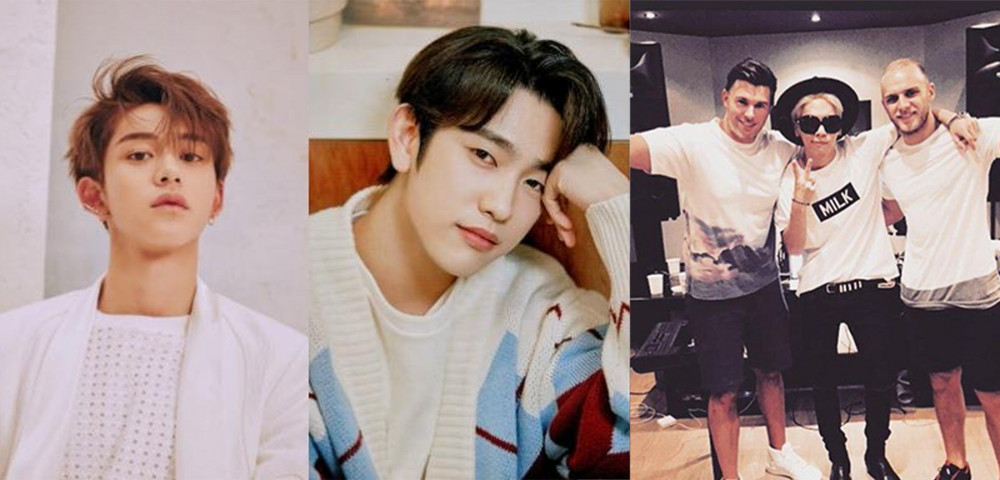 Have you ever wondered who was behind some of SM Entertainment's biggest hits? Or felt like certain songs had a similar vibe to them, without knowing why? It's likely that LDN Noise, a legendary producing duo from London, England, was the producer behind that K-pop song that's stuck in your head. According to the Korea Times, LDN Noise was named one of the hidden heroes behind the boom of K-pop. Here are 10 masterpieces produced by LDN Noise!
1. SuperM: Jopping
When SuperM, the group formed from SM's top boy groups of the past decade, hit the stage with Jopping, the entire K-pop community was taken by storm. Whether you love the song or have mixed feelings about it, there's no doubt that it's catchy even from the first listen!
2. WayV: Love Talk
WayV, the subunit of NCT that is mainly based in China, was the talk of the town when they released "Love Talk." "Love Talk" is very different from WayV's previous dance-pop releases, and LDN Noise is the reason behind their change in sound.
Check out the original demo version of "Love Talk," with English lyrics that are sure to take the song's meaning to the next level!
3. SHINee: View, Married to the Music
SHINee is one of the most influential boy groups of the past decade, and they were inspirational role models for many fourth-generation K-pop idols today. For example, NCT's Mark always talks about how much he loved listening to SHINee songs when he was young in Canada. "View" and "Married to the Music" are just two of the songs with SHINee's iconic sound.
Take a look at the producers explaining their creative process when they made "View!"
4. EXO: Monster, Lucky One, Lotto
EXO's discography was definitely dominated by LDN Noise in 2016, who produced the double-title tracks, "Monster" and "Lucky One," as well as the repackage comeback, "Lotto" during that season. Interestingly, "Lucky One" was initially produced with SHINee in mind, but ended up in EXO's hands instead!
Check out LDN noise going behind the scenes of producing "Monster!"
5. NCT 127: Firetruck, Replay 127
NCT's signature sound of EDM and hip-hop is largely due to producers LDN Noise. "Firetruck," which was nominated for the Golden Disc Award for Rookie Artist of the Year in Digital Music, is a classic among NCTzens that never seems to age!
6. Red Velvet: Dumb Dumb
LDN Noise doesn't just create songs for boy groups! "Dumb Dumb" is one of Red Velvet's most iconic songs, from earlier in their career before they transitioned to a darker and more mature concept, through songs like "Psycho" or "Bad Boy."
7. The Boyz: Water
LDN Noise may be part of the backbone of SM Entertainment, but they've produced their fair share of songs for other idols from different companies as well. The Boyz' "Water" from their fourth mini-album, "Dreamlike," is many fans' favorite track from the album!
8. GOT7: Just Tonight
Though GOT7 may be working separately under different companies from now on, their discography as a group will still remain a fond memory in our hearts. Did you know that GOT7's "Just Tonight" wasn't produced by JYP himself? Give this underrated gem from GOT7's "Identify" album a listen!
9. Produce 101: Fingertips
Do you ever get nostalgic about the very first season of Produce 101, from back in 2016? "Fingertips," the girl crush pop song performed during the concept evaluation battle, was produced by LDN Noise and won second place. Take a trip down memory lane and watch "Pinkrush's" captivating performance of "Fingertips!"
10. ASTRO: Crazy Sexy Cool
Are you watching "True Beauty" lately and looking to get to know the actor behind Suho, Cha Eunwoo? As the vocalist and visual of ASTRO, it seems that Eunwoo is multi-talented in more ways than one! ASTRO's Crazy Sexy Cool, a fan-favorite among Arohas, was produced by LDN Noise.